Found July 31, 2012 on Turn On The Jets:
Mike Donnelly is back with his weekly Stock Watch. This week's edition focuses on the first week of training camp in the books in Cortland. Make sure to give Mike a follow on Twitter and if you haven't had the chance yet check out our brand new Turn On The Jets shirts. 
There's a lot to get to this week with Jets Camp opening, so I won't waste time coming up with an intro, other than to say FOOTBALL IS BACK!
BUY: Rex Ryan – Check back later in the week for my full take on Rex Ryan and why the Jets are lucky to have him, but for now I'm buying some Sexy Rexy stock. He got himself in the headlines this week by proclaiming himself the best defensive coach in the NFL (he's right), but the more I see out of Rex this offseason the more I love it. He's dialed back on the Super Bowl talk publicly, he's lost a ton of weight, and the big thing is he's holding his players accountable, as we saw with him calling out Jeremy Kerley. I also loved his comments telling Santonio Holmes to basically shut up, and that the best players will play. This is a big year for Rex and I expect him to answer the bell.
BUY: Aaron Maybin and Ricky Sapp – All of the reports out of camp so far are that Aaron Maybin looks absolutely awesome. For years now the Jets have lacked a dominant pass rusher, and it's looking like Maybin might step into that role this year and finally give us a double digit sack man. There's even talk that his role in the base defense will grow, which will give him even more opportunity to rush the passer. Maybin stock is on the rise. Big time.
As for Sapp, I would say he's almost guaranteed a roster spot if he keeps up the good work like he has this week, which would really justify my Buy of him way back in the inaugural Stock Watch. According to the beat writers (Check back tomorrow for our new rankings) he racked up several nice tackles and even a few sacks. With Bryan Thomas up there in age and Calvin Pace seemingly entering his last year, the opportunity is there for Sapp to earn himself a spot on the team not just this year, but going forward as well.
BUY: Bilal Powell – The Running Back Who Was Left For Dead a few weeks ago (I had him in my initial Sell list as well) has been turning heads so far in camp and is a legit threat to Joe McKnight to take over the 3rd down back role. While he may not have the speed or elusiveness of the shifty McKnight, Powell has the ability to handle a bigger workload and could end up as one of the biggest sleepers on the entire roster.
SELL: Jeremy Kerley - Camp couldn't have gotten off to a worse start for the man many expected would be the slot receiver in 2012. As if things weren't bad enough when he injured himself and had to sit out for a week to start camp, they sure did get a whole lot worse when Rex Ryan — REX RYAN! — called him out publicly, and Rex NEVER has a bad word to say about his guys to the media. He said he was disappointed in Jeremy the whole offseason, and that's definitely not a good sign. Now there's talk that Holmes could be the predominant slot receiver with Hill and Schilens on the outside. Not a good start to 2012 for Mr. Kerley
SELL: Brian Schottenheimer Era – Plenty has been said about the pitiful former offensive coordinator, but Santonio Holmes had even more to say this week, and he really brought the laughs. During a radio interview with ESPN, Holmes was praising new OC Tony Sparano and pretty much threw Schotty directly under the proverbial bus when he said that the new coach actually "knows how to coach players". Ouch. And you wonder why I'm so high on Sanchez now that he's been freed from that buffoon's shackles.
Original Story:
http://turnonthejets.com/2012/07/stoc...
THE BACKYARD
BEST OF MAXIM
RELATED ARTICLES
New York Jets wide receiver Santonio Holmes says he was the ''scapegoat'' for the team's problems last season, particularly in the season-ending loss to the Miami Dolphins. Holmes tells ESPN 98.7 on Monday that with the playoffs on the line in that game, when he only had two passes thrown his way before being benched for the final 2 minutes after arguing in the...
New York Jets wide receiver Santonio Holmes says he was the ''scapegoat'' for the team's problems last season, particularly in the season-ending loss to the Miami Dolphins. Holmes tells ESPN 98.7 on Monday that with the playoffs on the line in that game, when he only had two passes thrown his way before being benched for the final 2 minutes after arguing in the...
TJ Rosenthal of The Jet Report is back with another feature, today looking at the New York Jets ongoing struggles with media exposure. Make sure to give TJ a follow on Twitter and to follow his work all season long at both The Jet Report and here at Turn On The Jets  For the Jets, the offense with their return to the Ground and Pound, and the defense with their newcomers and hopeful...
New York Jets head coach Rex Ryan provided a few thoughts on Tim Tebow what the Jets second-string quarterback needs to focus on during training camp.
With no Super Bowl guarantees to speak of, Rex Ryan and crew appear focused on building team chemistry with the regular season just around the corner.
If there's a loud, screeching, unpleasant ringing in your ears, don't worry. It's just Santonio Holmes flapping his gums again. The Jets wide receiver, who has never been one to shy away from a controversial comment or two, has again opened his mouth. And again, he's left inserting his foot. (No, that's not a Rex Ryan pun; those jokes are old.) Holmes' most...
Rex Ryan put a quick end to a budding controversy. The New York Jets coach addressed his players during a meeting Wednesday, reminding them to consider what they say in the wake of cornerback Antonio Cromartie's remarks that he'd rank himself the second-best wide receiver on the team. Wide receiver Chaz Schilens said Wednesday he felt the comment was a ''slight...
According to head coach Rex Ryan, Jets slot receiver Jeremy Kerley is having trouble grasping the new offense so far in training camp. Hampered by tightness in his hamstring, Ryan expressed disappointment in his second-year wide receiver.
The Jets have been the most talked about team in New York despite the Giants being the defending world champions. Every time I turn on NFL Network, there is Rex Ryan and Tim Tebow, with no mention of the Giants. Could this be intentional or is it done purposefully? At first thought, I blamed it on coincidence but that's a little silly to think. Then I started thinking about it...
If you've flipped through the cable sports coverage on NFL training camps in the New York area, you'd have been hard pressed to find much detailed information on your favorite team. Unless you're a New York Jets fan that is. The popularity of "tabloid journalism" makes it clear why the public at large is subject to so much Jets coverage.  Certainly, the Jets have...
Jets News

Delivered to your inbox

You'll also receive Yardbarker's daily Top 10, featuring the best sports stories from around the web. Customize your newsletter to get articles on your favorite sports and teams. And the best part? It's free!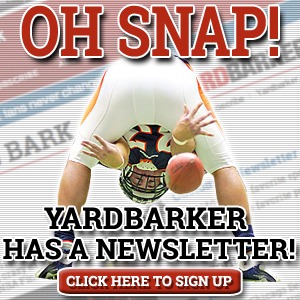 Latest Rumors
The Backyard

Today's Best Stuff

For Bloggers

Join the Yardbarker Network for more promotion, traffic, and money.

Company Info

Help

What is Yardbarker?

Yardbarker is the largest network of sports blogs and pro athlete blogs on the web. This site is the hub of the Yardbarker Network, where our editors and algorithms curate the best sports content from our network and beyond.