Found November 16, 2012 on Turn On The Jets:
PLAYERS:
Eli Manning
,
Mark Sanchez
,
Tim Tebow
,
Chad Pennington
,
Jay Fiedler
,
Woody Johnson
,
Jerry Jones
,
Mike Tannenbaum
,
Bill Cowher
,
Jeremy Lin
,
Raymond Felton
,
Tony Parker
,
Carmelo Anthony
,
Andy Reid
,
Nick Foles
TEAMS:
New York Jets
,
New York Giants
,
Miami Dolphins
,
New York Knicks
,
San Antonio Spurs
,
Philadelphia Eagles
Week 10 Record: 1-2 Season Record: 11-18-1 Week 10 Record in Race For The Steak Picks: 10-3 For this week, I think it's apropos to rename this piece "Worst Bets", considering what happened last week with my picks. In the 13 games your Turn On The Jets staff picked from Week 10 of the NFL season, I went 10-3. The three games I did not get right were the Bears over the Texans, the Chargers covering against the Bucs and the Giants over the Bengals. If you recall (I'm sure my picks are ingrained in your mind), I picked the Bears and Chargers in my Best Bets from Week 10, and so desperately wanted to choose my Giants pick because I thought that game was a foregone conclusion. Then Eli Manning turned all Mark Sanchez on us. Before we get to my picks for this week, I wanted to weigh in on a  few things, as I'm wont to do in this space: -People have to stop with the "Poor ol' Timothy Tebow!" shtick. Please. Yeah, he's a good guy. He doesn't deserve to wake up one day to see his teammates trashing him in the "media" – regardless of if the story is true or not. But let's not get all worried about how unfair this whole thing is to Tim Tebow. Newsflash: the world of pro sports is a tough business. People love you, people hate you, the media is horrible, the fans are horrible, etc. But I don't feel like I need to worry about the feelings of a guy who has won two National Titles in college, a Heisman trophy, was a first round pick in the NFL, is a MILLIONAIRE, and is dating Camilla Belle. I'm supposed to feel bad for this guy because of a fabricated news story that said that some teammates think he sucks? Excuse me if I felt worse for Chad Pennington when the home crowd cheered him getting injured and replaced by Jay Fiedler. But the Jets only have themselves to blame for the mess they're in, and I for one am glad in a way that the Tebow thing is blowing up. In a perfect world, this would be the wake up call Woody Johnson needs to learn that it's not good to try and be Jerry Jones, and just hire competent football people (read: NOT Mike Tannenbaum), and let them run the show. Sadly, I don't see that happening, because Woody Johnson is a horrible owner. Along with many on this site, I've been a big time defender of Mark Sanchez (I would love to see him coached by Bill Cowher), but I would bench him on Sunday if the Jets had a viable backup (I don't know, maybe someone like Drew Stanton? That name just popped into my head, I really have no idea why). They don't. The worst possible thing that could happen to the Jets is to insert Tebow and win a few fluky games like the Broncos did last year, enough wins for the coaching staff to think that he could be the long-term solution at QB. Thankfully it doesn't look like it's going to go that way, and that's a good thing. I have no idea who is going to be the Jets' QB next year, but I know it shouldn't be Tim Tebow. -The Knicks are for real. You can no longer just say "The Knicks are off to a good start." Did people say that about the Spurs, who started 7-1? No. People just said "Of course the Spurs have a good record, they're a good team". The Knicks are a damn good team, and anyone who doesn't think so just isn't being fair. This isn't to say the Knicks are going 82-0 (although they might!) or that they're beating the Heat and winning a title. But they're a good team, one of the league's best, and it's going to be a fun season at MSG. -I wonder what the narrative would have been if Jeremy Lin was still on the Knicks and did what Raymond Felton did against the Spurs, outplaying Tony Parker and dropping 25 while leading the Knicks to a huge win, while Carmelo Anthony scored nine points. Okay, on to the picks. Broncos -7.5 vs. Chargers – I've went with the Broncos for two straight weeks and they've done good for me, so I'm sticking with them. I also took the Chargers last week, which was patently moronic. Eagles +3.5 at Redskins – I know, I know, the Eagles are just as bad a mess as the Jets, and Andy Reid is all but fired, but this is the exact game the Eagles ALWAYS win. Of course they're going to win Nick Foles' first start! This is how the Eagles do. Remember all the times they won games with Ty Detmer? Same thing. Philly fans are going to overreact like the South after Obama's reelection when Foles leads them to a win on Sunday, and it's going to be glorious when they start 1-4 next year and Foles has a QB rating of 61. Packers -3.5 at Lions – Pack have won four in a row, heating up at the right time. Watch out, NFC. Bonus Non-Football Bet of the Week (Season Record: 4-5-1) Let's see if we can hit a 3-way NBA parlay (chances: highly unlikely). Hawks -2 at Kings, Jazz +1 at Sixers and Timberwolves -2 vs. Warriors.
Original Story:
http://turnonthejets.com/2012/11/turn...
THE BACKYARD
BEST OF MAXIM
RELATED ARTICLES
ONLY GOD CAN JUDGE ME
Jets quarterback Tim Tebow responded to the criticism he received from his teammates, who mostly ripped him anonymously.
The New York Post, much like SportsCenter, has a fascination with Tim Tebow. They would write about him week in and week out as the Jets continue to go down the pooper.The latest story to come out of that circus act of a locker room has "anonymous" Jets player ripping Tebow and calling him terrible. This really isn't much of a surprise because, let's face it, Tebow...
It seems like it was several years ago that John Elway stated that Tim Tebow has earned the right to be the starting quarterback heading into training camp this 2012 football season for the Denver Broncos.Actually, Elway made this comment just this January. Elway had plans to work with Tebow in the offseason to improve his throwing mechanics.That all changed when Jim Irsay...
When I first heard that ESPN announcers were debating Tim Tebow starting for the New York Jets during yesterday's Butler-Xavier game, I was ready to man my battle stations and prepare for full fledged attack mode.  But, ESPN's Bob Wischusen and Dan Dakich are actually poking fun at their own network's TebowMania obsession in the latter stages of a blowout game.  Wischusen...
With the news coming out of New York this week regarding Tim Tebow and how his own teammates feel about him got me thinking about another quarterback that never amounted to anything.Ryan Leaf was a quarterback drafted in 1998 that many believed would be the next great one.  He was drafted second overall behind Peyton Manning in that draft.  It was a long debate on which QB should...
New York Jets offensive lineman Matt Slausen was the only Jets' player to openly criticize quarterback Tim Tebow. NFL Network analyst Darren Sharper doesn't believe Slausen has the right to criticize Tebow when he's not a great player himself. "I talked to one of the offensive lineman for the Jets, and they said throughout this season, Matt Slauson has graded out the worst...
Rex Ryan is no dummy, and so after he read off the Jets' injury report at his press conference Wednesday, he grinned at the reporters and into the glare of the television cameras crowded into the media room at the Jets' training facility. "Fire away, let's go," Ryan said. "Ask the questions you want to ask." An awkward silence ensued. "I...
NFL News

Delivered to your inbox

You'll also receive Yardbarker's daily Top 10, featuring the best sports stories from around the web. Customize your newsletter to get articles on your favorite sports and teams. And the best part? It's free!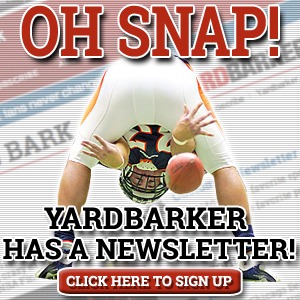 Latest Rumors
Best of Yardbarker

Today's Best Stuff

For Bloggers

Join the Yardbarker Network for more promotion, traffic, and money.

Company Info

Help

What is Yardbarker?

Yardbarker is the largest network of sports blogs and pro athlete blogs on the web. This site is the hub of the Yardbarker Network, where our editors and algorithms curate the best sports content from our network and beyond.