Found August 08, 2013 on Down and Distance:
According to the Detroit News, tight end Tony Scheffler and safety Louis Delmas often use derogatory terms towards one another as a sign of affection (Credit: Thedctimes.com) After Philadelphia Eagles wide receiver Riley Cooper was caught on camera using the N-word in a derogatory way at a Kenny Chesney concert, he was excused from the team for a few days to receiver counseling. Cooper's comments set off a wave of discussion about the use of the word and whether or not he would ever truly be accepted by his fellow African American teammates. While Cooper's use of the N-word was supposed to demean those around him, two Detroit Lions players say they use similar words as a way of showing affection towards one another. According to the Detroit News, white tight end Tony Scheffler and black safety Louis Delmas, who have been friends since their time together at Western Michigan, use derogatory comments to show their friendship towards one another. According to the report, Delmas often greets Scheffler with "Hey, cracker," and Scheffler replies, "How's my n—–?". Despite the use of the same derogatory word, Delmas says while Cooper deserves all of the negative attention he is receiving, Scheffler is using the term in different circumstances. "Me and [Scheffler] have a relationship many people do not have — both black and white," Delmas said. "I look at him like my brother. I love him to death. He greets me, 'What up, n—–?' But I understand it. So I say, 'What's up, cracker?' But we would never take it outside the building." Scheffler added that the pair call each other derogatory names as a sign of affection towards one another. "I treat Louis like a little brother," Scheffler said. "He knows my wife and kids. He calls me 'white boy' and 'cracker.' We go back and forth with it and we are both comfortable with each other. I can't say the same with other relationships in the locker room or how other guys would feel about it. So it is a tough dynamic when you are using those types of words. Everybody does not react the same." Something tells me this story is going to add more fuel to the fire about the use of derogatory comments in America. The post Two Lions say racial slurs show their friendship appeared first on DOWN & DISTANCE - Presented by Sports-Kings.
Original Story:
http://sports-kings.com/downanddistan...
THE BACKYARD
BEST OF MAXIM
RELATED ARTICLES
CLOSE ENOUGH
Chaz Schilens has struggled to latch on to a team in the NFL since being selected in the 7th-round of the 2008 Draft. He signed with the Lions just prior to training camp, and he has a very small chance of making their active roster. Regardless, while teammate Calvin Johnson is the greatest player on the team, Schilens has the most amazing tattoo on the team, and quite possibly the...
The friendship between Detroit Lions safety Louis Delmas and tight end Tony Scheffler goes back to their college days when they were teammates at Western Michigan. Delmas is black, Scheffler white. They have an unconventional relationship, which they discussed with the Detroit News' Terry Foster. "Me and (Scheffler) have a relationship many people do not have - both black...
Lions wide receiver Chaz Schilens got a tiger tattoo that covers his entire back. Larry Brown Sports has the story. According to Paula Pasche of The Oakland Press, the tattoo took 24 hours total to complete and had Schilens in the tattoo parlor on three separate occasions. While I don't really understand the significance of the jungle-themed ink, I suppose it's a good thing...
Welcome to our 2013 Lions Team Preview. To get a better understanding of what each NFL team might be up to this season we are asking local team bloggers to answer a few questions for us.  We talked to Zac Snyder the NFL Editorial Director for fansided.com, and Lions blogger for Side Lion Report, to get the inside scoop. Follow him at @ZacSnyder and check out his work.   1. Matthew...
Detroit Lions wide receiver Chaz Schilens recently got a massive tattoo on his back, and the only things missing are Mowgli and Baloo. We have to assume he was going for a "The Jungle Book" theme, because he opted for a tiger over a lion and we hope he's not showing support for the Cincinnati [...]
Who knew they ever had Lions earrings? I thought the one earring fad was over, but maybe not. Yes, Nate Burleson is wearing a lion earring. pic.twitter.com/Oi7WfQTTZ7 — Pride Of Detroit (@PrideOfDetroit) August 10, 2013
Herman Moore was my favorite wide receiver growing up. Calvin Johnson gets the nod for all-time favorite wide receiver nowadays, but Moore will always have a special place in my heart. That's why it was especially neat to see him catch a touchdown pass from my favorite Lions quarterback Matthew Stafford during training camp this past week.  See for yourself:  Moore...
Darius Slay is a rookie cornerback for the Detroit Lions, and even though he's young enough to not know the full history of the NFL, he has some football knowledge. Robert Klemko of TheMMQB has a hilarious story about Slay's youth giving everyone in a Lions film session a laugh for the ages. Packers offensive game film was being watch by Lions defensive backs, when the veterans...
Are you starving for some football? Evidently so. Ford Field in Detroit, with a capacity listed at 65,000, is sold out for Friday's preseason opener between the Lions and the New York Jets. That's the Lions, who lost their final eight games in 2012 and finished 4-12, vs. the Jets, who were 6-10 and probably won't be any better this year. The stadium certainly isn...
Having trouble learning English? Step to the Wu. Detroit Lions kicker Havard Rugland is Norwegian, and discovered he could learn English by listening to the Staten Island-based rap outfit The Wu-Tang Clan (caution; this is a rap video, so proceed accordinly). "The first day we're hanging out in the hot tub, right?" guard Rob Sims told The Detroit Free Press . &quot...
Chaz 'who' Schilens -- who had a breakout 2 TD, 29 catch year every year...ripped by Al Dukes. **Follow us on Twitter, View via Our Mobile Site, or Return to BobsBlitz.com.Follow us on Twitter. Subscribe or Return to Bob's Blitz.
These two teams struggled last year and they're trying to improve big time this year. It will take some time to find out if that happens, but there is a chance for them to show us a preview this Friday.As the New York Jets march into Ford Field to go up against the Detroit Lions for their first preseason game, there will be five things to look out for.First thing to look out for...
NFL News

Delivered to your inbox

You'll also receive Yardbarker's daily Top 10, featuring the best sports stories from around the web. Customize your newsletter to get articles on your favorite sports and teams. And the best part? It's free!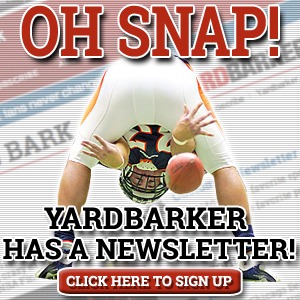 Latest Rumors
Best of Yardbarker

Today's Best Stuff

For Bloggers

Join the Yardbarker Network for more promotion, traffic, and money.

Company Info

Help

What is Yardbarker?

Yardbarker is the largest network of sports blogs and pro athlete blogs on the web. This site is the hub of the Yardbarker Network, where our editors and algorithms curate the best sports content from our network and beyond.