This week isn't really a banner week for the NFL in terms of compelling games to look forward to, but there are at least few interesting matchups on the Week 11 slate. Sunday night features the terrible Eagles minus Michael Vick against the Giants. This game is nowhere near as interesting as it should be, but seeing how Vince Young looks in his return to NFL action is slightly compelling. Far more compelling is the battle in the AFC North between the inconsistent Ravens and the upstart Bengals. I think the Ravens are going to win handily, but we've learned to never count out the Red Rifle. But the Game of the Week is clearly Jacksonville against Cleveland. This game will something along the lines of what we'll see if Oregon and Houston end up meeting in a BCS bowl game. Just offense and excitement all over the place. Seriously, tell me you're not excited for Gabbert v McCoy. Scintillating. Enough sarcasm. Time for the guide. A couple of quick things to keep in mind:
All times are ET.
All announcer information courtesy of the506.com. Click link to see coverage maps.
Click to go to our NFL Week 11 Bettor's Guide, which includes point spreads, over-unders, and picks for all NFL Week 11 games.
Here now is your NFL Week 11 Viewer's Guide: NFL Week 11 Viewer's Guide TV Schedule – Announcers – Kickoff Times – Matchups New York Jets at Denver Broncos
Jets-Broncos Date: Thursday November 17th
Jets-Broncos Kickoff Time: 8:20 pm
Jets-Broncos TV Network: NFLN
Jets-Broncos Announcers: Brad Nessler and Mike Mayock (who were both awesome!)
Carolina Panthers at Detroit Lions
Panthers-Lions Date: Sunday November 20th
Panthers-Lions Kickoff Time: 1:00 pm
Panthers-Lions TV Network: FOX
Panthers-Lions Announcers: Dick Stockton and John Lynch
Cincinnati Bengals at Baltimore Ravens
Bengals-Ravens Date: Sunday November 20th
Bengals-Ravens Kickoff Time: 1:00 pm
Bengals-Ravens TV Network: CBS
Bengals-Ravens Announcers: Greg Gumbel and Dan Dierdorf
Oakland Raiders at Minnesota Vikings
Raiders-Vikings Date: Sunday November 20th
Raiders-Vikings Kickoff Time: 1:00 pm
Raiders-Vikings TV Network: CBS
Raiders-Vikings Announcers: Kevin Harlan and Solomon Wilcots
Buffalo Bills at Miami Dolphins
Bills-Dolphins Date: Sunday November 20th
Bills-Dolphins Kickoff Time: 1:00 pm
Bills-Dolphins TV Network: CBS
Bills-Dolphins Announcers: Marv Albert and Rich Gannon
Tampa Bay Buccaneers at Green Bay Packers
Buccaneers-Packers Date: Sunday November 20th
Buccaneers-Packers Kickoff Time: 1:00 pm
Buccaneers-Packers TV Network: FOX
Buccaneers-Packers Announcers: Joe Buck and Troy Aikman
Dallas Cowboys at Washington Redskins
Cowboys-Redskins Date: Sunday November 20th
Cowboys-Redskins Kickoff Time: 1:00 pm
Cowboys-Redskins TV Network: FOX
Cowboys-Redskins Announcers: Kenny Albert, Daryl Johnston, and Tony Siragusa
Jacksonville Jaguars at Cleveland Browns
Jaguars-Browns Date: Sunday November 20th
Jaguars-Browns Kickoff Time: 1:00 pm
Jaguars-Browns TV Network: CBS
Jaguars-Browns Announcers: Bill Macatee and Steve Tasker
Seattle Seahawks at St. Louis Rams
Seahawks-Rams Date: Sunday November 20th
Seahawks-Rams Kickoff Time: 4:05 pm
Seahawks-Rams TV Network: FOX
Seahawks-Rams Announcers: Chris Myers and Tim Ryan
Arizona Cardinals at San Francisco 49ers
Cardinals-49ers Date: Sunday November 20th
Cardinals-49ers Kickoff Time: 4:05 pm
Cardinals-49ers TV Network: FOX
Cardinals-49ers Announcers: Thom Brennaman and Brian Billick
Tennessee Titans at Atlanta Falcons
Titans-Falcons Date: Sunday November 20th
Titans-Falcons Kickoff Time: 4:15 pm
Titans-Falcons TV Network: CBS
Titans-Falcons Announcers: Ian Eagle and Dan Fouts
San Diego Chargers at Chicago Bears
Chargers-Bears Date: Sunday November 20th
Chargers-Bears Kickoff Time: 4:15 pm
Chargers-Bears TV Network: CBS
Chargers-Bears Announcers: Jim Nantz and Phil Simms
Philadelphia Eagles at New York Giants
Eagles-Giants Date: Sunday November 20th
Eagles-Giants Kickoff Time: 8:20 pm
Eagles-Giants TV Network: NBC
Eagles-Giants Announcers: Al Michaels and Cris Collinsworth
Kansas City Chiefs at New England Patriots
Chiefs-Patriots Date: Monday November 21st
Chiefs-Patriots Kickoff Time: 8:30 pm
Chiefs-Patriots TV Network: ESPN
Chiefs-Patriots Announcers: Mike Tirico, Jon Gruden, and Ron Jaworski
Original Story:
http://www.midwestsportsfans.com/2011...
PLAYERS:
Michael Vick
,
Vince Young
,
Mike Mayock
,
John Lynch
,
Dan Dierdorf
,
Marv Albert
,
Joe Buck
,
Troy Aikman
,
Daryl Johnston
,
Chris Myers
,
Brian Billick
,
Phil Simms
,
Al Michaels
,
Cris Collinsworth
,
Mike Tirico
,
Jon Gruden
TEAMS:
Philadelphia Eagles
,
Denver Broncos
,
Carolina Panthers
,
Detroit Lions
,
Cincinnati Bengals
,
Baltimore Ravens
,
Oakland Raiders
,
Minnesota Vikings
,
Buffalo Bills
,
Miami Dolphins
,
Dallas Cowboys
,
Washington Redskins
,
Jacksonville Jaguars
,
Cleveland Browns
,
Seattle Seahawks
,
Houston Texans
,
Arizona Cardinals
,
Tennessee Titans
,
Atlanta Falcons
,
Chicago Bears
,
New York Jets
,
Tampa Bay Buccaneers
,
Green Bay Packers
,
St. Louis Rams
,
San Diego Chargers
,
New York Giants
,
Kansas City Chiefs
,
New England Patriots
MORE FROM YARDBARKER
NFL News

Delivered to your inbox

You'll also receive Yardbarker's daily Top 10, featuring the best sports stories from around the web. Customize your newsletter to get articles on your favorite sports and teams. And the best part? It's free!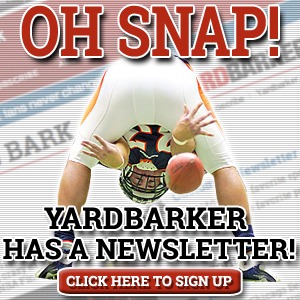 Latest Rumors
Best of Yardbarker

Today's Best Stuff

For Bloggers

Join the Yardbarker Network for more promotion, traffic, and money.

Company Info

Help

What is Yardbarker?

Yardbarker is the largest network of sports blogs and pro athlete blogs on the web. This site is the hub of the Yardbarker Network, where our editors and algorithms curate the best sports content from our network and beyond.