Found November 22, 2012 on isportsweb.com:
PLAYERS:
Rob Ryan
,
Fred Davis
,
Pierre Garcon
,
Kyle Shanahan
,
Santana Moss
,
Aldrick Robinson
,
Alfred Morris
,
Trent Williams
,
DeAngelo Hall
,
Tony Romo
,
Nick Foles
,
Dez Bryant
,
Jason Witten
,
Miles Austin
,
Robert Griffin III
TEAMS:
Washington Redskins
,
Dallas Cowboys
,
Philadelphia Eagles
This Thanksgiving let's all take a moment to be thankful for the latest and greatest addition to the Redskins family: Robert Griffin III. Last week he led the team to a complete dominance over the Eagles and gave us bragging rights and a reason for optimism. Today he will face a much bigger challenge in perhaps the most important game of the season against the arch-rival Dallas Cowboys. Here are some of the things to watch for in this exciting Thanksgiving matchup. Hope everyone has an excellent Thanksgiving!   The Offense Robert Griffin III will take on Rob Ryan's defense RGIII's performance last week against the Eagles was undeniably amazing. But that was last week. Today he'll face Rob Ryan's defense and a whole new set of challenges. The Cowboys are ranked 6th in passing defense, while the Redskins have struggled without a clear breakout receiver and the absence of Fred Davis. Pierre Garcon played last week, but had a mostly underwhelming performance. Kyle Shanahan has stated that he can do more, which his preseason performance and chemistry with RGIII would seem to confirm as well. Santana Moss proved once again last week that his years of wisdom and experience make him an invaluable part of the offense. His experience with the Dallas defense will make it all the more important that he have another strong game today. Aldrick Robinson, among others, will need to demonstrate the same level of quickness and speed as they did against the Eagles, as they will need to take advantage of every opportunity by beating defenders downfield. A strong Dallas passing defense will also necessitate that Alfred Morris put up big numbers today. Trent Williams could also be a huge factor, as the offensive line will need to hold off an aggressive Cowboys defense long enough to allow Griffin to pass, or run, the ball.    The Defense The Redskins pass-rush has been mediocre at best without Orakpo. However last weeks game against the Browns showcased a Cowboys offensive line that might have just as many holes in it, allowing Romo to be sacked 7 times. The Skins defense brought great pressure against the Eagles, and could have success today with the blitz. If Hall stays calm this week he could have another big game Hopefully last week was a reminder to DeAngelo Hall that staying calm and collected while waiting for an opportunity is much more effective than letting his temper get the best of him. If he comes into this game projecting confidence and not desperation he could be a huge factor on defense, especially with Merriweather now out for the season. Although the Redskins will be dealing with Tony Romo and not rookie Nick Foles this week, they will still have the potential for a lot of the same opportunities, as Romo has thrown 13 interceptions so far this season. However, one of the biggest challenges for the Redskins today will be with their pass defense. Dez Bryant, Jason Witten and Miles Austin (as much as we as Redskins fans put them down) have the potential to walk all over the Skins secondary if they are not careful. And with Fletcher questionable in an already injury-ridden roster, everyone will need to step up on defense to make sure the Redskins stay in this game. They need to be better at not allowing big plays, something they have struggled with for the majority of the season.   In General The Redskins/Cowboys rivalry has always produced on-field intensity, for better or for worse. A major factor of this game, on both offense and defense, will be whether or not the Redskins can keep their tempers in check. They already lead the NFL in penalties, and are vulnerable to game-changing mistakes and outbursts. The leadership of the coaches and captains will be tested today, as they will try to channel the intensity of this rivalry into strong performances and successful plays.    
Original Story:
http://feedproxy.google.com/~r/isport...
THE BACKYARD
BEST OF MAXIM
RELATED ARTICLES
This was absolutely priceless.  Both assistants show that they have some pretty good reaction time and got out of the way, but what was this Redskins player doing.  He saw the ball coming right at him and just never moved; too funny.Meanwhile, RG3 has been on an absolute tear the past two games and looks like he will be an unstoppable force once he gets some more talent around...
Robert Griffin III threw for 311 yards and four touchdowns, helping the Washington Redskins beat the Dallas Cowboys 38-31 on Thursday. The Heisman Trophy winner from Baylor made the Cowboys (5-6) look like an overmatched college team during the decisive second quarter in his first trip to Texas as a pro. Griffin was 8 of 8 for 178 yards with three touchdowns to key the first 28...
Almost exactly one year ago, Rob Ryan drew criticism for his remarks about Tim Tebow and the (former) Broncos offense. True to his character, Dallas' defensive boss turned his attention to this year's sensational signal-caller. In advance of the Thanksgiving day tilt between the Redskins and Cowboys, Ryan said he doesn't like Robert Griffin III, but also admitted he...
Dallas Cowboys owner Jerry Jones wants nothing to do with Robert Griffin III after the Washington Redskins rookie quarterback threw four touchdowns to beat the Cowboys 38-31 Thursday. "I just think that hopefully we don't have to play RG3 but one more time," Jones said via USA Today. "I'd hate to think we'd have to line up against him five or six more...
Be Thankful Redskins Nation   This Thanksgiving Washington Redskins fans have a ton of things to be thankful for. Really for the first time since the early 90's we are beginning to see the team make a push in the right direction, with the talented young players on this team showing signs of playing competently at the NFL level. Perry Riley, Rob Jackson and Lorenzo Alexander have...
WASHINGTON (38) d DALLAS (31) The Headline: News Headline on the game The Story: In a near perfect first half Robert Griffin III torched the Cowboys defense and set his Redskins up for an upset win on Thanksgiving. Four second quarter touchdowns meant that the rout was on as the Cowboys had no answer for the dynamic rookie. Of course their offense did not help matters by making...
No gimmicks for Te'o in Heisman race Heisman watch: Could Miller benefit from losses? Manziel and Heisman? Sumlin says compare numbers Robert Griffin III talks Heisman Trophy USC's Marquise Lee Worthy Of Heisman Consideration Hairopoulos: Could Johnny Manziel win the Heisman before his first interview? Aaron Murray's Heisman case Can Manti Te'o make history? Manziel...
Dez Bryant nearly lost his cool on national television During Thanksgiving's traditional Dallas Cowboys game, Dez Bryant nearly lost his cool on national television. Washington Redskins' corner, DeAngelo Hall is known for getting under people's skin, so this shouldn't be a surprise to anybody. Hall actually slappped Bryant across the helmet which only escalated the situation...
IRVING, Texas Robert Griffin III declined to reveal his Heisman Trophy vote Tuesday when asked by a reporter on a conference call at the Cowboys' Valley Ranch practice facility. Like all previous winners of college football's top individual award, the former Baylor Bears quarterback has a vote. During the same question, Griffin was asked if he had seen Texas A&M freshman...
A former Baylor basketball player has been sentenced to 18 months in federal prison for trying to extort $1 million from Washington Redskins quarterback Robert Griffin III. U.S. District Judge Walter Smith also ordered 26-year-old Richard Hurd pay a $1,000 fine for threatening to release unspecified damaging information about Griffin last June. Hurd could have been sentenced to...
Washington: The Redskins come off an absolute thrashing of the dead-in-the-water Eagles in Week 11, as Robert Griffin III finally had a huge passing effort, throwing for four TD passes. Now the Redskins go on the road for a Thanksgiving day matchup with division rival Dallas, which will likely prove to be the most entertaining of the three Thanksgiving games this year.RGIII hit...
NFL News

Delivered to your inbox

You'll also receive Yardbarker's daily Top 10, featuring the best sports stories from around the web. Customize your newsletter to get articles on your favorite sports and teams. And the best part? It's free!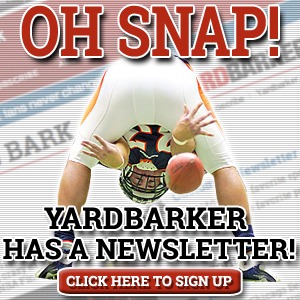 Latest Rumors
Best of Yardbarker

Today's Best Stuff

For Bloggers

Join the Yardbarker Network for more promotion, traffic, and money.

Company Info

Help

What is Yardbarker?

Yardbarker is the largest network of sports blogs and pro athlete blogs on the web. This site is the hub of the Yardbarker Network, where our editors and algorithms curate the best sports content from our network and beyond.