Found September 15, 2012 on Justice is Coming:
As I'm sure you've discovered by now, I was generally satisfied with what I saw on Monday Night in Oakland.  There is a lot to improve upon, but the biggest thing is that I never felt like the Chargers would inevitably make an asinine play and lose.  That speaks volumes after what we all suffered through last season.  When we were 4-1, we all vented about how the team would go nowhere with the comedy of errors they put forth.  I believe Eric Weddle even said that if they kept up the level of play they showed during those four wins, that they'd never be successful.  So that's why I liked what I saw on Monday.  Check out my scribblings from approximately 1:00 EST. My notes look like the scribblings from the poster for the movie about George Bush vs. The Dixie Chicks.  I know, it's liike looking inside the mind of a madman.  Nonetheless, you have to be happy that Rivers was able to "manage" the game.  With Ronnie Brown looking less agile than Gary Brown (wherever he is), I am sure Rivers was really itching to start throwing passes all over the field.  Settling for field goals won't suffice once the competition heats up.  I am sure Ryan Mathews will really help in that part of the field.  However, it sounds like he'll wait a week before suiting up.  I don't think that's a bad idea.  This is a game that we night not need him for.  That's not to disrespect or underestimate the Titans.  But Mathews will be needed more for the remaining fourteen games than the one tomorrow afternoon. Sure, the place will be loud.  I don't fault local fans for waiting to make the game a sellout.  This is definitely a "wait and see" season.  The ceremony for Junior will bring even more emotion from the seats.  But we also know how quickly this team can deflate its own crowd.  The key will once again be to see if they have learned from the mistakes they've committed time and time again. While there are a lot of new players, the ones who have erred the most in the past are still around.  That includes, Rivers, of course.  Hopefully, he'll realize that there's no crime in living to fight for another down.  I didn't get a chance to point it out in any of the various outlets I wrote for this week, but Floyd's catch was a thing of beauty.  It was reminiscent of the touchdown grab he had against Pittsburgh in 2006.  That's the only time we've beaten the Steelers since the AFC Championship game of 1/15/95. If I ever completely snap, I'm sure these shots will be called into evidence.  While I share Jeffrey Lebowski's dislike of the Eagles, I do like me some Joe Walsh.  There's not an awful lot to say about tomorrow's game.  Like the rest of the Justice League, I always tense up every time Kaeding lines up for a kick or Phillips does his stupid dance.  I know it's supposed to honor his grandmother, but I doubt that's what he's thinking when he does it.  Something tells me he's thinking about Shaun Phillips. I don't think anyone was really talking about the pass defense that saved a touchdown on Monday Night.  While I'm sure Eric Weddle would have loved to snag it, I was more impressed that someone actually made a play to knock a sure scoring pass away.  Was that Gilchrist?  Like everyone else, I was less than psyched with the garbage time touchdown.  However, I never thought they were blowing the game.  Once again, that is the only thing that matters.  I felt otherwise all throughout last September. Jammer looked really good, so I will be interested to see how he looks with a broken hand.  While Gilchrist still has many more chances to break my heart, the idea of him out there with Cason frightens me.  Ingram looked good and I'm not even that mad about the late hit.  I liked hearing Weddle passive-aggressively call Super Melvin out, though.  He said something like "I'm sure he'll think twice next time."  I also saw Weddle instructing one of the corners after a play was broken up.  I guess the guy is a real leader, after all. In order to provide the field of white to honor Junior's passing, the Chargers are breaking out the disco uniforms.  Whatever, works I guess.  I have some bad memories of those duds in the early 2000s.  But maybe it's time they make some new memories.  If Mathews is really going to sit, might it also be a good idea to rest Gates?  I am sure the last thing he wants is to feel like his offseason of rejuvenation is coming to a screeching halt.  But it's pretty clear that he doesn't know how to play any way but full throttle.  I apologize to that most FAITHFUL of READERS, Whit Watson.  I just don't see Gates monitoring himself on the field.  So maybe it's time to use McMichael and Rosario.  The schedule will obviously become much more difficult beginning with Week Three. So there you have it.  I know this is an extremely (and shamefully) short post.  I will be sure to come out you earlier next week as I am seeing Springsteen on Wednesday and Saturday.  Of course, it's also Jewish New Year Monday.  Hopefully, the Bolts won't ruin my Rosh Hashanah.  I am sure I'll be on Twitter during the game.  To quote the only cool member of that most uncool of bands, I keep on going I guess I'll never know why. Life's been good, even if the Bolts always haven't. Protect the dream, RLW  
Original Story:
http://www.justiceiscoming.com/charge...
THE BACKYARD
BEST OF MAXIM
RELATED ARTICLES
RESPECTFUL 'DO
Antonio Garay has always been very creative with his haircuts, but his latest is by far the best. The Chargers defensive end honored the late Junior Seau by shaving Junior's face and and number 55 in his head. via NFL.com via @nfl Article found on: Cosby Sweaters
San Diego Chargers kicker Nate Kaeding will be the NFL Comeback Player of the Year and remember you heard it here first. Kaeding impressively swung his leg left and right in front of a nationally televised audience to rack up five field goals on five attempts.  Even more impressively he had six touchbacks against the Oakland Raiders this past Monday. Not only are making field...
It's only been a few months since Junior Seaus' passing, and today the San Diego Chargers honored Seau by retiring his number. Defensive end Antonio Garay, chose to pay tribute to the late Seau by have a face portrait shaved into his head along side the number 55. While the untimely passing of Seau was a shock to many, Garay who probably didn't know Seau well, thought enough...
Tight end Antonio Gates and running back Ryan Mathews are among the San Diego Chargers' inactives for their game against the Tennessee Titans. Gates has a rib injury and Mathews hasn't played since breaking his collarbone on his first carry of the exhibition opener on Aug. 9. Also inactive for the second straight game is Jared Gaither, out with back spasms since July 28...
Chargers RB Curtis Brinkley is starting Sunday's game in favor of Ronnie Brown.Fantasy Spin:Brown is on his last legs. Brinkley handled more carries than the veteran in Week 1 but neither did much against the Raiders. Oakland is getting shredded by Reggie Bush Sunday so it's more likely Brown and Brinkley just aren't very good. Only start Brinkley if you're desperate.
Dante Rosario made the most of Antonio Gates' absence. The tight end had three touchdown catches for the first time in his NFL career and San Diego's defense harassed Jake Locker all afternoon as the Chargers beat the Tennessee Titans for the ninth straight time, 38-10 Sunday.
SAN DIEGO -- With an injured Antonio Gates sitting out the contest, quarterback Philip Rivers found a new target at tight end to fill the void. Reserve Dante Rosario, who hadn't recorded a touchdown catch since 2009, when he was a member of the Carolina Panthers, was on the receiving end of a career-high three as the Chargers earned a 38-10 victory over Tennessee on Sunday...
SAN DIEGO -- Reserve tight end Dante Rosario had never caught more than two touchdown passes in a season during his previous five in the NFL. On Sunday, he surpassed that mark by becoming a focal point of the Chargers' offense. Rosario, who hadn't recorded a touchdown catch since 2009 when he was a member of the Carolina Panthers, was on the receiving end of a career-high...
Well, this one didn't start pretty and it didn't end pretty. The Chargers took the opening kickoff for a touchdown, then scored on their second possession on a short field after an ugly Jake Locker overthrown interception. A three-and-out later, the Chargers were up 17-0 and it was a long day for the Tennessee Titans in their first regular season visit to San Diego since...
Many thanks to Ross Warner, who blogs about the San Diego Chargers and his favorite music on Justice Is Coming, for taking the time to answer our questions about the Chargers and this week's matchup. Total Titans: One of our readers, Duane, asks, "I'm curious if Ross has an opinion on whether the chargers will try and force Locker to stay in the pocket and to complete...
Chargers News

Delivered to your inbox

You'll also receive Yardbarker's daily Top 10, featuring the best sports stories from around the web. Customize your newsletter to get articles on your favorite sports and teams. And the best part? It's free!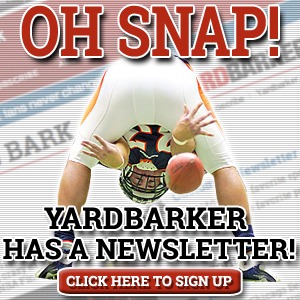 Latest Rumors
Best of Yardbarker

Today's Best Stuff

For Bloggers

Join the Yardbarker Network for more promotion, traffic, and money.

Company Info

Help

What is Yardbarker?

Yardbarker is the largest network of sports blogs and pro athlete blogs on the web. This site is the hub of the Yardbarker Network, where our editors and algorithms curate the best sports content from our network and beyond.