Found February 01, 2012 on Larry Brown Sports:
Via Larry Brown Sports: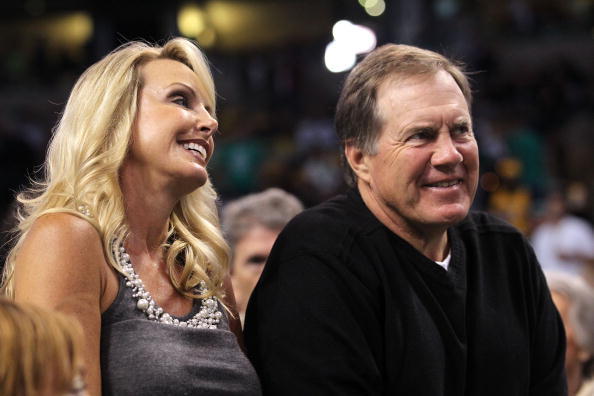 Now that media day has come and gone, the hype surrounding Super Bowl 46 has been a bit milder than we expected. With another championship meeting between Boston and New York upcoming and very little love lost between the Giants and Patriots, we anticipated a lot more trash talk and better headline material. Both coaches have done a nice job of keeping their players from saying stupid things, which is why one of the biggest storylines of the week has been Bill Belichick's demeanor. The usually-cranky coach seems upbeat and downright happy to be in Indianapolis. Why do you suppose that is, Wes Welker?
"I don't know, I think he's enjoying himself," Welker told the media Tuesday amid a number of questions about his mustache and Rob Gronkowski's ankle. "I think he's got a lady in his life, so that could definitely be the case. We're just coming here to try and win a ballgame. However we do that or whatever demeanor we have to take, that's what it's going to be. I attribute it to Linda, personally."
Welker is of course referring to Belichick's girlfriend, Linda Holliday. In case you have forgotten, it was a little over a year ago that wisecracks about Rex Ryan got Welker benched for the first series of the Patriots' playoff game against the Jets. Considering how badly New England needs him on Sunday, Wes should probably be a little more tight-lipped than usual this week.
It takes serious courage to mention that guy's girlfriend by name in front of a national audience, doesn't it? As I type this, Tom Brady is still in Belichick's office begging him to let this one slide.
Also from Larry Brown Sports
MLB pitcher has championship ring stolen from house
Aaron Rodgers calls out Pro Bowl teammates for lack of effort
Original Story:
http://larrybrownsports.com/football/...
THE BACKYARD
BEST OF MAXIM
AROUND THE WEB
RELATED ARTICLES
Over his illustrious professional football coaching career, Bill Belichick has devised clever schemes in the Super Bowl.  Does he have yet another one up sleeve in this upcoming Super Bowl?Back when Belichick was defensive coordinator for the New York Football Giants, his defensive game plan in Super Bowl XXV is legend.  Remember, the Bills under quarterback Jim Kelly ran the...
The talk of Indy so far is the ankle sprain of Rob Gronkowski, revenge vs the Giants, even Peyton Manning's future. What it is not about is Wes Welker. The productive receiver seems to be enjoying flying under the radar.
It looks like New England Patriots head coach Bill Belichick is pulling out all the stops in order to prepare his team for Sunday's Super Bowl. During Wednesday's practice, Belichick had his team take a 31 minute break in the middle of practice, to simulate Sunday's lengthy halftime. A typical halftime in an NFL game is about 20 minutes, in the Super Bowl it's 31 minutes...
INDIANAPOLIS (AP) - Quick, Wes Welker, spell Bill Belichick. Hey, Osi Umenyiora, know any other Elis besides that Manning guy? Rob Gronkowski, what's your favorite song by Madonna?Not exactly challenging questions about Sunday's Super Bowl between the New York Giants and New England Patriots. But that's media day, the NFL's ...
The Patriots speak effusively of Bill O'Brien and his two-year body of work, with Bill Belichick calling him "an outstanding football mind."
PFT: Bill Belichick has seen a lot of players come through the NFL in his 37 years of coaching. There haven't been many quite like Giants defensive end Jason Pierre-Paul.
By Brian MacPhersonINDIANAPOLIS -- Normally famously tight-lipped about his players' injuries, Bill Belichick said there was "a possibility" right tackle Sebastian Vollmer could play in the Super Bowl -- and then elaborated. Vollmer, who has not played since Nov. 27 with foot and back injuries, had his foot in a cast until the week before the Patriots' Jan. 14...
Inside the stadium, the Super Bowl is usually one of the quietest NFL games of the year. Neither team has all its home fans in the stands, and the folks who can afford tickets tend to be more the suit-and-tie crowd and less the "support your team" face-painting crowd. But Patriots coach Bill Belichick, who…
INDIANAPOLIS — Thanks for nothing, Mo. Bill Belichick being forced to use Tom Brady because of Jets linebacker Mo Lewis' hit on Drew Bledsoe 11 years ago turned out to be the best thing that ever happened to the Patriots. But in a lot of ways it's been the worst...
Today was the final day the players had to deal with media obligations. It was obvious Rob Gronkowski was tired of answering the same questions about his injured left ankle, over and over again And then some. Yes, his high ankle sprain was feeling much better. No, he didn't know if he would practice today. Yes, he had reached the point of frustration at not being able to be out...
Latest Rumors
The Backyard

Today's Best Stuff

For Bloggers

Join the Yardbarker Network for more promotion, traffic, and money.

Company Info

Help

What is Yardbarker?

Yardbarker is the largest network of sports blogs and pro athlete blogs on the web. This site is the hub of the Yardbarker Network, where our editors and algorithms curate the best sports content from our network and beyond.