Found October 05, 2012 on NorthWest Sports Beat:
PLAYERS:
Cam Newton
,
Marshawn Lynch
,
Russell Wilson
,
Anthony McCoy
,
Jonathan Stewart
,
DeAngelo Williams
,
Mike Tolbert
,
Brandon Mebane
,
Earl Thomas
,
Kam Chancellor
,
Richard Sherman
,
Brandon Browner
,
Chris Gamble
,
Robert Turbin
,
Leon Washington
,
Aaron Rodgers
,
Steve Smith
,
Brandon LaFell
,
Chris Clemons
,
Bruce Irvin
TEAMS:
Carolina Panthers
,
Seattle Seahawks
,
Green Bay Packers
Goodbye Super-Cam, Hello Clark Kent. This season has been quite the roller coaster ride for Cam Newton and the Carolina Panthers. Over the first four weeks of the season, Newton's QBR has been 34.5, 88.3, 15.6, and 68.7. With 50 being the average in the QBR rating system, you can see how Cam's numbers fluctuated week by week.
The Panthers are far from the electrifying offense they were last season, and the Seahawks must capitalize on that.
Coming off of a tough loss in St. Louis, the Seattle offense looked terrible – aside Marshawn Lynch's 118 yards with a touchdown. Russell Wilson's three interceptions have already began the "Bring in Flynn!" eruptions from the 12th man. I urge the fans to put down their pitchforks and torches, and let the rookie get comfortable. Coming off of a tough loss in St. Louis, the Seattle offense looked terrible Wilson's interceptions were not terrible throws, but miscommunications between the quarterback and receiver – and even a slip by tight end Anthony McCoy that ended the chance for a late game rally. Wilson is still in the midst of a learning process, and more than capable to travel to Carolina and put the Panthers away. Here is what I am watching for this Sunday. Feed the Big Boys The Panthers averaged a league-best 5.4 yards per carry last season on the ground. They also led the NFL in rushing touchdowns with 26. Yes, Newton's rookie numbers were beyond impressive and record-breaking. However, without a running attack their passing game isn't nearly as potent. As previously noted, Newton's performances have been very inconsistent. In the first week (34.5 QBR), the Panthers rushed for 10 yards on 13 attempts in a loss to Tampa Bay. That was as a team. 10 yards. I could get 10 rushing yards in a game. In week two (88.3 QBR), the running game trounced the New Orleans defense for 219 yards and punched it in the end zone 3 times. Week three (15.6 QBR), they got an unimpressive 60 yards on 20 carries. Finally, in week four (68.7) they had another impressive showing with 199 yards and 2 scores.
As you can see, Newton's performance heavily relies on the rushing attack. The Seahawks may not be the best team on the road – might even be one of the worst – but these big boys up front for the Seattle defense are hungry week-in and week-out.
Holding the 2nd best rush defense in the league, the front seven for the Hawks are going to need to keep Jonathan Stewart, Deangelo Williams, Mike Tolbert, and yes, Cam Newton from breaking free in the ground game. If this happens, I predict victory for the Seahawks and several belly dances from my manBrandon Mebane. Boom Goes the Dynamite Over the past few weeks, the Seahawks' secondary has garnered the nickname "Legion of Boom." This is because of their unusual combination of size and speed. Between Earl Thomas, Kam Chancellor, Richard Sherman, andBrandon Browner, the average height is 6'3″. That is ridiculous. And they HIT. With the big boys up front feasting on the remains of Newton and his gang of RB's, the Legion of Boom will be roaming the secondary, waiting for a not-so-uncommon Cam Newton miscue. Whether it is an interception, a big hit, or just solid coverage, the Seattle secondary is going to have a field day if the front seven can keep the running game grounded. Wilson cannot continue to run out of the pocket when he feels pressure coming. (photo Yahoo! Sports) Wilson Ya Gotta Stay Calm Too often this season Russell Wilson has felt pressure in the pocket and instinctively used his feet to get out of trouble and attempt to find a receiver down field on a roll-out. This can be a great thing, and a terrible thing. Wilson's athletic ability is obvious. Dude's got wheels. Yet he cannot continue to run out of the pocket whenever he feels the slightest amount of pressure coming. This forces receivers to break off from their routes and run towards the side of the field Wilson is scrambling to. It turns an offensive scheme into backyard football (great game) and eliminates the offensive coordinator. I'm sure Seahawks OC Darrell Bevell has spoken to Wilson about this already. With the NFL's leading rusher in your backfield, you don't always need to run around and make the big plays. A simple throw away could lead to a five-yard gain from Lynch on the next play. As Wilson matures, he will learn that it is imperative to rely on your arm more than your legs in the NFL. If he can stay in the pocket, he has the ability to pick apart the Panther's 22nd ranked pass defense. Taste the Rainbow The Panthers have the 22nd ranked pass defense, and the 25th ranked rush defense. They are flat out awful. And with the announcement that their two best players – John Beason and Chris Gamble – will miss the contest, you might as well put Lynch on a segway and let him coast to the end zone. Lynch has been very impressive this season, rushing for 423 yards with a 4.6 yard-per-carry average. He will definitely carry the load for the Seattle offense on Sunday, and has very feasible back ups in Robert Turbin and Leon Washington. Wilson will be the delivery man between the center and the running back for most of the game, as the Hawks could very well run the ball over 40 times. If they are efficient and Wilson manages the game, Lynch will be making it rain with Skittles on the sideline. IF the Seahawks can stop the Panthers' run game, the pass rush will unleash a storm Open the Flood Gates These of course are all hypothetical situations. IF the offensive line creates holes, Marshawn will have a big day. IF Wilson can stay calm and not make mistakes, he will be productive. And yes, IF the Seahawks can stop the Panthers' run game, the pass rush will unleash a storm on Newton. After an outstanding performance on Monday night with 8 sacks in the first half on Aaron Rodgers, Seattle went to St. Louis and left Bradford nearly untouched. The defense still played great – being fooled only on a fake field goal for a touchdown – but the pressure just was not there. This Sunday the defensive focus will be on Cam Newton and the Panthers' run game. Yes they have Steve Smith, but our secondary can lock him up, forcing other receivers to make plays (Brandon LaFell? Please don't…).
Our pass rush can be lethal, but they seem to thrive off of crowd noise and are much more efficient playing at Century Link with the 12th man.
Chris Clemons and Bruce Irvin are going to see several 3rd-and-long's if the run defense does its job. They need to get their home-game killer instinct and establish it on the road, opening the flood gates and creating a bad day for poor Mr. Newton. CLICK HERE CHECK OUT THE SEAHAWKS BLOG IN OUR CLUBHOUSE AT NWSB! © Jordin Ereth for North West Sports Beat, 2012. | Permalink | No comment | Follow NWSB on Twitter or join US on Facebook for real-time updates OR... | Share This on Twitter | Share NWSportsBeat.com on Facebook Post tags: Anthony McCoy, Brandon Browner, Brandon Mebane, Cam Newton, Earl Thomas, Kam Chancellor, Marshawn Lynch, Russell Wilson, Seahawks vs. Panthers, seattle, Seattle Seahawks, Seattle Seahawks vs. Carolina Panthers, Week 5
Original Story:
http://www.nwsportsbeat.com/seahawks/...
THE BACKYARD
BEST OF MAXIM
RELATED ARTICLES
The last few weeks have not been kind to Cam Newton. Underwhelming performances, coupled with a woe-is-me, sulking persona, has ignited criticism from fans, media, and even his own teammates. Just a year ago, Newton was tearing up the league as a rookie phenom. Now he's made a mockery of — in his own town, no less. He's found out the hard way that it's not easy playing quarterback...
Superman's kryptonite It's week 5 for the Seattle Seahawks as they head into Carolina this weekend to take on the Panthers. The Seahawks will be looking to recover from a devastating loss against the Rams last week and will have their work cut out for them against Cam Newton and company. The offense sputtered last week for Seattle, who blew multiple chances to win the game against...
Oregon's Time It has not been even two years since Cam Newton and the Auburn Tigers won the 2011 BCS National Championship, and yet, so much has changed. Newton is now a second-year NFL star with the Carolina Panthers while the Auburn Tigers are struggling to keep up pace with the rest of the SEC. Michael Dyer, once a budding college football running back made famous by his controversial...
Former Seattle Seahawks great Warren Moon believes that head coach Pete Carroll needs to stop having rookie quarterback Russell Wilson play like a robot to limit turnovers. "He feels that he can do more and handle more than they're giving him," Moon told Doug Farrar of Shutdown Corner. "You've got to remember — Pete's a defensive coach, and he preaches, 'Turnovers...
The first quarter of the 2012 season is over, surprised as fans and analysts may be the Arizona Cardinals are holding the top spot in the NFC West. Before the start of season the prevailing opinion was the 49′ers were not only the best team in their division but in the entire NFL. While San Francisco has played well, a loss to the Minnesota Vikings has relegated them to second...
Going for broke On Sunday, the Seattle Seahawks take their number one ranked run game into NASCAR country to take on the Carolina Panthers. This game is a tale of two beasts in the backfield that will hope to lead their teams to victory as both QB's are having a rough go of it lately. Matchup: Seattle vs. Carolina Venue:Bank of America Stadium Time: 1:05 PM (Local) Date: October...
    Kramerica Sports weekly player rankings are based on Yahoo Sports standard scoring settings. Positional ranks are based on numerous factors, including opposing defense, historical data, player health, gut feelings, and other classified variables.     Play of the Week- Matt Ryan has emerged as an elite fantasy quarterback in 2012. His week 5 matchup against the Redskins...
Don't give up now The Seattle Seahawks have found themselves embroiled in quarterback controversy since last season ended. With the loss of Charlie Whitehurst and the signing of Matt Flynn, things got really interesting in Seattle. Then draft day rolled around and the Seahawks grabbed another QB – Russell Wilson from Wisconsin. So began the 3 headed race that never was to be...
The Seahawks are on the road again this week taking on yet another opponent they should be able to beat in the Panthers.  The lynchpin of Carolina's offense is still Cam Newton, who through four weeks has been putting up similar numbers to those from his Pro Bowl rookie season.  He's getting plenty of help in the ground game from DeAngelo Williams, but his only...
I will try to ignore the controversy that took place 2 weeks ago, but I admit it will be hard to avoid. At 2-2 the Seattle Seahawks have been on quite a roller coaster. A big win vs. the Dallas Cowboys showed how strong this team can be at times, while losses against the Cardinals and Rams also frustrated Seahawks fans. When you throw in some luck, and some great defense it has been...
According to Dan Arkush of ProFootballWeekly.com, the Seatlte Seahawks are still concerned about the Matt Flynn's elbow. One of the reasons it wouldn't make sense to bench Russell Wilson in favor of Flynn if the Seahawks don't improve, is that no one knows how his elbow will hold up. "The thing is, they're giving Wilson the great majority of reps in practice, because they...
Replacement Refs, QB Controversy, Inconsistencies In part one of our four part series, NWSB examined the first four games of the Seattle Seahawks' 2012 schedule.  Fearlessly, I predicted that the Seahawks would find themselves sitting with a record of 3-1 at this point in the season and, needless to say, I was wrong. It's been a frustrating campaign so far — to say the least...
NFL News

Delivered to your inbox

You'll also receive Yardbarker's daily Top 10, featuring the best sports stories from around the web. Customize your newsletter to get articles on your favorite sports and teams. And the best part? It's free!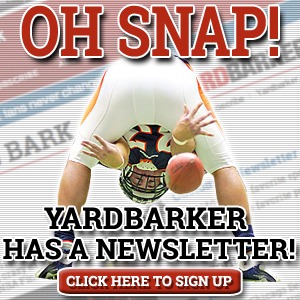 Latest Rumors
Best of Yardbarker

Today's Best Stuff

For Bloggers

Join the Yardbarker Network for more promotion, traffic, and money.

Company Info

Help

What is Yardbarker?

Yardbarker is the largest network of sports blogs and pro athlete blogs on the web. This site is the hub of the Yardbarker Network, where our editors and algorithms curate the best sports content from our network and beyond.