Found June 09, 2013 on Waiting For Next Year:
"While We're Waiting" serves as the early morning gathering of WFNY-esque information for your viewing pleasure. Have something you think we should see? Send it to our tips email at tips@waitingfornextyear.com. "If Portland was ever going to trade Aldridge, they'd be sure to get the best return possible for him, as they should. If a trade with Cleveland was ever going to happen, Portland would undoubtedly insist on getting that pick (with other assets included as well) in exchange for their star big man. The reputation of this year's draft gives Portland more leeway in trade negotiations. If the first overall were available, then that's when trading Aldridge becomes an idea for management to consider. As good as Aldridge is, he's 28 next month. Damian Lillard and Nicolas Batum are 22 and 24 respectively, and their best years lie ahead of them. Aldridge will be on the wrong side of 30 when they hit their prime. Could the Blazers conceivably be a contender with an aging Aldridge? I'm hesitant to say yes, and it would require a lot more depth than what they have now. It's hard to imagine them rising to that level. By flipping Aldridge for young assets such as center Nerlens Noel via the first overall pick and one of Tristan Thompson/Dion Waiters, the Trail Blazers could add a bunch of good young players that can all reach their prime at once. Flipping Aldridge for two players also helps with the problem of depth, and from what we have seen so far, Lillard seems like a mature enough figure to replace Aldridge as a leader. Throw in some veteran leadership, some complimentary role players (and while very raw, Meyers Leonard is still a very nice asset to have alongside the other young players), and there you have a foundation that could be better to work with." [Yeung/Rip City Project] — "The Dolans are like a big-name Hollywood producer. When they produce something, you know about it and it comes with a lot of media hype and anticipation for some. But some producers develop a reputation for making crap movies and that's what the Indians of recent years have become. Regardless of past hit films, the producer's name in the public eye becomes diminished and very few make plans to head to the theater and catch their latest film.  Sometimes good reviews trickle in and encourage some to spend an afternoon seeing what its all about and perhaps coming away pleasantly surprised, but throwing large amounts of money at a blockbuster does not guarantee one box office success. A producer is only as good as their body of work. One solid film to debut (2001 season) and a big hit (2007 season) surrounded by a series of clunkers leave fans untrustworthy of initial hype for the producer's films. Sometimes this will lead to quality films being largely ignored and seen as great works in retrospect, but often not every good movie is truly appreciated on its debut." [Boveroux/Wahoos on First] — "After spending much of his time at right defensive end in the Raiders' 4-3 defense during the 2011 season, Desmond Bryant flourished on the inside at defensive tackle during the 2012 season.  Bryant is an incredible athlete with rare flexibility for a man of his size (6'6″ tall, 310 lbs. according to the Cleveland Browns' official team website).  Not only does he possess an explosive first step, but he also moves laterally with ease, and even bends the edge from time to time.  He uses his hands extremely well and he understands how to beat offensive linemen with technique.  His rare combination of power and athleticism can make him nearly unblockable from time to time.  Bryant does a great job of mixing up his rush moves.  The two moves that Bryant relies on regularly are his bull rush and swim move.  Bryant has a very high motor and he consistently shows relentless effort in getting to the quarterback." [Leister/DraftBrowns.com]
Original Story:
http://www.waitingfornextyear.com/201...
THE BACKYARD
BEST OF MAXIM
RELATED ARTICLES
In Terry Pluto's latest column he writes that the Browns will most likely part ways with linebacker James Michael Johnson. Johnson missed six games due to injury in 2012, but was highly regarded by the previous regime, playing in 45 percent of snaps when healthy. With 2012 undrafted free agent Craig Robertson looking like the starter along side D'Quell Jackson at inside linebacker...
Yesterday, 3:04 PM. That's the exact time at which Cleveland Browns beat writer Tony Grossi broke the story of wide receiver Josh Gordon's impending suspension: In our modern, Twitter-fueled news cycle, Browns fans had digitally chewed up and spit out the second-year receiver by 3:30. "He's just another bum," they said.  They asked, "Why can't these overpaid schmucks...
Cleveland Browns wide receiver Josh Gordon is reportedly in Stage 3 of the NFL's drug program and is one failed test away from a one-year suspension. Mary Kay Cabot of The Cleveland Plain Dealer reports that Gordon's most recent failed test was at least the second of the young receiver's career. While it is unclear as to how, exactly, Gordon landed in Stage 3 1 , Cabot believes...
The great thing about the NFL is that there are so many positions that every year, there is almost always at least one player who has a breakout year on every team, no matter how good or bad the team is. This is one part in a 32 part segment detailing one potential breakout player (rookies don't count) for the 2013 NFL season on each NFL team. For the Cleveland Browns, that player...
Cleveland Browns receiver Josh Gordon has been suspended for violating the league's substance-abuse policy, reports Tony Grossi of ESPNCleveland.com. The suspension is for two games and he's also been fined four game checks. Gordon, no stranger to trouble at Baylor after reportedly failing three marijuana tests there, is claiming that the PED suspension is all one big misunderstanding...
The NFL announced last week that Cleveland Browns second-year wide receiver Josh Gordon would be suspended for the first two games of the season and also must forfeit his first four game checks as a fine after failing a league mandated drug test. Gordon claims that the positive on his drug test came after he took cough syrup which contained codeine, a banned substance according to...
Everyone gets a cold or sore throat from time to time. I know the NFL has rules in place, but I find it hard to believe that if Gordon went to the doctor for strep throat and was prescribe medication for it, he would be currently suspended by the NFL. But, that is Gordon's story and he is sticking to it. "In February, I was diagnosed with strep throat for which a doctor prescribed...
A couple of days ago, Josh Gordon, WR for the Cleveland Browns was busted for a second time, violating the leagues substance abuse policy. He will be required to miss the first two games of the 2013 season and get four game checks taken away. For many, Gordon was a revelation last season and is being watched closely heading into fantasy drafts. He showed a lot of promise in 2012...
Josh Gordon was selected in the second round of the 2012 NFL Supplemental Draft, and faced an uphill battle into the NFL after a number of key drug issues while at Baylor.Playing alongside future NFL players such as Robert Griffin III, Terrance Williams, and Kendall Wright helped prove that his NFL potential was no fluke.His measurable were outstanding, coming in at 6'4&quot...
2012 Record: 5-112012 DownfallPassing StrugglesWith the benefit of hindsight, if you're the Browns, would you have traded up to the No. 2 spot with St. Louis (the original placeholder) to ensure that you get Robert Griffin III? Indianapolis had their heart set on Andrew Luck, so he was out of the question, but Cleveland could have certainly sweetened the pot for the eventual...
NFL News

Delivered to your inbox

You'll also receive Yardbarker's daily Top 10, featuring the best sports stories from around the web. Customize your newsletter to get articles on your favorite sports and teams. And the best part? It's free!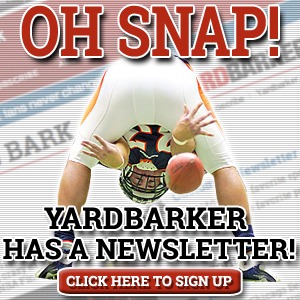 Latest Rumors
Best of Yardbarker

Today's Best Stuff

For Bloggers

Join the Yardbarker Network for more promotion, traffic, and money.

Company Info

Help

What is Yardbarker?

Yardbarker is the largest network of sports blogs and pro athlete blogs on the web. This site is the hub of the Yardbarker Network, where our editors and algorithms curate the best sports content from our network and beyond.