Found February 13, 2013 on Cippin on Sports:
PLAYERS:
Tom Brady
,
Ray Lewis
,
Bill Belichick
,
Tedy Bruschi
,
Rodney Harrison
,
Richard Seymour
,
Mike Vrabel
,
Deion Branch
,
Troy Aikman
,
Logan Mankins
,
Vince Wilfork
,
Wes Welker
,
Brandon Lloyd
,
Aqib Talib
,
Albert Haynesworth
,
Chad Johnson
TEAMS:
New England Patriots
,
Baltimore Ravens
,
Oakland Raiders
,
Kansas City Chiefs
The Baltimore Ravens are your Super Bowl champions! I know, it's a little late but I had to write last week in "tribute" to Ray Lewis. But with the Ravens holding the rights to call themselves Super Bowl champions until next February, the debate now begins. Who is the favorite to win in next year? The opening odds to win the 2014 Super Bowl have the Patriots at 6-1, Niners at 7-1, Broncos 8-1, Packers and Texans 10-1, Seahawks 12-1, Steelers and Ravens 14-1. Once again the Patriots are the opening favorites; last season they opened at 6-1 along with the Packers and Niners. Two seasons ago, they opened at 7-1 along with the Packers. Three seasons ago, both the Patriots and Packers opened at 4-1. So, you get the point. Oddsmakers love the Patriots every single year. But why wouldn't they? How could you bet against Tom Brady and Bill Belichick? In his career, Tom Brady has won over 77 percent of the regular season games he's played. Every year, no matter who he's throwing to, he has been excellent. The Patriots are the opening favorites, yet again; and yet again, I'm not buying it. In fact, I believe that Tom Brady will not win another Super Bowl with the Patriots. Here's why: Tom Brady is 35 years old, and will be 36 by the time the season begins in September. Not to say that 36 is too old to win, all I'm saying is that he's getting up there and his clock is ticking. He hasn't won since 2005. Once again, that doesn't defy the rest of his career. After all, Ray Lewis won in 2001 and then again 12 years later. However, the Patriots no longer have that winning swagger that they carried throughout the 2000s. Lack of competitive edge. Tom Brady is one of the most competitive players to ever step on the field, but he can't do it by himself. The New England Patriots are missing players with an edge similar to Brady's. (Tedy Bruschi, Rodney Harrison, Richard Seymour, Mike Vrabel, Deion Branch, etc.) The expansion of talent in the rest of league. There are more teams in the league now that have what it takes to win a Super Bowl. The AFC in particular has improved; Brady used to only fear Peyton and the Colts in the AFC. Now he has to worry about Flacco (Ravens), Roethlisberger (Steelers), Texans (Schaub), Manning (Broncos), Luck (Colts), and even Dalton (Bengals). And that's just the AFC. Tom Brady won his first 10 playoff games, but he's just 7-7 since then. Tom Brady didn't get any worse, the team around him did. Similar thing happened to Troy Aikman; he went 7-1 in his first eight playoff games and then 4-4 after that. The Cowboys team around him changed, Troy didn't.  Teams don't fear New England like they used to. Baltimore went into New England in January this year and beat the Patriots by 15 points. They almost did the same last January. That would have been unthinkable about ten years ago. Not anymore. Their defense isn't feared by anyone. This year they ranked 25th in the league in total defense. Last year, they ranked 31st. Two years ago, 25th. You get the point; there defense is not good anymore, in fact, it is pretty bad. In comparison, the Patriots had the 7th best defense when they won in 2004. In 2005, they were ranked 9th and won another Super Bowl. That's a HUGE difference, Tom Brady can't play defense!! So, is there anything the Patriots can do to help Brady get another ring? Well, here's the situation. They need help; they cannot win with this roster. But can they get help? Currently, Tom Brady, Logan Mankins, and Vince Wilfork make up roughly 35 percent of the Patriots salary cap for 2013. That's no waste of money because those are three players vital to the Patriots' success. However, they don't have the money they need to spend. They want to keep Wes Welker and they want to add another receiver. I don't see them holding onto Brandon Lloyd; he didn't prove to be the deep threat they were looking for. But even if they keep Welker, add another receiver, and have the tight end duo of Hernandez and Gronkowski, they still don't have defense. And they're not going to be able to draft much either. The Patriots, known for piling up draft picks, only have four picks in the upcoming draft in April. They traded away their fourth, fifth, and sixth round picks for Aqib Talib, Albert Haynesworth, and Chad Johnson, respectively. And only Talib really brought much value to the Patriots. Regardless of all this, the Patriots somehow opened with the best odds of winning the 2014 Super Bowl. It'll be interesting to see their odds come September when the preseason odds come out, after free agency and the draft have been played out. I would expect the odds to still be good, but not quite as good. Regardless, Tom Brady will not win another Super Bowl with the New England Patriots. I'll say it again. Tom Brady will not win another Super Bowl with the New England Patriots. Thanks for reading, and stay tuned for next week when I'll give my early predictions for the 2013-14 NFL Season!
Original Story:
http://feedproxy.google.com/~r/Cippin...
THE BACKYARD
BEST OF MAXIM
RELATED ARTICLES
Tom Brady 2012 Highlights (by fingerflip54)
(Click image for larger version) Thanks to a Vegas tipster, we now know that Rob Gronkowski's bar bill at XS at Encore on Super Bowl Sunday was $9,615. This is the tab from the same night when our hero slammed his buddy on the XS stage, which led to a video on TMZ and concern from Boston media types. As you can see, Gronk and his team went hard on the Grey Goose, champagne, 14...
Thanks to the fine folks over at Busted Coverage, New England Patriots tight end Rob Gronkowski's Las Vegas spending habits during Super Bowl weekend are now public knowledge. We previously noted that Gronk was partying in Las Vegas during Super Bowl weekend at XS Nightclub and below is the tab that he ran up: Geez, Gronk paid nearly $1,400 in gratuity...
There has been a growing concern among New England Patriots fans and the like that Rob Gronkowski is getting carried away with his passion for raging. Another offseason has begun with one of Gronk's limbs in a cast. Like his injured ankle last year, Gronkowski's surgically-repaired forearm doesn't appear to be slowing him down when it comes to partying shirtless and wrestling...
New England Patriots offensive lineman Logan Mankins told Mike Reiss of ESPNBoston.com that he doesn't have a problem with the way tight end Rob Gronkowski has been acting off the field. "I know we are referring to Gronk and partying and doing wrestling moves and stuff. I think Gronk's having fun," Mankins said Tuesday during a charitable appearance at the Kraft Family Blood...
'Shutdown Corner' offseason TPS report: New England Patriots: The Patriots pass rush racked up 37...
New England Patriots Tribute (by BostonFan343)
Patriots tight end Rob Gronkowski has been catching flak the past week or so, after video surfaced of him partying in Vegas, and not being safe with his broken forearm.  Pundits and teammates alike have all offered their opinions on the matter.  In a photo courtesy of Busted Coverage, Gronkowski wanted to show everyone how sorry he was for partying, by wearing a t-shirt that...
On the Patriots, the Ravens, and the myth of late-season momentum - WEEI | Christopher Price:...
We at Patriots Life are giving out our post season awards. Previously, we revealed the New England Patriots:MVPOffensive Player of the YearDefensive Player of the YearRookie of the YearBreakout Player of the Yearand Coach of the Year.Now, the award season is coming to an end, as we give out our undesirable final award, for Bust of the Year. And the award goes to... It'...
The Washington Redskins are getting a head start on free agency by signing former New England Patriots defensive tackle Ron Brace. Brace, a former second round pick out of Boston College in 2009 has played in 39 NFL games with the Patriots. He was released at the end of the year. Brace will add depth to a Redskins defensive line that was improving throughout last year. With Barry...
For Valentine's Day a video that warms my heart… **** Bill Belichick Says (by ViralToob)
NFL News

Delivered to your inbox

You'll also receive Yardbarker's daily Top 10, featuring the best sports stories from around the web. Customize your newsletter to get articles on your favorite sports and teams. And the best part? It's free!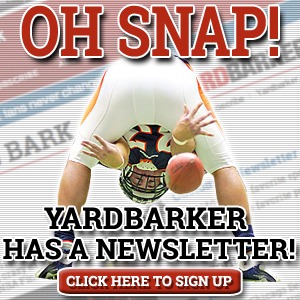 Latest Rumors
Best of Yardbarker

Today's Best Stuff

For Bloggers

Join the Yardbarker Network for more promotion, traffic, and money.

Company Info

Help

What is Yardbarker?

Yardbarker is the largest network of sports blogs and pro athlete blogs on the web. This site is the hub of the Yardbarker Network, where our editors and algorithms curate the best sports content from our network and beyond.