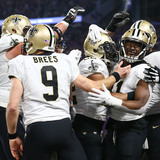 Following a strong regular season and playoff run, the New Orleans Saints will be moderately raising their ticket prices for the 2018 NFL season."While we could certainly go out there and have a much larger increase and sit here and count the money, it would be a disservice (to the fans), and it would hurt satisfaction," Saints vice president of marketing and business development...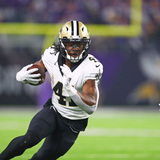 Alvin Kamara was an absolute savage on the field as a rookie for the New Orleans Saints this past regular season. The Tennessee product put up 1,554 total yards and scored 13 touchdowns while averaging 7.7 yards per touch. He will likely earn NFL Offensive Rookie of the Year honors next month.But apparently Kamara is also a savage when it comes to this whole social media thing. Just...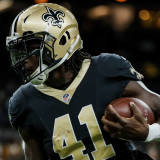 Saints rookie Alvin Kamara is ready for the playoffs, it seems.Kamara and his team are set to take on the Vikings in Sunday's divisional-round matchup. Lucky for them, they'll have the fuel they need to play at the optimum level.The Saints rookie, who was seen giving out Airheads during last week's playoff showdown with the Panthers, appears to have stocked up on the sugary sweets...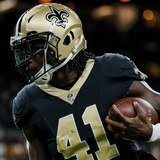 New Orleans Saints rookie running back Alvin Kamara's Week 16 jersey has been featured in the Pro Football Hall of Fame. Extremely honored and "speechless," Kamara tweeted this. Kamara, a strong candidate for MVP Offensive Rookie of the Year, tallied 1,554 scrimmage yards and 13 touchdowns. Ingram finished the season with a career-best 1,540 scrimmage yards and 12 touchdowns.As we...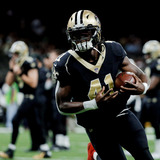 New Orleans Saints rookie running back Alvin Kamara more than earned his signing bonus after his stunning accomplishments in 2017. When discussing the bonus and what did with it, Kamara had a colorful answer."I got my signing bonus and I put that (expletive) in the bank and I went and got some (expletive) wings, Kamara said per THEMMQB.com (h/t ESPN)."Kamara's candidness is quite...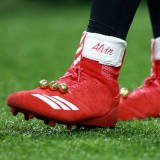 New Orleans Saints running back Alvin Kamara took to Twitter Thursday morning to reveal he was fined an undisclosed amount by the NFL for wearing red Christmas cleats during Sunday's 23-13 victory over the Atlanta Falcons. Kamara even tweeted out an image of the league's fine letter. The cleats in question clearly were in violation of the NFL's strict uniform policy. The red Adidas...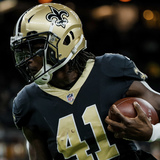 New Orleans Saints running back Alvin Kamara left last week's loss to the Atlanta Falcons in the first half with a concussion, but it sounds like he has cleared the NFL's concussion protocol.Kamara said during the week that he expects to play on Sunday against the New York Jets, and Saints head coach Sean Payton said the same on Thursday. Kamara getting knocked out early may have...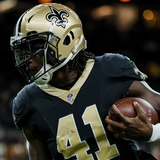 The New Orleans Saints were dealt a major blow early on in Thursday night's loss to the Atlanta Falcons when rookie running back Alvin Kamara suffered a concussion. While the injury was serious enough to rule Kamara out for three-plus quarters, he does not seem to believe it will be a long-term issue.Early Friday morning, Kamara tweeted that he will be "back it it" next week. Of...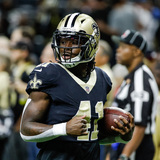 Alvin Kamara was placed in concussion protocol after taking a hit to the head in the first quarter of Thursday night's New Orleans Saints-Atlanta Falcons game.The Saints tried to set up a screen for Kamara in Atlanta territory, but the Falcons were all over it. The rookie running back was hit hard in the head by Deion Jones, who brought him down immediately. Heather Cox reported...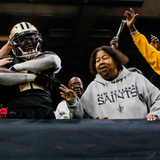 New Orleans Saints running back Alvin Kamara has come up with a great nickname for the touchdown celebration he used on Sunday.Kamara, who has seven touchdowns on the season, scored on a TD catch in Sunday's comeback win over Washington. After the TD, he leaped into the stands and actually stood there next to some fans. Take a look: Kamara's twist on the Lambeau Leap has lent itself...
MORE STORIES >>
Saints News

Delivered to your inbox

You'll also receive Yardbarker's daily Top 10, featuring the best sports stories from around the web. Customize your newsletter to get articles on your favorite sports and teams. And the best part? It's free!