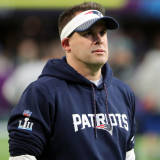 When Josh McDaniels shocked the Indianapolis Colts by abruptly deciding not to be the team's new head coach, speculation abounded as to what was behind his sudden change of heart.Among the many theories, amid others, forwarded in the aftermath of the stunning development was that McDaniels opted to remain with the New England Patriots as offensive coordinator had to do with a preference...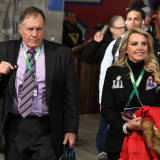 Patriots head coach Bill Belichick took to an exotic beach to get over the loss in Super Bowl LII, and he brought his girlfriend with him.Belichick and Linda Holliday posed for a photo on a remote beach somewhere, with a beautiful view behind them. Speaking of beautiful, Holliday was sporting a bikini top and skirt, while Belichick, well, he was wearing an "adapt or die" t-shirt...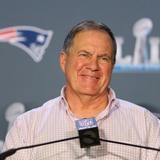 New England Patriots head coach Bill Belichick took off with his girlfriend, Linda Holliday, to an unnamed island for a holiday retreat.And really, everything about the little we know is absolutely amazing. Here, we see Belichick rocking an "adopt or die" shirt with an amazing coastal view in the background. That shirt itself could be defined a few different ways. But knowing that...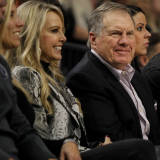 Linda Holliday, the girlfriend of New England Patriots head coach Bill Belichick, took to social media to post a loving Valentine's Day message to her longtime beau. The photograph, featuring Holliday and Belichick, showcases the couple enjoying some quality beach time. Holliday writes of Belichick, who is actually smiling in the photo: "You have bewitched me, body and soul, and...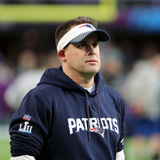 Josh McDaniels' seminal Tuesday in Foxborough included conversations with both Robert and Jonathan Kraft, but afternoon discussions with Bill Belichick had the most influence on the longtime Patriots OC, Mike Reiss of ESPN.com reports.Belichick's offer included involving McDaniels in conversations about the inner workings of the franchise, from roster construction to cap considerations...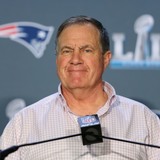 When Josh McDaniels made the stunning decision to back out of his agreement to become the next head coach of the Colts, the assumption immediately became that he is the head coach in waiting with the Patriots. That may be the case, but what if Bill Belichick is nowhere close to retiring?Several credible reports have indicated that Belichick will be back in 2018. Beyond that, no one...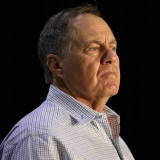 Bill Belichick is sick and tired of the continued questions from media about whether he'll coach the New England Patriots in 2018. On Monday, less than 24 hours after the Patriots were stunned by the Philadelphia Eagles in Super Bowl LII, the coach lit into the media for its continued persistence on this topic. In Belichick's defense, he has made it clear he will "absolutely" be...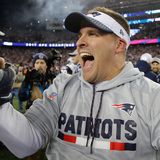 There was one heck of a sidestory going on during the Super Bowl.Pro Football Talk's Mike Florio reported on Twitter during the Super Bowl Sunday that some people aren't ruling out Bill Belichick retiring after the game and Josh McDaniels getting the Patriots' head coaching job. Many reports have said McDaniels is expected to become the Indianapolis Colts' head coach after the big...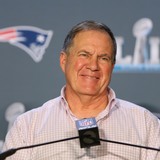 If you ever wanted Bill Belichick to show up to your front door but couldn't seem to lure him over, one man has the perfect solution to your problem.ESPN's Darren Rovell shared a picture Sunday morning of a Bill Belichick door knocker that really is perfect. It was created by Rhode Island artist, Palmer Murphy, who did an incredible job capturing "The Hoodie" in all his game-day...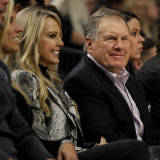 Bill Belichick's girlfriend, Linda Holliday, has been turning heads since the two began dating, and she'll really be shining at Super Bowl LII on Sunday.Holliday will rock a custom Swarovski crystal outfit for the big game at U.S. Bank Stadium, according to TMZ Sports. She'll wear a blazer with Belichick's last name spelled out on the back of it, which contains over 3,500 Swarovski...
MORE STORIES >>
Patriots News

Delivered to your inbox

You'll also receive Yardbarker's daily Top 10, featuring the best sports stories from around the web. Customize your newsletter to get articles on your favorite sports and teams. And the best part? It's free!