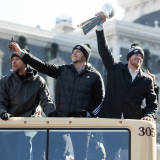 While the Eagles might not name an offensive coordinator, they have likely found their next quarterbacks coach. Assistant quarterbacks coach Press Taylor is expected to be promoted to the primary role, tweets Ian Rapoport of NFL.com. Taylor will replace John DeFilippo, who was hired as the Vikings' new offensive coordinator over the weekend. The 30-year-old Taylor joined Philadelphia...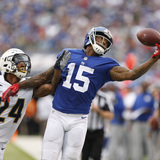 Despite being a six-time Pro Bowler, New York Giants wide receiver Brandon Marshall has yet to appear in a single playoff game during his 12 year career. He's obviously none too happy about this.Perhaps this is why he decided to go on an epic rant about the New England Patriots once again making their way to another Super Bowl."The league is not competitive. We all should be ashamed...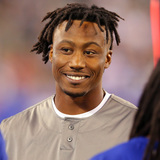 Brandon Marshall appeared in just five games for the New York Giants before suffering a season-ending injury, and he did not look like the same player even when he was on the field. Some have wondered if the wide receiver will consider retirement this winter, but that is not going to happen.Marshall is still under contract with the Giants after signing a two-year deal, and he says...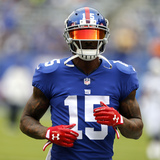 Brandon Marshall's Giants contract has not produced what the team envisioned. The 12th-year wide receiver barely made it into October before an injury cost him the rest of this season. Signed to a two-year contract, Marshall wants to play beyond that deal despite this latest setback."I'm all-in on football. I've rebuilt my body," Marshall said, via Jordan Raanan of ESPN.com. "I think...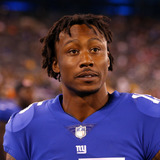 Brandon Marshall says he did not spit on a Philadelphia Eagles fan prior to Sunday's Week 3 game, despite what a fan reportedly claimed.SiriusXM NBA host Noah Coslov publicized the matter by tweeting that an Eagles fan told him Marshall spit on him: Sporting News later shared information about the matter, saying the New York Giants wide receiver got into it with a heckling fan during...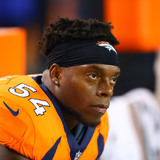 Giants fans took to social media after Monday night's embarrassing 24-10 loss at home to the Lions, but they probably should have doublechecked who they were mentioning before clicking the Tweet button.A key moment in the game took place early in the fourth quarter, when the Giants trailed by only a touchdown, and they were looking to put together a long drive to tie the game. Brandon...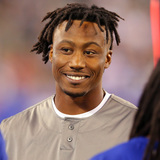 What does New York Giants receiver Brandon Marshall think about his new quarterback, Eli Manning? It's tough to say. But he may or may not think that Manning is in the same class as his previous quarterback, Ryan Fitzpatrick. Okay, then.In the interest of fairness, we do have to point out that Marshall was probably joking here. In fact, if 99.9 percent of humans on earth made this...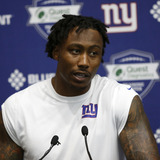 New York Giants wide receiver Brandon Marshall abruptly ended an interview on Thursday when he became unhappy with the line of questioning.Before he took part in the Celebrity Golf Classic at Mohegan Sun Casino in Conn., Marshall sat down for an interview with WEEI's "Kirk & Callahan Show." The known agitators asked Marshall about some comments he made nearly two years ago regarding...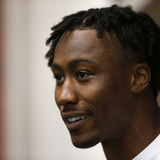 The New York Jets have been doing a deep clean of their roster. And they are currently taking a ton of criticism for sending several key players packing.Fortunately, former Jets receiver Brandon Marshall was released quite early in the proceedings. He quickly signed a two-year deal with the New York Giants, happy to play for a contending team.Free to speak his mind about his old...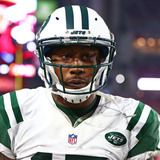 There has been a lot of fallout since the New York Jets were embarrassed by the New England Patriots 41-3 in Week 16. Wide receiver Brandon Marshall and defensive lineman Sheldon Richardson had a tiff after the game, which has spilled over into the week. Richardson ripped Marshall after the loss and said the wide receiver should be embarrassed, but he did not elaborate about why...
MORE STORIES >>
Giants News

Delivered to your inbox

You'll also receive Yardbarker's daily Top 10, featuring the best sports stories from around the web. Customize your newsletter to get articles on your favorite sports and teams. And the best part? It's free!