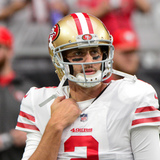 The New England Patriots are bringing back Brian Hoyer to serve as Tom Brady's backup, but they were not the only team that was interested in signing the veteran.Tom Pelissero of NFL Network reported on Wednesday that Hoyer has agreed to sign a three-year deal with the Patriots. According to Pelissero's colleague Ian Rapoport, the Green Bay Packers were trying to convince Hoyer to...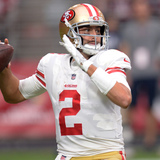 It looks like Tom Brady has a new backup—his old backup.Wednesday afternoon, in a move that will surprise very few, the Patriots brought Brian Hoyer back. Hoyer, of course, was released by the San Francisco 49ers on Monday following their acquisition of Jimmy Garoppolo. Now he rejoins Brady and Bill Belichick. Now he returns home, so to speak.Back in 2009, the Patriots would scoop...
The New England Patriots are currently without a backup quarterback for Tom Brady, but Brian Hoyer may soon remedy that problem.According to Field Yates of ESPN, Hoyer is visiting the team Wednesday morning and is expected to sign.This makes plenty of sense for the Patriots, who traded Jimmy Garoppolo to the San Francisco 49ers, who then released Hoyer. He had started six games for...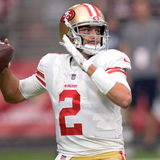 It has seemed like only a matter of time until Brian Hoyer signs with the New England Patriots after Jimmy Garoppolo was traded to the San Francisco 49ers on Monday, and the transaction could be happening as soon as Wednesday.According to ESPN's Field Yates, Hoyer is visiting with the Patriots on Wednesday and is expected to sign a deal. Ian Rapoport of NFL Media was told that Hoyer...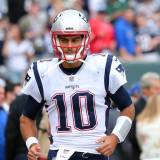 Tom Brady is hoping for the best for his former teammate, Jimmy Garoppolo.Garoppolo was traded by the New England Patriots to the San Francisco 49ers on Monday night for a second-round pick. He had been Brady's backup since being drafted in the second round in 2014, and now he'll get his chance to be a starter.Brady was interviewed by Westwood One's Jim Gray on Monday night after...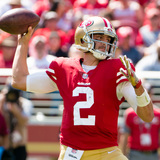 Following the blockbuster trade for Jimmy Garoppolo, the San Francisco 49ers are making yet another move at the quarterback position. According to NFL Media's Ian Rapoport, San Francisco will release veteran signal caller Brian Hoyer. Hoyer was signed by first-year head coach Kyle Shanahan and rookie general manager John Lynch to act as a stop-gap option until the 49ers found a franchise...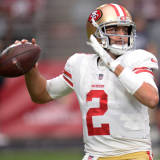 The San Francisco 49ers acquired Jimmy Garoppolo in a trade with the New England Patriots on Monday night, and as a corresponding move, they apparently will be releasing Brian Hoyer.ESPN's Adam Schefter, who first reported news of the Garoppolo trade, also reported that the 49ers will release Hoyer.The Niners signed Hoyer in the offseason to a two-year, $12 million deal. He did not...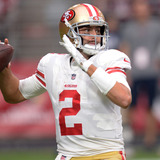 The C.J. Beathard era in San Francisco is upon us. After yet another brutal early-game performance, the San Francisco 49ers have benched veteran quarterback Brian Hoyer in favor of the rookie third-round pick from Iowa. In no way should this be considered a surprise. Hoyer, who had thrown just four touchdowns in five games heading into Sunday's action, started the game by completing...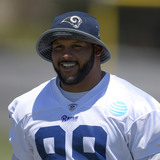 Now that Aaron Donald's holdout is over — and he's no longer on a snap count — opposing offensive linemen are left shaking in their boots heading into games.And on Thursday night, Donald showed why.In the third quarter of the game, he used a swim move to shed his block perfectly and then drilled Brian Hoyer, right as he released the ball.For some reason, though, Donald was hit with...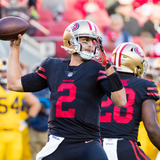 The 49ers received the opening kickoff of Thursday's divisional matchup against the 49ers, but it didn't take long for the game to take a turn for the worst.Quarterback Brian Hoyer targeted Marquise Goodwin on the team's first offensive play from scrimmage, and it didn't really go well. Rams cornerback Nickell Robey-Coleman jumped the route, picked off the pass and nearly scored...
MORE STORIES >>
Patriots News

Delivered to your inbox

You'll also receive Yardbarker's daily Top 10, featuring the best sports stories from around the web. Customize your newsletter to get articles on your favorite sports and teams. And the best part? It's free!