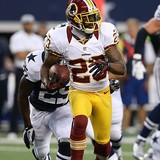 The Washington Redskins confirmed today that CB DeAngelo Hall, a defensive team captain, will go to injured reserve and miss the rest of the season due to a ruptured Achilles Tendon suffered in the third quarter of last Sunday's loss in Philadelphia. The Redskins quickly promoted CB Chase Minnifield from the 10-man practice squad to replace Hall on the roster. It remains unclear...
The Washington Redskins have announced that they have signed cornerback Chase Minnifield from their practice squad, following DeAngelo Hall's season-ending torn Achilles. The Redskins were down to three active cornerbacks following Hall's injury, and signing Minnifield was the obvious choice with a Thursday night against the Giants upcoming. Minnifield has been with the team since...
Washington Redskins head coach Mike Shanahan said Friday that the team had promoted cornerback Chase Minnifield from their practice squad to the 53-man roster. "We feel like he's earned the right [with] the way he practices, the way he handles himself," Shanahan said. "He could play the corner or he could play inside in a [...]
The Redskins started the day needing to get from 75 players to 53 players. Along the way they decided to keep 4 quarterbacks, which came as a surprise to everyone, and also decided to cut Chase Minnifield and Dejon Gomes. It should also be said that after Jarvis Jenkins and Rob Jackson serve their 4 [...]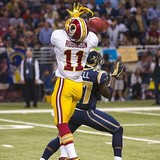 Redskins Practice Report Tuesday afternoon's practice session had it's first "fight" between Aldrick Robinson and Chase Minnifield. It was more like a slight scuffle, but at any rate it was the first major disagreement between two players since camp opened as the two got tangled up on a deep pass. Wide Receiver Josh Morgan was [...]
After suffering a torn ACL in mini-camp that ended his rookie season before it ever had a chance to get started, Redskins cornerback Chase Minnifield says he will be ready to compete for a job in the secondary when training camp opens on July 25th in Richmond Virginia. Minnifield was medically cleared earlier this month...
MORE STORIES >>
Redskins News

Delivered to your inbox

You'll also receive Yardbarker's daily Top 10, featuring the best sports stories from around the web. Customize your newsletter to get articles on your favorite sports and teams. And the best part? It's free!