While free agency officially begins in March, roster turnover isn't too far away. The Cowboys will indeed add and presumably release players, along with letting some go without a new contract.
FRISCO, Texas – The Cowboys might have surprised some observers by making rookie
SANTA CLARA, Calif. -- The Cowboys made a change at quarterback heading into their Week 7 game against the 49ers.
Has the rookie pushed the veteran off the roster? There are only so many roster spots to go around on a National Football League team. Final cut downs are always a series of compromises. Teams juggle the final few slots around looking for the best possible combination. Going long at one position means going short at another. That poses the question "Does Dallas value Kellen Moore...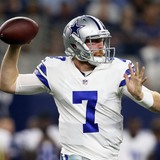 Could it be that the Dallas Cowboys have two amazing young signal callers these days? According to future Hall of Famer Jason Witten, they do. Witten is amazed by what young Cooper Rush brings to the table.In fact, after Saturday night's game against Oakland, he compared the young rookie out of Central Michigan to one of the franchise's all-time best — recently retired Tony Romo...
The Cowboys moved Cooper Rush into the No. 2 quarterback spot in Saturday night's game against the Raiders and the undrafted rookie went 12-of-13 for 115 yards and two touchdowns in relief of Dak Prescott. Rush also lost a fumble that was returned for a touchdown, but it was the kind of performance that puts [more]
ARLINGTON, Texas – With a week left in preseason, rookie quarterback Cooper Rush continues to make a strong case to be the next undrafted player on a Cowboys 53-man roster.
MORE STORIES >>
Cowboys News

Delivered to your inbox

You'll also receive Yardbarker's daily Top 10, featuring the best sports stories from around the web. Customize your newsletter to get articles on your favorite sports and teams. And the best part? It's free!