There were plenty of bright spots for the Patriots in Saturday's playoff win over the Titans, starting with WR Danny Amendola and QB Tom Brady.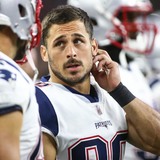 New England Patriots wide receiver Danny Amendola, in coordination with Stop and Shop, is helping supply Food for Friends, which is a program to help fight hunger. While helping raise donations for the "Food for Friends" program, Amendola starred in this clever commercial where he lets loose at the grocery store. Amendola follows his shopping list, which resembles a play sheet, and...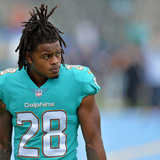 Dolphins cornerback Bobby McCain appeared to let his emotions get the best of him in Sunday's divisional matchup against the Patriots, and he paid for it.McCain started the game off on the right note, as he actually managed to do something that few NFL players have done this season. The Dolphins cornerback intercepted a Tom Brady pass in the second quarter, but did something that...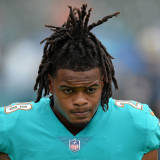 Things got ugly for the Miami Dolphins in their game against the New England Patriots on Sunday, and defensive back Bobby McCain decided he didn't want to stick around to see how it would end.With his team trailing 28-10 in the third quarter, McCain got tangled up with Patriots wide receiver Danny Amendola after the whistle blew. McCain appeared to throw a punch and was immediately...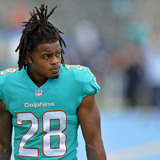 The Miami Dolphins will be without the services of Bobby McCain for the remainder of their game vs. the New England Patriots after he threw a punch at Danny Amendola. Up until that point, McCain, was having a great game. Twitter was not bashful about pointing out McCain's bad move. In addition to getting himself ejected, the penalty also aided New England's drive. The Pats took full...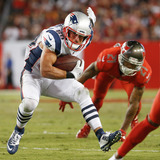 New England Patriots wide receiver Danny Amendola is questionable to play on Sunday after hyperextending his knee last week.Jeff Howe of The Boston Herald says Amendola injured his knee during a punt return in last Sunday's game against the Atlanta Falcons. Knee injuries are nothing new to Amendola who is currently considered day-to-day to suit up against the Los Angeles Chargers...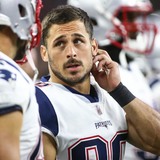 The New England Patriots really missed Julian Edelman in Week 1 against the Kansas City Chiefs, and they can ill afford to lose another member of their wide receiver corps. Unfortunately, there's a chance Danny Amendola could be held out in Week 2.Amendola did not practice on Wednesday after he suffered a concussion in the first half of last Thursday's loss. Amendola, who has built...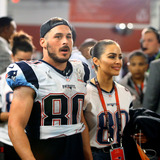 New England Patriots wide receiver Danny Amendola is, without a doubt, a handsome guy who dresses with impeccable style.So, it does not come as too much of a surprise that he landed a modeling gig with Ford Models, based out of New York City."We are thrilled to represent Danny Amendola, not only one of the top athletes in his field, but also a man of great character," Sam Doerfler...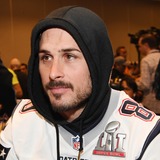 Danny Amendola recently agreed to take a pay cut with the New England Patriots for a third straight year, but that does not make him a lock to make the 53-man roster.With the Patriots having signed veteran wide receiver Andrew Hawkins last week, Mike Reiss of ESPN.com speculates the battle for the final receiver spot in training camp will come down to Hawkins and Amendola. New England...
Patriots receiver Danny Amendola installed a temporary carport outside of his Providence, Rhode Island home, and it's causing controversy in the neighborhood. New England winters can be unforgiving, and Amendola doesn't want to be late for a Bill Belichick practice, so he applied to the city so he could erect the metal carport until February. However, Amendola lives in the College...
MORE STORIES >>
Patriots News

Delivered to your inbox

You'll also receive Yardbarker's daily Top 10, featuring the best sports stories from around the web. Customize your newsletter to get articles on your favorite sports and teams. And the best part? It's free!