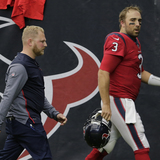 The Houston Texans might ultimately have larger concerns than the outcome of their game against the San Francisco 49ers on Sunday.In the first half of their game against San Francisco, starting quarterback Tom Savage was driven into the ground by Elvis Dumervil.At that point, it seemed pretty darn obvious that the signal caller suffered a concussion. In fact, there were unnatural...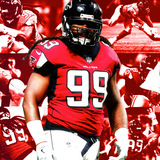 Falcons defensive end Adrian Clayborn didn't just have a career day on Sunday. He had one of the best games ever by a defensive player in Atlanta's 27–7 drubbing of the Cowboys.  Clayborn treated Cowboys left tackle Chaz Green like a turnstile all game, sacking Dak Prescott a whopping six times, just the fourth NFL player ever to pull off that feat. They weren't garbage time sacks...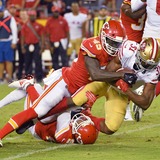 The San Francisco 49ers are in it for the long haul. After spending the last couple years flapping around in the wind, the 49ers finally found a long-term plan this offseason. And it doesn't seem that bad.New general manager John Lynch was an unorthodox hire, but so far he seems to know what he's doing. Lynch fleeced the Chicago Bears on draft night, getting a treasure trove of picks...
San Francisco 49ers general manager John Lynch has taken measures to improve the NFL's worst defense a year ago. His latest offseason acquisition might have the biggest impact in 2017. Outside linebacker Elvis Dumervil is headed to San Francisco after four seasons with the Baltimore Ravens. The 49ers reportedly agreed to a two-year deal with the five-time Pro Bowler on Monday, per...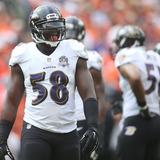 The San Francisco 49ers are looking to bolster their defense this offseason by adding proven veterans, and 33-year-old Elvis Dumervil is the latest to join the fold.49ers general manager John Lynch announced on Monday that the team has signed Dumervil. The news of the Dumervil signing came not long after the Niners announced they have signed veteran cornerback Brandon Boykin.Dumervil...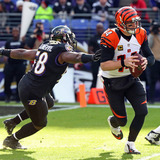 Veteran free agent sack artist Elvis Dumervil is reportedly set to work out for the San Francisco 49ers in the next couple of days, per ESPN's Dan Graziano.The 33-year-old pass rusher played for the Baltimore Ravens from 2013-16 but spent a good portion of his time injured last year. He played in just eight games due to a nagging foot injury and put up his worst sack total as a professional...
OWINGS MILLS, Md. (AP) Elvis Dumervil has been cut by the Baltimore Ravens, who were looking to free up salary cap room before the start of free agency. Dumervil missed eight games last season because of injuries and finished with only three sacks. Two years earlier, he set the team single-season record with 17 sacks. The Ravens did not rule out the possibility of bringing him...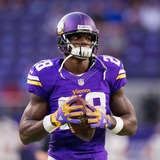 The upcoming 2017 season begins on March 9 when free agency kicks into high gear, and there are some well known NFL players on the chopping block.It sure feels like there are more big names on this list in 2017 than normal. Players like Tony Romo, Darrelle Revis, Adrian Peterson and Jamaal Charles could all be wearing new uniforms next season, if not street clothes.Teams have huge...
OWINGS MILLS, Md. (AP) Playing for the first time since early October, Elvis Dumervil proved to be a difference-maker for the Baltimore Ravens in a 19-14 win over Cincinnati on Sunday. Dumervil recovered a second-quarter fumble, and his sack of Andy Dalton resulted in a late fumble that sealed the victory for first-place Baltimore (6-5). ''I said I'd be happy to see him out there...
Elvis Dumervil's return has coincided with the Ravens' two-game losing streak after a 3-0 start. Not that Dumervil is to blame, but according to Pro Football Talk he's been ruled out for Sunday's game against the Giants and will be out indefinitely as he tries to regain his form. Dumervil, 32, had offseason foot surgery and sat out the first three games of the season. He played 20...
MORE STORIES >>
Ravens News

Delivered to your inbox

You'll also receive Yardbarker's daily Top 10, featuring the best sports stories from around the web. Customize your newsletter to get articles on your favorite sports and teams. And the best part? It's free!