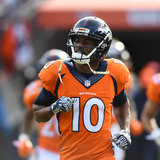 Emmanuel Sanders was involved in a car accident on his way to the team facility Tuesday morning, according to a report.9 News in Denver says the Broncos wide receiver was driving in the center median in Parker, Colo. early Tuesday morning on his way to the team's facility. Another vehicle, also backed up in traffic, swerved into the center median and supposedly swiped Sanders.Though...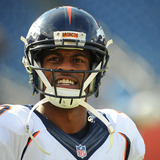 The Denver Broncos are expected to play much faster on offense with Mike McCoy now calling plays, and Emmanuel Sanders has decided to swear off the Chicken McNuggets to make sure he can keep up.In an interview with Mike Klis of 9 News on Monday, Sanders revealed that he has cut fast food out of his diet. While his weight and speed have never been an issue, the 30-year-old said he...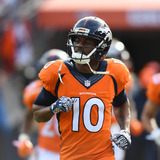 Denver Broncos receiver Emmanuel Sanders isn't a big guy, which is something he was worried NFL scouts would count against him during his pre-draft process in 2010.As a means to combat this, Sanders took extraordinary measures he took to change the script. "I'm a small guy, so prior to weighing in I ended up drinking like two gallons of water so I was so bloated and full of water...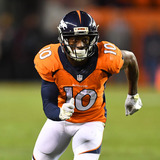 Emmanuel Sanders has been accused by his estranged wife of cheating on her and spending thousands of dollars on the women he cheated with. Gabriella Sanders also claims the Denver Broncos wide receiver once lied to the team so he could get out of practice.According to court documents obtained by TMZ, Gabriella Sanders claims her husband has had numerous affairs and showered his mistresses...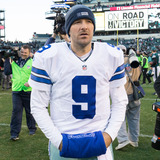 Denver Broncos wide receiver Emmanuel Sanders thinks Tony Romo would suit the team well, but he's not going to advocate for a quarterback change. Put on the spot on NFL Network's GameDay Morning, Sanders conceded that he would benefit from having Romo under center, but deferred to general manager John Elway and praised the team's current pair of young quarterbacks. "I believe I would...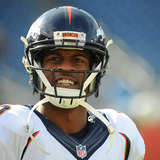 As the Denver Broncos fight for a playoff berth in the AFC, receiver Emmanuel Sanders is dealing with a battle of a different kind on the home front. According to TMZ Sports, his pregnant wife, Gabriella, has filed for divorce and a judge has issued a temporary restraining order to keep Sanders away. "Gabriella Sanders — who is due this month — filed divorce docs in Texas at...
Denver Broncos wide receiver Emmanuel Sanders is entering the final season of a three-year, $15 million free-agent deal he signed with the team back in 2014. The former Pittsburgh Steelers mid-round pick has been an absolute bargain for the Broncos since signing the deal, averaging 89 receptions for 1,270 yards and eight touchdowns in his two seasons with the team. Sanders, 29...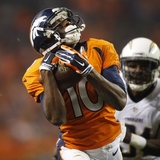 The Denver Broncos and Chicago Bears will be without some of their most talented players today in the Windy City when the two teams take one another on. For the Broncos, their inactive players are headlined by wide receiver Emmanuel Sanders, who the coaching staff decided to sit. Sanders has battled a shoulder injury, an ankle sprain and, this week, a finger injury. It was the...
Emmanuel Sanders is one tough dude, and has to be given credit for playing in this game at all, but not many people can survive a hit like this. RIP @ESanders_10 pic.twitter.com/7dPHlY3gOr — Alexis Sandoval (@alexis_sand2) November 15, 2015 Sanders stayed down on the field for a few minutes before walking off on his own power, but you have to imagine that that will be the final...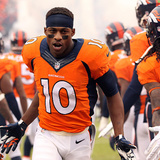 By Rachel Wold Despite the "Deflategate" scandal, many people have come out in support of Tom Brady and the New England Patriots. This is not the case with Denver Broncos wide receiver Emmanuel Sanders, who spoke to a group of kids at a Denver area football camp. When asked by one of the kids at the camp if he was upset about the scandal, Sanders replied with this (via NBC 9News...
MORE STORIES >>
Broncos News

Delivered to your inbox

You'll also receive Yardbarker's daily Top 10, featuring the best sports stories from around the web. Customize your newsletter to get articles on your favorite sports and teams. And the best part? It's free!