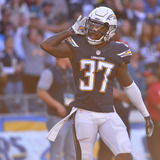 The Kansas City Chiefs were about to put the San Diego Chargers away. Unfortunately for them, Jahleel Addae had other ideas. Wowowowowowowowow.@Do_OrAddae37 picks Alex Smith.And goes NINETY yards to the house. Amazing. #Chargers https://t.co/KkwbKKPtAK — NFL (@NFL) January 1, 2017 That's just a fantastic play from the San Diego defense. Melvin Ingram couldn't get to Alex Smith...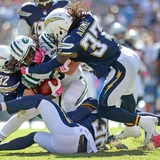 Safety Jahleel Addae is still hobbled from a leg injury suffered against the Lions, according to The Mighty 1090's Marty Caswell. It could impact his availability for Sunday's game in Cincinnati.The Chargers secondary kept Calvin Johnson in check in their 2015 opener. On deck in Week 2 is another superstar in A.J. Green; another lockdown performance gets tougher without Addae.Reserve...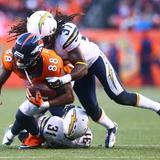 Eric Weddle will play out this season alongside a new face at strong safety. But the Chargers don't know whose face it'll be just yet.Jahleel Addae will get the first crack at Marcus Gilchrist's old gig on Thursday. He's listed as the starter ahead of newcomer Jimmy Wilson.Defensive coordinator John Pagano isn't necessarily playing favorites here. But Addae is a young, promising...
San Diego Chargers safety Jahleel Addae was not about to let anyone that dared come near him Sunday get away if he could help it. Luckily that only pertained to guys wearing the other uniform and not his teammates. Instead they got to watch him put a hurting on people like he did Emmanuel Sanders when he took him down with this supplex maneuver.You would think that using wrestling...
This is as scary as a moment as you get when you're talking incidents that don't involve taking someone off on a stretcher. San Diego Chargers DB Jahleel Addae tried to make a tackle and had a helmet-to-helmet collision with Juwan Thompson. Addae backed off and it appeared that he had a seizure and was […] The post Chargers DB Jahleel Addae Convulses After Helmet-To-Helmet Hit appeared...
With the clock winding down in the third quarter Chargers defensive back Jahleel Addae tried to help make a play on the advancing Denver hoard, but appeared to knock himself silly in the process. He appears to convulse a little and looks like he might not have control over what his body was doing.The head drop--while it could be just disappointment over not making the play--makes...
MORE STORIES >>
Chargers News

Delivered to your inbox

You'll also receive Yardbarker's daily Top 10, featuring the best sports stories from around the web. Customize your newsletter to get articles on your favorite sports and teams. And the best part? It's free!