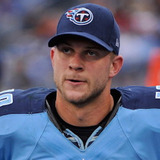 By Larry Brown When Jake Locker announced his surprising retirement from football on Tuesday, many instantly wondered whether he would pursue a career in professional baseball. Locker was a standout baseball player in high school and was twice drafted by the Angels (once 40th overall), who hold his rights through August. The Angels have said they have no interest in Locker as a...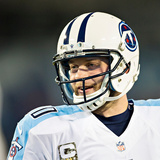 By Rachel Wold At only 26 years old, former Tennessee Titans quarterback Jake Locker has announced his retirement, according to NFL.com's Ian Rapoport. The announcement of Locker's retirement comes along with several other shocking news items breaking since free agency kicked off earlier on Tuesday. Locker, who is a former first-round pick of the Titans in 2011, departs the NFL...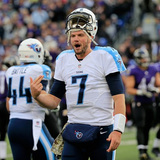 The Tennessee Titans possess the second pick in the upcoming NFL draft, which makes choosing from top quarterback prospects Marcus Mariota and Jamesis Winston a distinct possibility. However, this may not be the direction the Titans plan to go with their prized No. 2 pick. Speaking highly of second-year quarterback Zach Mettenberger, assumptions are that the team may select a quarterback...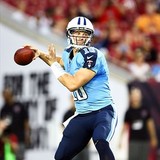 Often-injured Tennessee Titans quarterback Jake Locker becomes a free agent next month. While the former first-round bust hasn't performed at a high level on the field, his position seems to indicate that there will be some interest in his services. According to a player agent, who requested to remain anonymous, there could be interest for Locker from Philadelphia Eagles head coach...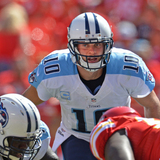 It seems that for Titans quarterback Jake Locker, his tiny backyard chicken colony is both a source of serenity and convenience. Quarterbacks usually have a weekly conference call with reporters who cover the team they're set to play. For reasons that aren't at all clear, Locker was asked about his chicken coop while speaking with Bengals beat writers earlier this week. His tone...
Tennessee Titans' quarterback Jake Locker made up for his lackluster performance last week by putting up some impressive numbers against the New Orleans Saints in his second preseason game. #Titans QB Jake Locker's final stats tonight: 8-of-11 for 75 yards, 1 TD, 0 Int, 121.4 passer rating; 1 rush for 7 yards. #TENvsNO — Tennessee Titans (@TennesseeTitans) August 16, 2014 The highlight...
MORE STORIES >>
NFL News

Delivered to your inbox

You'll also receive Yardbarker's daily Top 10, featuring the best sports stories from around the web. Customize your newsletter to get articles on your favorite sports and teams. And the best part? It's free!