Former Green Bay Packers tight end Jermichael Finley had his NFL career come to an abrupt ending in 2013. The 30-year-old eventually retired after taking a nasty hit to the crown of his helmet in the Packers final 2013 game.In an interview with NPR, Finley opened up about about the spinal cord concussion he suffered as a result of the hit."What I do remember – before I even caught...
Just when you thought the excitement of the NFL offseason was over as we count down the days to the start of Green Bay Packers training camp, news pops up, like the information reported yesterday by Jason Wilde, that Jermichael Finley met with the Packers team doctor Pat McKenzie. According to an #NFL source, @JermichaelF88 is in Green Bay and has appointment with Dr. Pat McKenzie...
(TE Richard Rodgers)-The 2014 NFL season is just around the corner. Players and coaches are already hard at work at team facilities. Organized team activities concluded earlier in the month, and now minicamp is wrapping up. There are plenty of news-worthy events going on across the league. Let's take a look at some of them. || A New Rodgers Emerging in Green Bay—(Richard) The...
Former Green Bay Packers tight end Jermichael Finley has been waiting for some good news and he finally got some yesterday as his agent reported that the tight end has received the medical clearance he has been trying to get all offseason. Finley's agent, Blake Baratz, told Pro Football Talk on Thursday that Finley had received medical clearance Dr. Joseph Maroon, a Pittsburgh neurosurgeon...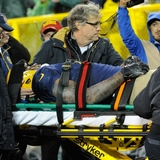 Former Green Bay Packers tight end Jermichael Finley got great news recently, and on Thursday his agent shared it with the football world. The 27-year-old has been medically cleared by his doctor after suffering a spine injury during the 2013 season. For those unaware, Finley had his C3-C4 vertebrates fused by Pittsburgh neurosurgeon Dr. Joseph Maroon after taking a scary hit during...
There has been a lot of talk recently about the status of former Green Bay Packers tight end Jermichael Finley. I say former because right now Finley is not a member of the Packers he is a free agent. Certainly, Packer fans and many within the Packer organization would like to see Finley return to Green Bay in 2014. However, with each day that passes it appears less and less likely...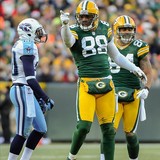 When you hear the name Jermichael Finley, what are your thoughts? Do you think about the incredibly talented physical specimen who can literally dominate a football field with a freaksish combination of size and speed? Or do think about the player who has made a name for himself dropping passes at the absolutely worst time? Do you think about the player who had seemingly matured...
C.J. Mosley (Photo credit: Reuters) With the 21st pick in the 2014 NFL Draft, the Green Bay Packers select….  On Thursday, May 8, Roger Godell will say those words to the player Packers general manager Ted Thompson and head coach Mike McCarthy think is the best player on their draft board.  The Packers certainly have some needs to fill on both sides of the ball, and I think that...
MORE STORIES >>
Packers News

Delivered to your inbox

You'll also receive Yardbarker's daily Top 10, featuring the best sports stories from around the web. Customize your newsletter to get articles on your favorite sports and teams. And the best part? It's free!