Jim Brown is one the most influential members of the NFL community to have spoken out against national anthem protests, but the legendary Cleveland Browns running back sounds like he has changed his stance a bit.Back in August, Brown said he supports Colin Kaepernick but does not agree with any player choosing to disrespect the American flag. TMZ caught up with Brown over the weekend...
NFL legend Jim Brown recently said he does not agree with Colin Kaepernick or any other player protesting during the national anthem, and one fellow Hall of Famer is no happy with Brown for his take on the subject.In an interview with TMZ over the weekend, Sharpe was adamant in expressing how much he "wholeheartedly" disagrees with Brown."It's disappointing because I don't really...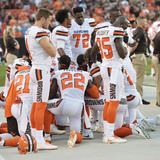 Cleveland Browns legend Jim Brown appreciates the work Colin Kaepernick has done to call attention to issues of social injustice, but the NFL legend is strongly opposed to what has become the preferred form of protest for players around the league.In an interview with The Post Game, Brown said he wants to "be in (Kaepernick's) corner" but does not like seeing anyone kneel or sit...
The Cleveland Browns unveiled a Jim Brown statue at FirstEnergy Stadium on Sunday morning to honor the legendary running back. The final product. pic.twitter.com/tAtUR5chL6 — Andrew Gribble (@Andrew_Gribble) September 18, 2016 Brown is the franchise's most storied player. With 12,312 rushing yards and 126 total touchdowns in his nine-year career, he's one of the NFL's all-time...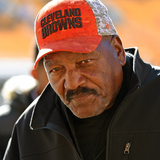 The Cleveland Browns on Wednesday announced that the organization will erect a statue outside FirstEnergy Stadium in honor of Jim Brown, the best player ever to put on the team's uniform. "Everyone admires the incredible impact that Jim Brown has made for Cleveland, the Browns and the NFL throughout his lifetime, and we have had the special opportunity to know and learn from his...
The Cleveland Browns clearly are not soliciting player analysis opinions from Jim Brown, because they traded up to select Trent Richardson No. 3 overall in the 2012 NFL Draft on Thursday. Earlier in the day, Brown, the best running back in Cleveland's franchise history (and perhaps all time), expressed doubt about Richardson's ability. Asked about the Browns potentially drafting...
MORE STORIES >>
NFL News

Delivered to your inbox

You'll also receive Yardbarker's daily Top 10, featuring the best sports stories from around the web. Customize your newsletter to get articles on your favorite sports and teams. And the best part? It's free!