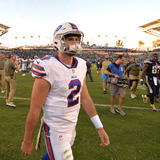 Chargers linebacker Joey Bosa has enjoyed a breakout season in 2017 so far, and is already emerging as one of the most dominant pass-rushers in the league.Bosa gave rookie quarterback Nathan Peterman fits in his first career NFL start last Sunday, with pressure from him and Melvin Ingram clearly causing issues for the young signal-caller. It led to a nightmare start for Peterman...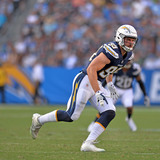 Joey Bosa and Melvin Ingram are going to play huge roles for the Los Angeles Chargers if the team has any hopes of earning a playoff spot this season. It's one of the most-dynamic defensive duos in the NFL.That came out in force Saturday night against the Los Angeles Rams and quarterback Jared Goff.With the Rams driving midway through the first quarter, Bosa beat offensive lineman...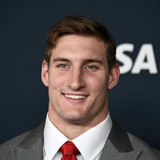 In the aftermath of Ezekiel Elliott's six-game suspension on suspicion of domestic violence, a number of other anecdotes are being revealed about the Dallas Cowboys running back.A Friday feature on Elliott by Albert Breer of The MMQB divulged that San Diego Chargers defensive end Joey Bosa, Elliott's ex-Ohio State teammate, moved out of an apartment they shared on campus due to their...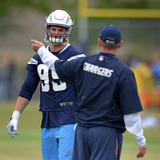 No. 3 overall draft pick Joey Bosa can finally report to the San Diego Chargers. The team announced on Monday that it has agreed to a four-year contract with the former Ohio State star, ending the longest rookie holdout since the current collective bargaining agreement went into place. "We look forward to having Joey join us and getting him prepared as quickly as possible for the...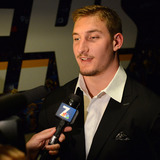 It's no secret the San Diego Chargers are looking at the Cleveland Browns in the rear view mirror as the NFL's most dysfunctional organization. The Joey Bosa situation, which was preceded by All-Pro safety Eric Weddle getting punched in the nuggets by the Chargers, only serves to highlight this truth. Bosa still is no closer to showing up for work with one preseason game to play...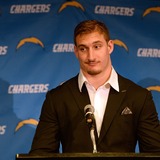 The San Diego Chargers took an especially odd situation and made it a tad more questionable on Wednesday. In response to a report that contract talks are going nowhere between the Chargers and rookie defensive end Joey Bosa, the team released this statement. Statement from the San Diego Chargers on defensive end Joey Bosa. pic.twitter.com/BayBGeN22x — San Diego Chargers (@Chargers...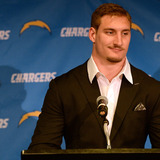 Joey Bosa has held out longer than any first-round draft pick since the new collective bargaining agreement went into place, and it appears there is no end in sight in his standoff with the San Diego Chargers. According to Bleacher Report's Jason Cole, negotiations between Bosa and the Chargers have "turned ugly" and the two sides have not spoken in weeks. "Bosa feels there is...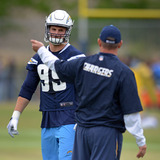 San Diego Chargers rookie Joey Bosa continues his holdout, which has no end in sight, and the two parties haven't even spoken since July 28. This information was passed along by Mike Florio of Pro Football Talk: "The Chargers and defensive end Joey Bosa traded proposals on Thursday, July 28. Since then, the team has opened training camp and practiced for a week. Since then, the...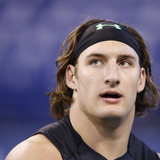 Joey Bosa, the third overall pick in the draft, isn't taking part in the Chargers' minicamp this week because he hasn't signed his contract. While this is a mandatory minicamp, it isn't mandatory for Bosa because he's not yet under contract. Still, Chargers coach Mike McCoy and general manager Tom Telesco would rather have their rookie defensive end at training camp. "Without...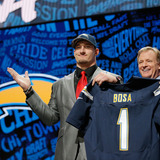 Negotiations over offset language are keeping Joey Bosa from signing his rookie contract with the San Diego Chargers. According to the San Diego Union-Tribune, Bosa — the third overall pick in the 2016 NFL Draft — is "pushing" for no offset language, which is commonly used in contracts to protect teams when releasing a player with fully guaranteed money. The Chargers want the stipulation...
MORE STORIES >>
Chargers News

Delivered to your inbox

You'll also receive Yardbarker's daily Top 10, featuring the best sports stories from around the web. Customize your newsletter to get articles on your favorite sports and teams. And the best part? It's free!