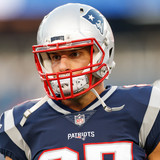 New England Patriots tight end Rob Gronkowski on Sunday added another injury to long list of the ones he has suffered throughout his remarkable career, but it does not sound like the latest will force him to miss much time. Ian Rapoport of NFL Media reports that Gronkowski suffered a minor groin injury. It's unclear if Gronkowski would have come back into the game on Sunday if...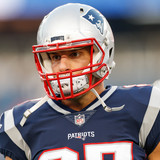 New England Patriots tight end Rob Gronkowski left Sunday's game against the New Orleans Saints with an injury, and early speculation was that the Pro Bowler may have tweaked his back. However, the team later said the issue was with his groin.Gronk appeared to be in pain immediately after being tackled in the third quarter. He wasn't hit particularly hard on the play, and CBS...
Patriots tight end Rob Gronkowski was held in check by Chiefs All-Pro safety Eric Berry in Week 1, but the extended rest and extra time to prepare for the Saints appeared to do him some good. Midway through the first quarter of Sunday's game, with the Patriots clinging to a 6-3 lead, Tom Brady did a great job of avoiding the rush and buying time in the pocket. That allowed Gronk...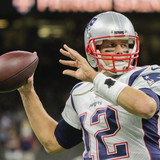 The New Orleans Saints allowed Sam Bradford to set a new NFL mark for efficient quarterback play in Week 1. They were no better defensively on Sunday against Tom Brady and the New England Patriots. Brady had himself a monster first quarter, doing something he's never before done in his entire career. One of the touchdowns Brady threw was partly due to his own tremendous play to...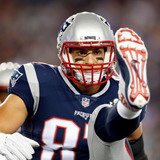 We've seen Tom Brady and Rob Gronkowski connect on many touchdown passes in their shared careers. Still, the one they hit on Sunday was special. We'd be remiss if we didn't mention that this was Gronk's 69th career touchdown reception. We're quite sure that the big tight end is well aware of that. Regardless of the number, this is a highlight reel play. While Gronkowski...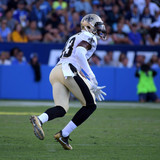 There was some talk after Week 1 that Rob Gronkowski may have lost a step and could struggle with explosiveness this season, but New Orleans Saints safety Marcus Williams did his best to put that to rest early on Sunday.The Patriots took a 13-3 lead over the Saints in the first quarter after Tom Brady and Gronkowski hooked up for a big play. With pressure closing in on Brady, Gronk...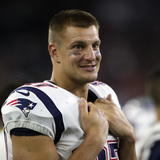 New England Patriots tight end Rob Gronkowski is a coverage mismatch, so opponents must take extralegal precautions to defend him.But, according to Mike Reiss of ESPN, the 6'6″, 265-pounder says he understands why players hold him — and would do the same."If I was one of those [defensive backs], and you've seen film over the last few years, I would definitely be doing that...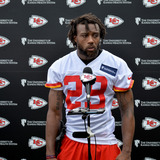 Injuries struck both the Patriots and the Chiefs during Thursday's season opener in New England.Chiefs safety Eric Berry left the game after suffering a left Achilles' tendon injury in the fourth quarter. NBC was at commercial when Berry was taken off the field, but they later showed a replay of where he got hurt.Berry suffered the injury in coverage on Rob Gronkowski, mostly...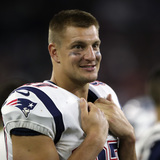 Rob Gronkowski is of course well-known for his emphatic spike celebration following a touchdown. But a video documenting game play in "Madden 18" takes the New England Patriots' patented move to a comically — at least in video game form — violent level.After Gronkowski makes a touchdown reception against the Cleveland Browns, he unleashes a violent spike. So violent, in...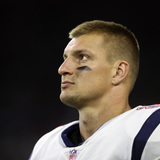 Rob Gronkowski obviously has cultivated a party-hearty reputation and wears it as a quasi-badge of honor. But that doesn't mean that the New England Patriots tight end can't weigh in on serious issues and provide thoughtful insight on such matters.Gronkowski recently took part in an interview on MooseTV channel on Class Act Sports during which he was asked about racial tensions...
MORE STORIES >>
Patriots News

Delivered to your inbox

You'll also receive Yardbarker's daily Top 10, featuring the best sports stories from around the web. Customize your newsletter to get articles on your favorite sports and teams. And the best part? It's free!