It's no secret that Tennessee Titans quarterback Marcus Mariota had a rough third season. He threw two more interceptions than touchdowns, posting career lows in touchdowns, yards per game, yards per attempt and passer rating.Because this all happened in Year 3, many have wondered if Mariota is going to evolve into the quarterback the Titans hoped they landed when they drafted him...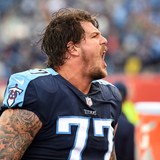 Chiefs linebacker Derrick Johnson is playing in his 13th season in the league, and has earned the respect of the Arrowhead faithful.Titans left tackle Taylor Lewan, however, is not a big fan of Johnson, apparently.The two got into it after one particular play in the first quarter of Saturday's Wild Card game, with Lewan grabbing Johnson and flipping him off. That wasn't a very nice...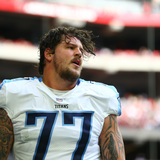 Tennessee Titans offensive tackle Taylor Lewan will soon get a crash course on what it's like to play at Arrowhead Stadium. That's as long as he actually heads to Missouri, not Kansas.With his Titans set to take on the Kansas City Chiefs this weekend, the former first-round pick apparently has absolutely no idea where Kansas City itself is. The follow-up here should have been a question...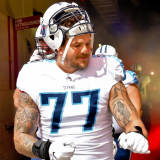 The Tennessee Titans face the Pittsburgh Steelers on "Thursday Night Football" in Week 11. As is the custom, both teams will be rocking their respective Color Rush uniforms.The Steelers to a man seem pretty pumped up about their alternate unis. The Titans, meanwhile? Um, not so much. Just ask Titans offensive tackle Taylor Lewan. Even though Lewan feels Titans players resemble the...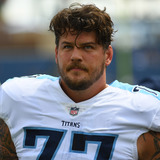 Taylor Lewan got in Richard Sherman's face after the Seattle Seahawks cornerback had a late hit on Marcus Mariota out of bounds during Sunday's game between the teams.Mariota was scrambling on a first down play for Tennessee. He was nearing the sidelines as Sherman was closing, and Sherman didn't let up. Lewan, one of Tennessee's offensive lineman, rushed over to get in Sherman's...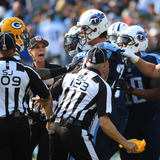 The Tennessee Titans may be dominating the Green Bay Packers early Sunday afternoon, but it hasn't come without some major drama. Starting tackle Taylor Lewan was ejected in the first quarter after making contact with an official. The play happened relatively quickly, but you can clearly see the former first-round pick make contact with the official. #Titans Left Tackle Lewan...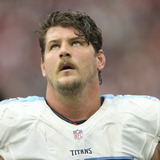 The Tennessee Titans were into a bit of trickery Sunday early against the Indianapolis Colts. After driving down the field to get into scoring range, Taylor Lewan received a pass from quarterback Marcus Mariota and took it in for the fat man touchdown. Here's the sweet play, which was executed well: BIG MAN TD ALERT! Marcus Mariota --> @TaylorLewan77 --> @TITANS TD! #INDvsTEN...
The Tennessee Titans have their own version of musical chairs, otherwise known as the starting tackle positions. When free agent Michael Oher was signed on Friday, March 14, 2014, it appeared the offensive line bookends were set – with nine-year starter Michael Roos on the left side and five-year starter Oher on the right. But when the Titans selected Michigan tackle Taylor Lewan...
The Tennessee Titans drafted six players and signed 13 undrafted free agents to fill their needs for the 2014 season. The list included eight offensive players, four defensive players and one kicker. However, there are still questions out there. One of those questions is who's going to be on the 53-man roster when the Titans open the 2014 season against the Kansas City Chiefs at...
MORE STORIES >>
Titans News

Delivered to your inbox

You'll also receive Yardbarker's daily Top 10, featuring the best sports stories from around the web. Customize your newsletter to get articles on your favorite sports and teams. And the best part? It's free!