Found February 28, 2012 on Blackhawks Down Low:
PLAYERS:
Steve Ott
,
Patrick Kane
,
Kyle Quincey
,
Mike Commodore
,
Ben Bishop
,
Rick Nash
,
Jeff Carter
,
Grant Clitsome
,
Samuel Pahlsson
,
Jack Johnson
,
Stevie Wonder
,
Steve Mason
,
Brandon Dubinsky
,
Tim Erixon
,
Andrei Kostitsyn
,
Paul Gaustad
,
Joel Ward
,
Shea Weber
,
Ryan Suter
TEAMS:
Dallas Stars
,
Chicago Blackhawks
,
Detroit Red Wings
,
Tampa Bay Lightning
,
Columbus Blue Jackets
,
Los Angeles Kings
,
Winnipeg Jets
,
Vancouver Canucks
,
New York Rangers
,
Nashville Predators
,
Washington Capitals
There's been a lot of talk about what the Hawks did. While most are not satisfied with Oduya and would have liked to see more (Steve Ott's name was mentioned briefly and man, imagine him and Bolland on a line) we'll just have to live with it. Some were saying the Hawks needed a goalie (People who started wathcing Hockey in February of 2010 were saying to trade Patrick Kane for Ryan Miller) but Crawford is clearly Q's guy. Point is that the core of the Hawks remains and come playoff time (hopefully) experience will show. Safe to say last years loss left a sour taste in every body's mouth.

But how did the rest of the central fare at the deadline?

Detroit
In: Kyle Quincey
Out: Mike Commodore

Commodore wasn't doing much in Detroit and Quincy is a nice addition. He's a puck moving defense man with limited playoff experience (19 games) who can eat up a lot of minutes and help take the load off Lidstorm and the gang. Would have been a nice addition in Chicago. He only cost a first round pick in a draft where (allegedly) the talent pool isn't too deep. While I hardly think "OH MAN THIS GUY WOULD HAVE SOLVED ALL OF OUR PROBLEMS THAT ALL OF US HAVE EVER HAD," he would have been a good addition and it hurts to see him go to a division rival.

As for Commodore, well he's still getting paid from his Columbus buyout and now he's going to live in Florida so it can't all be that bad.

St. Louis
Out: Ben Bishop

It's clear Bishop wasn't getting the chance that he thought he earned, but I'm still a little surprised they moved him and not Elliott. Yes, Elliott has been very good all year, but what if the Blues sold high on the guy? If they waited until the summer they might have been able to get more and go with Bishop as the #2. I get not wanting to throw him into the deep end at this point of the year, but the kid looks ready.

Anyway, I get why the Blues didn't bring anybody in. They're playing well and there's not a lot they need to mess with especially with the chemistry they have going.

Columbus
Out: NOT RICK NASH but Jeff Carter, Grant Clitsome, Samuel Pahlsson,
In: Jack Johnson, Daryl Boyce

Stevie Wonder could see Jeff Carter being traded and now with Pahlsson gone the team might never win a face-off again. The big news about the Jack Johnson trade is that we could soon live in a world where Jack Johnson, Wiz and Steve Mason are on the ice together (!!!!).

But not trading Nash is the big move, and while it's easy to make fun of Scott Howson, I think he made the good move by deciding not to trade Nash. According to The New York Post, the final offer consisted of Brandon Dubinsky, Tim Erixon, JT Miller, Christian Thomas and a first round pick in this year's draft. But would that be really a good deal? You never know how these picks will turn out and considering the apparent second coming of Christ, Chris Krider (HE SCORED IN THE BEAN POT YOU GUYS), was not involved, it really didn't make sense. I think that had you included Del Zotto/McDonagh, Krider, Stepan and maybe a pick/prospect then the deal would be a go. Keep in mind that not only would Columbus be giving up its captain and best player, but it would be giving away the face of a franchise. For a team in Columbus that is (again) struggling to fill the building and looking for an identity, it would take a king's ransom to get Nash. It will be interesting to see how the summer plays out.

Nashville
In: Andrei Kostitsyn, Paul Gaustad

I'm always terrified of Nashville come playoff time. They can grind teams down with their style of play and have a tight defensive system led by two of the best in the league playing in front of one of the best net minders in the league. And honestly, who else has nightmares of game 5 of the 2010 playoffs (The 'Holy crap, I cannot believe this is actually happening,' feeling). You just felt like they were a couple pieces away from really making a push.

Well then they went out and got AK46 and Gaustad. Gaustad is near perfect for the Nashville system. He is big, gritty and not afraid to drive to the net. He seems like he could be a direct replacement (maybe improvement) on what Joel Ward gave them in the Vancouver series last year. Kostitsyn meets up with his brother down in Nashvegas and gives the Predators another scoring threat. Yeah, his 12 goals put him tied for eighth on the team right now, but Montreal struggled as a whole. Maybe he can pick it up and just needed the change of scenery. For what it's worth (not much), Kostitsyn struggled for Montreal in their playoff run a couple years ago.

But the main point with Nashville is to show Shea Weber and Ryan Suter that they are definitely showing intention like they have never shown before. It started with giving Rinne the big deal and continues now. It will be an interesting summer in Tennessee.

The point is that other teams got stronger while the Hawks filled a need and weren't aggressive. While it's easy to be frustrated, the Hawks still have a lot of talent down on the farm. This isn't a team/year that has to "go for it" (see: Nashville). I'm feeling confident about this team as they go down the stretch and the west will be wide-open come April. Plus, I think we owe this team a little respect.
Original Story:
http://www.blackhawksdl.com/2012-arti...
THE BACKYARD
BEST OF MAXIM
RELATED ARTICLES
One of the more intriguing subplots to the 2012 NHL Trade Deadline was the internal debate within the Dallas Stars organization over whether the club should trade or hold onto Steve Ott. The sheer number of teams that wanted to acquire one of the NHL's prime agitators -- and more underrated clutch performers -- drove the offering prices close to the level where Dallas was tempted...
Several hours after yesterday's NHL trade deadline came and went without the Stars making a move, Dallas defenseman posted a message on Twitter directed at veteran forward Steve Ott: "So excited to practice with you tomorrow!" With the Stars in the driver's seat to control their own playoff fate the rest of the season Ott -- who had been the subject of a host...
Typically the Devils, or should I say... Uncle Lou, rarely gets action on trade deadline day. Many believe his deadline move happened on Friday with the acquisition of Zidlicky. As typical. A few names have popped up as Todd Cordell mentioned Steve Ott from the Stars. The Devils have a history with Dallas on the trade front and Steve Ott would be a perfect Devils - as John...
In the 12 days since I spent 1500 words talking about the Stars and their need to be sellers on this trade deadline day, a few things have happened. For instance, they lost their best player and leading scorer to a skate laceration and still await his return which could be less than a week away. They also lost a back-to-back set of games the following weekend against the Coyotes...
After fielding fielding calls and talking trades and scouting players GM Joe and the Dallas Stars ended the deadline yesterday by doing...nothing. That's right. Zip, zilch, not one damn move was made by the Stars yesterday despite having attractive trade chips and numerous UFA's (unrestricted free agents) that would have been solid rentals. Soom of the moves I understand...
Let Down Game in Big D The Vancouver Canucks jumped out to an early lead during Sunday's second period against the Dallas Stars but slipped up late, blowing a late lead in a 3-2 overtime loss. Trade bait Steve Ott has a strong game and set up the eventual game winner after the Stars successfully pushed to tie the game late in the third in Dallas. The Hat Trick No Laughing Matter...
NHL News

Delivered to your inbox

You'll also receive Yardbarker's daily Top 10, featuring the best sports stories from around the web. Customize your newsletter to get articles on your favorite sports and teams. And the best part? It's free!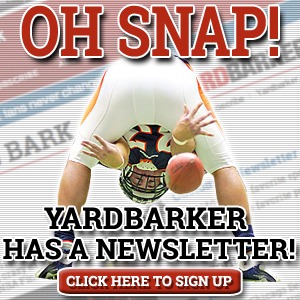 Latest Rumors
The Backyard

Today's Best Stuff

For Bloggers

Join the Yardbarker Network for more promotion, traffic, and money.

Company Info

Help

What is Yardbarker?

Yardbarker is the largest network of sports blogs and pro athlete blogs on the web. This site is the hub of the Yardbarker Network, where our editors and algorithms curate the best sports content from our network and beyond.