It's always swell when half of your team's leadership is concussed. "What if?" That's a question that usually has a negative connotation. What if the starting goalie goes down? What if the team's leading scorer gets knocked out of the season? What if the defense gets so decimated that half of the corps is made up of AHL guys? What if, what if what if. A hockey fan asks that question about a million times a season, especially a fan of a squad like the Blues who are constantly facing injuries. Last season enough people were hurt at the same time to derail an attempt to get into the playoffs. The defense and the bottom two lines were half of the Peoria Rivermen; kids who needed the experience but who weren't nearly as solid as the players that they replaced. This season started off the exact same way. Pre-season saw B.J. Crombeen dislocate his shoulder. Kent Huskins went down with a broken ankle. Andy McDonald suffered yet another flukey concussion, then Alex Steen suffered one last month. Tiny bumps and bruises were here and there, threatening the team -- at least to the paranoid fan who expects the worst. A weird thing happened, however: players started to heal. David Perron came back after being out for a year, Crombeen's back to banging and smashing and fighting, and Kent Huskins is getting stronger on his ankle. The Blues haven't had to call up many forwards -- Chris Porter's the only one with the team now -- and all four lines are either legit scoring threats or they're out there creating chances and shutting down teams. The team without Steen and McDonald has been a successful powerhouse at home and are sitting second in the Central Division. Heck, they're sitting at third in the NHL. This has let Blues fans do something rare -- instead of thinking about "What if someone else gets hurt!" fans are able to think about "What if Steen and McDonald come back? Where will the team be then? How much better can they perform?" This thought's been fueled by the practicing of Steen and McDonald recently. According to Norm Sanders, McDonald's out of the red practice jersey and can take contact now. That doesn't necessarily signal a return soon, but it's hugely positive news. Steen, well, it's day to day as it tends to be with concussions, but his travelling back to Winnipeg over the All-Star break is a good sign. The "what if" question is being asked by the coaching staff as well. Steen was on the first line before his concussion with T.J. Oshie and David Backes, and McDonald is a speedy top six forward. What do the lines look right now? During their last game against the Penguins, Lou Korac listed them thusly: David Perron-David Backes-T.J. Oshie
Vladimir Sobotka-Patrik Berglund-Matt D'Agostini
Jamie Langenbrunner-Jason Arnott-Chris Stewart
B.J. Crombeen-Scott Nichol-Ryan Reaves
Carlo Colaiacovo-Alex Pietrangelo
Barret Jackman-Kevin Shattenkirk
Kris Russell-Roman Polak
Well, ok then. Each line's got some punch, and the top three lines have guys who can (or really need to remember how to) score on them. You absolutely have to make room for Steen and McDonald in the top six. Who moves?
It appears that Vladimir Sobotka might be returning to his familiar third line role, and frankly Matt D'Agostini or Patrik Berglund stand a fairly equal chance of joining him. That probably leaves a third line with one of those two, Sobotka, and Stewart. That sets the Blues up to have three scoring lines -- or at the very least two scoring lines and a line that should score if they removed their heads from their asses.
You have to actually make room on the roster for them. Porter's going back to Peoria -- you can't argue with that. That leaves Crombeen, Nichol, and Reaves as the expendables. Let's face it -- Langenbrunner's an assistant captain and Arnott's playing well. They're not getting benched. No way, no how. Reaves possibly could be used on a game by game basis, but so could Crombeen. It's all very confusing, frankly, and I don't envy Ken Hitchcock one bit. With the return of Steen and McDonald (presumably) before the trade deadline, it adds for one more possibility: someone being coupled with Ben Bishop as trade bait. Conspiracy theorists, begin!
Original Story:
http://www.thrashingtheblues.com/2012...
MORE FROM YARDBARKER
Blues News

Delivered to your inbox

You'll also receive Yardbarker's daily Top 10, featuring the best sports stories from around the web. Customize your newsletter to get articles on your favorite sports and teams. And the best part? It's free!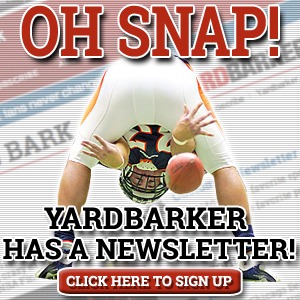 Latest Rumors
Best of Yardbarker

Today's Best Stuff

For Bloggers

Join the Yardbarker Network for more promotion, traffic, and money.

Company Info

Help

What is Yardbarker?

Yardbarker is the largest network of sports blogs and pro athlete blogs on the web. This site is the hub of the Yardbarker Network, where our editors and algorithms curate the best sports content from our network and beyond.