Found September 28, 2012 on NorthWest Sports Beat:
PLAYERS:
Dan Cloutier
,
Alain Vigneault
,
Wayne Gretzky
,
Peter Laviolette
,
Cory Schneider
,
Roberto Luongo
,
Eddie Lack
,
Todd Bertuzzi
,
Fedor Fedorov
,
Kevin Bieksa
,
Mats Sundin
,
Mark Messier
TEAMS:
Detroit Red Wings
,
Vancouver Canucks
,
Philadelphia Flyers
,
Los Angeles Kings
Those Who Can, Do. Those Who Can't… Bored Canucks fans with no hockey to follow went crazy this week with the announcement that Dan Cloutier had been hired by Vancouver as a goaltending coach. Cloutier, despite technically being the third most successful goalie in franchise history, is not well remembered by Canuck fans.
I could link some youtubes supporting this fact, but I don't want to watch them and neither do you.
Just go to really deep dark places in your mind and you'll find them. It's the absurdity of the notion that a goaltender who first popularized the beachball-as-puck meme teaching young goalies how to play the position that has everyone up in arms. It would be like Mitt Romney teaching young Republicans how to connect with voters. But really, is he that terrible of a hire? Let's explore this in bullet-point form, say five of them. 1. Athletic talent does not equal coaching success This is easy. For obvious reasons Dan Cloutier is not well remembered by Canuck fans. Alain Vigneault was a terrible player and a fantastic coach. Wayne Gretzky was a decent player but a horrible coach. Remember in 24/7 last year when Peter Laviolette admitted during a practice that he had just 12 games in the NHL? I could include a ton more examples but you should get the point that there really is no correlation between success on the ice and success behind the bench. It simply doesn't work that easy. Maybe Cloutier turns out to be a terrible coach, but it won't be because he was a terrible goalie. 2. It's only the AHL It's important to note that this is a Wolves hire technically. Cloutier won't be tasked with telling Cory Schneider or the cat-who-came-back Roberto Luongo how to refine their game.
Instead, he'll be dealing with the minor leagues, a place most Canucks fans have always felt he's better suited for.
Of course this does task him with the development of Eddie Lack but, again, maybe he turns out to be a good coach. 3. This isn't his first rodeo After slowly fading away from the league following his trade to the Los Angeles Kings, for a second round pick of all things, Cloutier became an assistant coach for the CHL's Corpus Christi IceRays. He left that job in 2009 to attempt an NHL comeback and when that fizzled out he became the Barrie Colts goaltending coach. Mathais Niederberger started 49 games for the Colts last year, and finished sixth in GAA, seventh in save pct, and fifth in wins. Maybe Cloutier knows what he's doing? He seems to have experience, this isn't like taking some green young goaltender and throwing him in net during the most successful era in franchise history to date and hoping he doesn't do anything to impede their….ah you get it. 4. Let's bring back more infamous Canucks in ironic roles Never thought I'd say it, but Lafayette can be the shooting accuracy Coach
Nathan LaFayette as shooting accuracy coach.
Todd Bertuzzi as public relations consultant.
Dana Muryzn as powerskate coach.
Fedor Fedorov can teach rookies how to fight, as demonstrated with Kevin Bieksa.
Mats Sundin and Mark Messier as hairstylists.
Jason King on how to successfully play with the Sedins.
The possibilities are endless. 5. Look, it's giving us something to talk about If you haven't noticed we're in a lockout right now where the two sides aren't even talking to each other yet.
There is nothing going on to talk about aside from fake seasons and hack journalists.
We're starving on an island right now and Dan Cloutier is a big juicy coconut. He, like Bonnie Raitt, is giving us something to talk about. For that we should be thankful. It's just curious timing he returns to working in the NHL the season after Lidstrom retires. CLICK HERE TO CHECK OUT THE CANUCKS CLUBHOUSE TODAY AT NWSPORTSBEAT! © Richard Hodges for North West Sports Beat, 2012. | Permalink | No comment | Follow NWSB on Twitter or join US on Facebook for real-time updates OR... | Share This on Twitter | Share NWSportsBeat.com on Facebook Post tags: Alain Vigneault, Canucks, Canucks Blog, Canucks news, Cory Schneider, Dan Cloutier, Eddie Lack, Kevin Bieksa, Mark Messier, Nathan Lafayette, Roberto Luongo, Todd Bertuzzi, vancouver, Vancouver Canucks
Original Story:
http://www.nwsportsbeat.com/canucks/v...
THE BACKYARD
BEST OF MAXIM
RELATED ARTICLES
The other day I was going through one of the blogs that I read on a semi regular basis, Pass it to Bulis, and I came across this. It was a list of 50 people to follow on Twitter for Canucks fans. Now, just like any good self centered blogger, I of course immediately looked for the mighty @RobTheHockeyGuy account. To my dismay, it was nowhere to be found! Now, to their credit, the...
In a move that caused quite a few people to do a double take, the Canucks re-signed Dan Cloutier on Tuesday. No, not to play goal, but to become the team's new goaltending consultant. Cloutier will work mostly with their AHL affiliate, the Chicago Wolves, as Rolie Melanson is remaining as the goaltending coach in Vancouver. This move is getting a lot more publicity than it deserves...
Petr Mrazek has yet to play a game in a Detroit Red Wings uniform. And the Czech Republic native is already being compared to a fellow countryman who happens to be a former Red Wing and one of the NHL's all time greatest goaltenders; Dominik Hasek. It should come as no surprise that Mrazek is [...] [[ This is a content summary only. Visit my website for full links, other content, and more! ]]
Thursday the NHL cancelled the remaining preseason games on the schedule amid the player lockout which has been going on since September 16th. These cancellations included the entire Red Wings preseason schedule which was to begin yesterday in Pittsburgh and continue today against Chicago from the Joe. Talks between the NHL and NHLPA are to resume Friday however the topics of that...
from Dan Rosen of NHL.com, Holland said the reason Lidstrom was asked to be a scout was because the Wings wanted to keep him in the organization with the hope that he would learn the ropes of the front office and still be a marketing asset to the team. Detroit has done the same in recent years with players like Steve Yzerman, Jiri Fischer, Kris Draper,Kirk Maltby and Chris...
NHL News

Delivered to your inbox

You'll also receive Yardbarker's daily Top 10, featuring the best sports stories from around the web. Customize your newsletter to get articles on your favorite sports and teams. And the best part? It's free!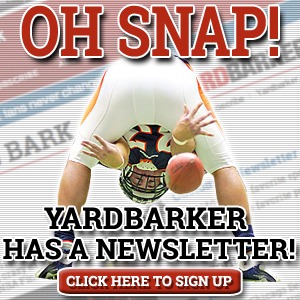 Latest Rumors
Best of Yardbarker

Today's Best Stuff

For Bloggers

Join the Yardbarker Network for more promotion, traffic, and money.

Company Info

Help

What is Yardbarker?

Yardbarker is the largest network of sports blogs and pro athlete blogs on the web. This site is the hub of the Yardbarker Network, where our editors and algorithms curate the best sports content from our network and beyond.