Found July 20, 2013 on Blue Seat Blogs:
PLAYERS:
Ryan McDonagh
,
Markus Naslund
,
Colton Orr
,
Glen Sather
,
Scott Gomez
,
Tom Pyatt
,
Michael Busto
,
Doug Janik
,
Pavel Valentenko
,
Marc Staal
,
Taylor Pyatt
,
Darroll Powe
,
Nick Palmieri
TEAMS:
New York Rangers
,
Toronto Maple Leafs
,
San Jose Sharks
,
Tampa Bay Lightning
Markus Naslund barely avoided the upset yesterday. As the offseason wears on, us and Matt Josephs of Blue Line Station (Twitter: 11Matt_Josephs8) will be running a tournament for the Best Ranger since the 2005 lockout. Yesterday we saw #6 Markus Naslund squeak by #11 Colton Orr. Today's matchup is #3 Ryan McDonagh vs. #14 Mike Rupp: Ryan McDonagh (acquired – 2009 trade with Canadiens) On June 30, 2009, Glen Sather shocked the world when he completed the now infamous Scott Gomez trade. Gomez, along with Tom Pyatt and Michael Busto, was shipped to Montreal in exchange for Chris Higgins, Doug Janik, unknown prospect Pavel Valentenko, and former first round pick Ryan McDonagh. After signing his ELC in 2010, McDonagh got his first call up in January of that season, and played the remaining 40 games with the Rangers. In that short stint, McDonagh proved he could be relied upon as a top-four defenseman. The following season, McDonagh forced his way on to the top pairing by playing big minutes against the opposition's best players. When Marc Staal went down with his injury(ies), it was McDonagh that lessened that blow. As he starts adding offense to his game (7-25-32 in his second season, 4-15-19 in the lockout season), it appears his potential is limitless. He is the #1 defenseman on a team privileged to have three top-pairing defensemen, and five top-four defensemen. Mike Rupp (acquired – 2011 unrestricted free agent) Rupp is one of those under appreciated players on a roster. He isn't flashy, he doesn't score goals, he doesn't even fight as much as you think (zero seasons, that's right, zero, with over 140 PIMs). What he brings is solid fourth line play, leadership, and a willingness to do the dirty work in the corners. When Rupp came to New York on his three-year deal, people were upset because it was "bringing in another overpaid fighter." Overpaying is an unavoidable reality of free agency, but the Rangers weren't bringing in a fighter. They were bringing in a fourth line player that they thought Torts would be able to rely on. While part of that is true, Torts did lean on Rupp in the locker room, Torts simply couldn't rely on Rupp on the ice. It wasn't a slight against Rupp, it's why players like Taylor Pyatt struggled under Torts as well. Simply put, Rupp's skating was not up to snuff for an aggressive system like Torts'. Torts required players be able to skate and get in on the forecheck. That is where Rupp was exploited, and that is likely why Rupp barely saw more than five minutes per game. In the end, Rupp was shipped to Minnesota for Darroll Powe and Nick Palmieri. The trade freed up $500k in cap space for the Rangers. So who do you think is the better Ranger, McDonagh or Rupp? Vote thumbs up for the higher seed (McDonagh), or thumbs down for the lower seed (Rupp). Voting ends at midnight tonight. Tweet
Original Story:
http://www.blueseatblogs.com/2013/07/...
THE BACKYARD
BEST OF MAXIM
RELATED ARTICLES
MSG: something Rangers players won't see much of in October With the release of the 2013-2014 schedules, it was confirmed that the Rangers would kick off the year with a lengthy nine game road trip as Madison Square Garden's renovation is finally completed. With teams such as the Penguins still very much a league heavyweight, the Islanders ever improving, and the Blue Jackets...
Oscar Lindberg, fast becoming a top prospect for the Rangers We have already discussed the expectations that may surround Jesper Fast as he looks to make the Rangers next season. When it comes to dealing with 'reasonable expectations' however, Oscar Lindberg may be on a hiding to nothing. When you're an MVP, a league winner and an elite scorer in your domestic league people...
In a piece over at the Toronto Sun, Arron Asham tells Kevin Hirschfield that he expects a looser environment in the Rangers locker room this season because of the departure of John Tortorella... "He's very intense and he wants to get the most out of his players," said Asham. "He does a decent job of doing that, but when you're in the same spot for a certain...
The Rangers have spent more time this season focused on keeping their own rather than shopping in the expensive free agent market aisles as they typically do. Because of their cap constraints, the Rangers have been precluded from making notable free agent additions this offseason. This situation may ultimately prove to be a blessing since [...]
Larry Brooks at the New York Post reports that while Ryan Callahan and Carl Hagelin will be sidelined for the first few weeks of the year, it won't be enough time to qualify for the long-term injury exemption. In order for a player to be eligible to be placed on long term injured reserve (LTIR) the injury must cause them to miss at least 10 games or 24 days. ...this is...
The 2014 NHL schedule has been released, and the Rangers will be playing in the newly formed Metropolitan Division with the Devils, Flyers, Penguins, Islanders, Capitals, Hurricanes, and Blue Jackets. As for the schedule, the Rangers will open on October 3 in Phoenix. That game will be the first of nine games in a row on the road, as MSG plans to re-open its doors after the third...
Pierre LeBrun at ESPN reports that Brad Richards has been working out with Martin St. Louis in Connecticut lately, and sounds like a man hell bent on proving to people he's still an elite player. And if you don't believe LeBrun, check out this pic Richards tweeted out last week... ...the first thing that comes to my mind looking at this pic is what the hell is...
from Kevin Hirschfield at the Toronto Sun, And he's also looking forward to entering what he thinks will be a looser environment in the Rangers dressing room. Former coach and current Canucks bench boss John Tortorella, known for his fiery demeanour, took a lot of heat for the team's underachieving superstars which led to a second-round playoff exit last season and...
Artem Anisimov won yesterday in a landslide. As the offseason wears on, us and Matt Josephs of Blue Line Station (Twitter: 11Matt_Josephs8) will be running a tournament for the Best Ranger since the 2005 lockout. Yesterday we saw #4 Artem Anisimov take out #13 Erik Christensen. Today's matchup is #6 Markus Naslund vs. #11 Colton Orr: Markus Naslund (acquired – 2008 unrestricted...
Ryan McDonagh won by a blowout yesterday. As the offseason wears on, us and Matt Josephs of Blue Line Station (Twitter: 11Matt_Josephs8) will be running a tournament for the Best Ranger since the 2005 lockout. Yesterday we saw #3 Ryan McDonagh blow out #14 Mike Rupp. Today's matchup is #7 Blair Betts vs. #10 Marcel Hossa: Blair Betts (acquired – 2004 trade with Flames) Betts...
  JT Miller, the Rangers 2011 first-round pick, made his NHL debut last year showing off his skills on the big stage. The 20- year- old Center has accomplished so much already. He possesses a plethora of international experience and was a member of the US's entry in the 2013 World Junior Championships leading the [...]
In case you haven't noticed there's a big gaping hole in the 2013-14 NHL schedule from February 9th thru the 25th. And the reason for that? The Olympics of course. On Friday, the NHL announced that an agreement has been reached with the International Ice Hockey Federation (IIHF) and the International Olympic Committee (IOC) to secure participation of NHL players in the...
NHL News

Delivered to your inbox

You'll also receive Yardbarker's daily Top 10, featuring the best sports stories from around the web. Customize your newsletter to get articles on your favorite sports and teams. And the best part? It's free!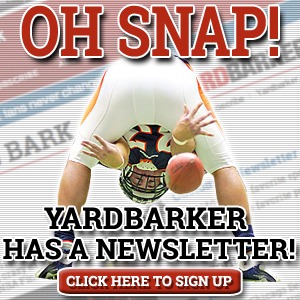 Latest Rumors
Best of Yardbarker

Today's Best Stuff

For Bloggers

Join the Yardbarker Network for more promotion, traffic, and money.

Company Info

Help

What is Yardbarker?

Yardbarker is the largest network of sports blogs and pro athlete blogs on the web. This site is the hub of the Yardbarker Network, where our editors and algorithms curate the best sports content from our network and beyond.