Posted February 08, 2013 on AP on Fox
PLAYERS:
Patrick Kane
,
Raffi Torres
,
Viktor Stalberg
,
Jonathan Toews
,
Bryan Bickell
,
Dave Bolland
,
Joel Quenneville
,
Jamal Mayers
,
Marian Hossa
,
Patrick Sharp
,
Martin Hanzal
,
Mike Smith
,
Ray Emery
,
Dave Tippett
,
Keith Yandle
,
Andrew Shaw
,
Jason LaBarbera
,
Rostislav Klesla
TEAMS:
Chicago Blackhawks
,
Arizona Coyotes
Patrick Kane had another big night and the Chicago Blackhawks won again. The fact that they exacted a bit of revenge on Raffi Torres and routed the Phoenix team that ousted them from last season's playoffs only made it sweeter. Kane had two goals and an assist, and the Blackhawks remained the only NHL team without a loss in regulation this season by beating the Coyotes 6-2 Thursday night. Viktor Stalberg, Jonathan Toews and Bryan Bickell each had a goal and an assist as the Blackhawks improved to 9-0-2. Dave Bolland also scored for Chicago. ''We feel good right now,'' coach Joel Quenneville said. ''We've been consistent in our games. We got a lot of contributions from a lot of guys. It seems like the chemistry and the mood of the room is as good as you can get, and it's reflected in our play.'' The evening began, as anyone paying attention should have anticipated, with Chicago's Jamal Mayers fighting Torres, in his third game back after a 21-game suspension for a vicious hit on the Blackhawks' Marian Hossa in last year's playoffs. ''A good fight there,'' said Patrick Sharp, who had three assists. ''It definitely fired us up and got us going.'' A few moments later, Chicago led 4-0 and this one was over. Martin Hanzal and Torres scored for the Coyotes. Phoenix pulled goalie Mike Smith after Bickell scored Chicago's sixth goal with 4:52 left in the second period. Kane's goals both came with a 5-on-3 advantage in Chicago's four-goal first period. Kane has eight goals and 10 assists on the season and is chasing the league scoring lead. ''I don't know,'' he said. ''Sometimes you just get on a roll and it keeps going. I just try to keep worrying about playing hockey and staying focused. It's been a fun season so far. The team's playing good. It's always nice scoring goals when you're winning.'' The Blackhawks, who lost to the Coyotes in six games in last season's playoffs, scored a half-dozen goals for the second time against Phoenix this season. They won in Arizona 6-4, also with Smith in goal, in the second game of the year on Jan. 20. Those are Chicago's two highest-scoring games of the season. Ray Emery made 22 saves on an easy night. He is 3-0-0 this year with two wins over Phoenix. The Coyotes had won nine straight at home, going 13-0-2 overall, in February since 2011. They came in with at least a point in five straight games and victories in their last two, but they were overwhelmed in a first period that, for them, was as bad as it gets. ''When you give up five power-play opportunities, you give up one soft goal, two 5-on-3 goals and one where we had nobody willing to cover anybody anywhere close,'' coach Dave Tippett said, ''and you put them up by a score like that, it makes it kind of an uphill battle the rest of the night.'' Cheered on by their usual boisterous fans in Phoenix, the Blackhawks outshot the Coyotes 17-4 in the first period. ''I hope that's a blip on the radar screen,'' Tippett said, ''because there's a lot of stuff right there that is not going to be happening on our team.'' Phoenix had seven penalties in the period, capped by a 10-minute misconduct against Keith Yandle for his behavior as he left the penalty box, where he had been placed for unsportsmanlike conduct 2 minutes earlier. Stalberg started the Blackhawks' early onslaught, taking a slick assist from Andrew Shaw and backhanding the puck past Smith. The Blackhawks scored three times in the final 5:08 of the period. Chicago was 21 seconds into its first 5-on-3 advantage when Kane scored. Toews knocked the puck out of a scrum in front to Kane, who tapped it into an open net with Smith sprawled on the ice. Bolland's goal with an assist from Kane made it 3-0 with 2:26 left in the first. Then, with another 5-on-3 edge, Kane knocked a left-handed one-timer inside the post and Chicago led 4-0 with 1:35 to go in the first. Hanzal's fifth goal of the season, on a power play, 5:19 into the second ruined the shutout. But goals by Toews and, finally, Bickell from in front of the net on a centering pass from Stalberg, made it 6-1 and Tippett called it a night for Smith, who had given up one goal in the previous two games. He was sent to the bench in favor of Jason LaBarbera. Torres and Mayers squared off 2:35 into the game. Then that story line evaporated in the face of the Chicago romp. Torres' goal came with 1:25 to play. NOTES: Chicago wraps up its season-high six-game road trip Sunday in Nashville. ... Kane is 13 short of 400 career points. ... Phoenix's Rostislav Klesla missed his ninth straight game with a lower-body injury. ... Kane entered third in the NHL in points (15). ... Smith has allowed 12 goals against Chicago and eight against every other team he's faced.
Original Story:
http://msn.foxsports.com/nhl/story/Bl...
THE BACKYARD
BEST OF MAXIM
RELATED ARTICLES
Patrick Kane had two goals and an assist, and the Chicago Blackhawks remained the only NHL team without a loss in regulation this season by routing the Phoenix Coyotes 6-2 Thursday night. Viktor Stalberg, Jonathan Toews and Bryan Bickell each had a goal and an assist as the Blackhawks improved to 9-0-2. Dave Bolland also scored for Chicago. Martin Hanzal and Raffi Torres scored...
GLENDALE, Ariz. The obvious storyline for Thursdays Blackhawks-Coyotes game at Jobing.com Arena was the Raffi Torres-Marian Hossa reunion. It was the first time the two had been on the same ice since Torres laid out Hossawith a shot to the head in last seasons playoffs, earning a 25-game suspension that was later reduced to 21 games. Chicago gave Torres the obligatory payback when...
GLENDALE, Ariz. -- Remember that fast start every NHL club talked about and dreamed about when the 113-day lockout ended and the 48-game sprint -- er, schedule -- was unveiled? Well, Chicago is the team everybody else was hoping to be. The Blackhawks have raced out to an NHL-best 8-0-2 record despite playing eight of their first 10 games on the road. They have not been beaten in...
The Chicago Blackhawks Marian Hossa took a nasty illegal hit from the Phoenix Coyotes' Raffi Torres in last year's NHL playoffs. The brutal  that left him motionless on the ice. As you can see after the jump, Torres left his feet for the hit so he's likely going to face a suspension. He's a repeat offender, so he could face 10 games. Brendan Shanahan suspended Torres before...
This is one of the things that I like about the NHL. The players sort things out on the ice and settle things like men. Last season, during the Stanley Cup Playoffs, Raffi Torres steam rolled Marian Hossa with a dirty and dangerous hit. Hossa suffered a concussion and Torres was suspended for 25 games. Torres appealed the suspension, and the NHL reduced his...
Everyone wanted to see how the Blackhawks would perform in their first game against the Seattle Phoenix Coyotes with Raffi Torres in the lineup. Chicago answered the bell with their most dominant performance of the season. Where do we begin … Continue reading →The post Blackhawks Get Revenge, Blow Out Coyotes appeared first on Committed Indians.
((HT: CSNChicago)) As discussed on the "Nooner with the Big E" on NextSportStar TV yesterday, the Blackhawks and Coyotes were squaring off for the first time since Raffi Torres practically decapitated Marian Hossa... Remember...??? ((HT: NHL on NBC)) Here's the fallout and the retribution... Your browser does not support iframes. And the reaction by...
Patrick Kane's consecutive goals proved to be the difference-makers as Chicago broke a 3-3 tie and downed San Jose 5-3 last night in the game of the night. Each team scored three times in a wild first period but the defenses restored order after that and Kane was the only player to score in the final 40 minutes of the game. Johnathan Toews and Brent Seabrook each  had a pair of...
Patrick Kane scored two goals, including the tiebreaking goal after a fight midway through the second period, and the Chicago Blackhawks beat the San Jose Sharks 5-3 on Tuesday night in a matchup of the NHL's top two teams. Brandon Saad, Andrew Shaw and Marcus Kruger also scored for the Blackhawks, who overcame a 2-0 deficit to remain the only team in the NHL yet to lose a game...
As the NHL season is nearing the quarter-mark, I am trying to make picks for the awards that I have yet to address.  Today I am looking at the Lady Byng Trophy.  I think our leader right now is Patrick Kane of the Chicago Blackhawks.  He is the second highest scorer in the NHL with 18 points.  He is playing a sportsmanlike game with only two penalty minutes so far this year...
NHL News

Delivered to your inbox

You'll also receive Yardbarker's daily Top 10, featuring the best sports stories from around the web. Customize your newsletter to get articles on your favorite sports and teams. And the best part? It's free!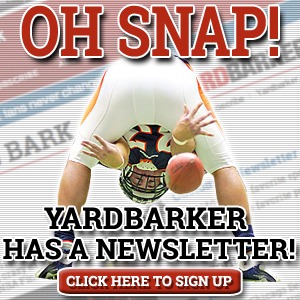 Latest Rumors
The Backyard

Today's Best Stuff

For Bloggers

Join the Yardbarker Network for more promotion, traffic, and money.

Company Info

Help

What is Yardbarker?

Yardbarker is the largest network of sports blogs and pro athlete blogs on the web. This site is the hub of the Yardbarker Network, where our editors and algorithms curate the best sports content from our network and beyond.