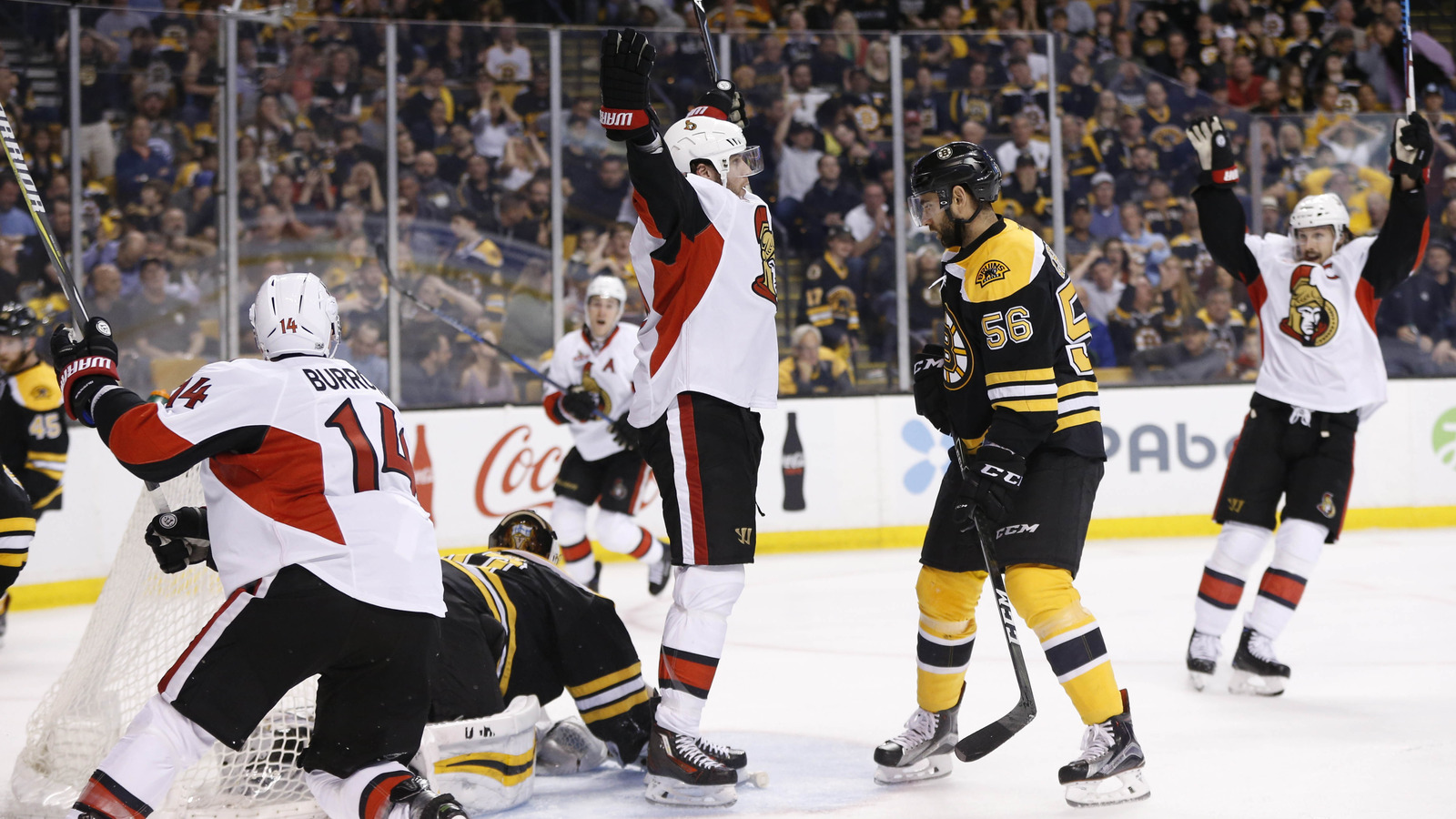 Some Bruins fans just didn't handle the loss well.
Greg M. Cooper-USA TODAY Sports
The Stanley Cup Playoffs showcase hockey at the highest level, and there's often a lot left on the ice after a tough loss in a close game. Still, players are able to conduct themselves in a professional manner and move on to the next game.
That's not always the case with fans, though, which we saw after Game 3 of the Senators-Bruins series was in the books. It was a thrilling game at TD Garden, with the Senators jumping out to a 3-0 lead, and the home team eventually scoring three of their own to tie it and force overtime.
Bobby Ryan ended the extra period with a goal of his own, and Ottawa skated away with a 4-3 win. But it wasn't easy for them to get off the ice.
A raucous Bruins fan was seen throwing objects at the visiting team as they made their way to the locker room. And on top of that, as the players walked by, he grabbed a player's stick and tried to take it.
That fan should be banned from attending NHL games in the near future, and it's a shame that no one was able to apprehend him. We have to pose this question: Where was security? He was out of control, and his outlandish behavior is a bad look for the rest of the fan base.
QUIZ: Name the 9 team captains in Ottawa Senators history
The Ottawa Senators have only had 9 team captains in the team's NHL history. Can you name them all?
Clue: Year(s) as captain
MORE FROM YARDBARKER
NHL News

Delivered to your inbox

You'll also receive Yardbarker's daily Top 10, featuring the best sports stories from around the web. Customize your newsletter to get articles on your favorite sports and teams. And the best part? It's free!