Found May 06, 2013 on Fox Sports:
Montreal Canadiens right wing Brendan Gallagher, Florida Panthers center Jonathan Huberdeau and Chicago Blackhawks left wing Brandon Saad are the three finalists for the Calder Trophy, give to the NHL's top rookie. Gallagher played in 44 games, ranking second among rookies with 15 goals and fourth with 28 points. Huberdeau played in all 48 games for Florida and ranked second both on the team and among NHL rookies with 31 points (14 goals, 17 assists). Among first-year players, he finished third in goals, fourth in assists and third in shots on goal (112). Saad ranked fifth among rookies in each of the three major scoring categories - goals (10), assists (17) and points (27). The winner will be announced during the Stanley Cup finals.
Original Story:
http://msn.foxsports.com/nhl/story/ca...
THE BACKYARD
BEST OF MAXIM
RELATED ARTICLES
It's not often that you see a line brawl in the Stanley Cup Playoffs, but tensions have been growing between the Senators and Canadiens ever since Eric Gryba took out Lars Eller in Game 1. Ottawa's Zach Smith crosschecked Ryan White right off the face-off and that's when all hell broke loose. 19 players had penalties in the third period alone. Here's a look at the Habs bench...
BENCH CLEARER
The Montreal Canadiens-Ottawa Senators rivalry has been growing by the second ever since Eric Gryba lit up Lars Eller.  After the Senators managed to gain a 5-1 lead, the Canadiens let their frustrations get the better of them in game three.  Unfortunately for them when they started this line brawl they figured they would win, but they thought wrong.  The Senators dusted them...
Tonight, the Montreal Canadiens acted like a bunch of classless hacks. I don't know who the bigger clown is, P.K. Subban or the head coach of the Montreal Canadians. I don't blame the Ottawa Senators for taking the Habs to the wood shed tonight, Canadiens were begging for a beat down and they kept slashing the Senators and they obliged the Canadiens. I also don't...
The only person missing from the Ottawa Senators thrashing of the Montreal Canadiens was WWE chairman/mouthpiece Vince McMahon. It is true that these are two teams that hate each other with a passion that is usually limited to a blood feud. However, what erupted in the third period that contest was downright ugly. Please click here to read this extensive story which features multiple...
Chicago Blackhawks forward Brandon Saad was named one of three finalists for the Calder Trophy on Monday morning. Montreal's Brendan Gallagher and Florida's Jonathan Huberdeau are the other two finalists. Huberdeau finished tied with Edmonton's Nail Yakupov for the NHL … Continue reading →The post Brandon Saad Named Calder Trophy Finalist appeared first on Committed Indians.
Canadiens-Senators, despite featuring two Canadian teams from the same difference, doesn't have the same reputation as a rivalry as, say, Maple Leafs-Canadiens. That might change after Sunday night in Ottawa. The Sens and the Habs locked horns in a wild affair that the Sens ended up winning 6-1. The game unraveled quickly for Montreal midway through the third, and that's when...
Tempers finally boiled over between the Canadiens and Senators in Game 3. Following a horrific injury to Lars Eller and some angry comments directed toward Ottawa coach Paul MacLean, the two teams finally duked it out after Ottawa scored their fourth goal of the game to give them a commanding 4-1 lead with roughly 12 minutes left in the third period.  My goodness. The...
Just a few things that caught my eye: No offense to Peter Budaj, but Montreal has no hope without Carey Price between the pipes. He was terrific before he went down. #HabsDown. The Isles are like a bad rash -- they just won't go away. They haven't figured out they're supposed to lose to the Penguins. Andrew MacDonald will be hard to replace, though...
If you ask me, hockey fights are a pointless endeavor, a lot of the times they're forced and not that entertaining. But, it's a part of the culture and probably won't stop anytime soon, so why fight it? (no pun intended). During Game 3 of the first-round match between the Montreal Canadiens and the Ottawa Senators in the NHL Playoffs, a brawl broke out on the ice and every...
I thought this was funny, even the announcers think that P.K. Subban embellished in an attempt to get the a call from the referee. I also think this is why some people don't like Subban and his antics. I have said this a thousand times, he's an awesome talent, it's the other crap that takes away from his game. I will give him a 4.5 on that one. If Chris Neil really wanted...
The Montreal Canadiens and Ottawa Senators got into a huge brawl during Game 3 of their first-round Stanley Cup Playoff series.
The Ottawa Senators and Montreal Canadiens combined for 236 penalty minutes on Cinco de Mayo, which has to be a Canadian…
NHL News

Delivered to your inbox

You'll also receive Yardbarker's daily Top 10, featuring the best sports stories from around the web. Customize your newsletter to get articles on your favorite sports and teams. And the best part? It's free!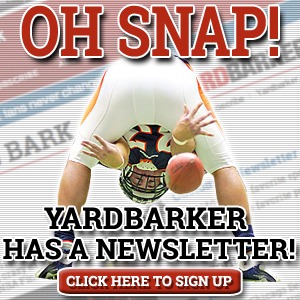 Latest Rumors
Best of Yardbarker

Today's Best Stuff

For Bloggers

Join the Yardbarker Network for more promotion, traffic, and money.

Company Info

Help

What is Yardbarker?

Yardbarker is the largest network of sports blogs and pro athlete blogs on the web. This site is the hub of the Yardbarker Network, where our editors and algorithms curate the best sports content from our network and beyond.