Found April 17, 2013 on Shutdown Line:
In my recap of last night's game, I mentioned that the result and the stats of last night's game were probably an afterthought to many fans because the one thing on their mind is the health of Hurricanes star forward Jeff Skinner, who left the game after taking a huge hit from Senators defenseman Jared Cowen. No specifics of the injury have been released but it's very likely that the former Calder Trophy winner has suffered his third concussion in his career and his second one in this season alone. It's been said that Skinner brings a lot of this on himself because he puts himself in vulnerable positions very often. I don't disagree with this theory. Skinner's a very chippy player betweeen the whistles and probably isn't very popular with opposing fans. He is also pretty small and is very aggressive with the puck, so he often gets caught with his head down in an attempt to keep plays alive or when he attempts to draw penalties. None of this seems like it is good for his long-term health because there are always a lot of players on the opposing team looking to knock the daylights out of Skinner whenever he has the puck and we've seen this happen more than a few times over his career. Many have been calling for the Hurricanes to get tougher or add an enforcer to their squad to help "protect" Skinner from players like this. They did just that this off-season by adding Kevin Westgarth but this really didn't prove to do anything. Westgarth played in both games that Skinner was injured in and the Hurricanes had another "tough guy" active last night in Nicolas Blanchard, but neither of them served as "protection" for Skinner.  Why is that? Because it's almost impossible to protect players from dangerous it's even more difficult with a player like Skinner who often finds himself in bad situations. Skinner often puts himself into these predicaments, but this wasn't the case in the hit he took from Cowen last night. The public's opinion on this hit is divided among both fanbases. Just about every Carolina fan surveyed saw this as a dirty hit and most would like to see Cowen sit a few games as punishment. On the other hand, most Ottawa fans think it's a clean hit and Cowen doing exactly what he is supposed to. He is a big man at 230 lbs. and his job is to be a big, physical defenseman. He is also five inches taller than Jeff Skinner (6'4" vs. 5'11"), so this head ends up looking pretty bad at first glance. It's pretty clear that the primary point of contact here is Skinner's head, which would lead to most believe that the hit is dirty, but you also have to consider the height differential. Cowen is five inches taller than Skinner and the latter was looking down while trying to receive a pass. I'm for calling a penalty in this situation because it's a clear check to the head but calling it dirty is a stretch. The only reason this ended up being a head-shot is because of Cowen's height. I've heard some people argue that Cowen should have tried to crouch down to deliver a check to Skinner's chest instead, but I doubt this was the first thing on his mind with the game moving as fast as it does. Seeing what happened before the hit also makes it tough for me to call this dirty or suspendable. Here you see Skinner moving towards the middle of the ice looking toward Chad LaRose on the far left of the picture. LaRose is about to send a pass to Skinner through the middle of the ice with Cowen lurking around in the same area. I think you know where this is going. Skinner now has the puck, is slightly off-balanced and Cowen is standing right in front of him. This is what we call a "vulnerable situation" because Cowen is in a prime position to knock the daylights out of Skinner and there isn't much he can do to avoid it. The worst part of this is that Skinner did not put himself in this situation because LaRose has to be aware that Cowen was in Skinner's vicinity and that not much good could happened if he got him the puck . Part of me hates the "vulnerable position" argument  because it makes it sound like an opposing player has the right to KO his counterpart just because he is in a bad spot. However, I'm not sure what else Cowen should have done here. His job is to defend the middle of the ice in this situation and an effective way to do that is to deliver a hard check to an opposing forward when they try to enter the zone. Cowen is also a physical player so he is more likely to deliver a hard check than play the puck and really, his only other options were to go for Skinner's lower body or just let him skate by. I kind of doubt that Cowen would do either of those.  Cowen being five inches taller than Skinner doesn't give him the right to hit him in the head, but I also think it's ridiculous to label this a dirty hit because of a size differential. Skinner was in a bad spot due something beyond his control and Cowen was doing his job by defending the neutral zone. The hit he delivered wasn't necessarily legal since it was a head shot but there wasn't much he could do to avoid it other than by letting Skinner skate by him, which he wasn't going to do. I guess you could say that Cowen could have also gone for a hip-check or aimed lower, but it's a fast game and I'm willing to give him the benefit of the doubt here. He didn't target the head and didn't leave the ice while hitting Skinner, so I don't 'see why this would be a suspension other than the fact that it was a head-shot. The whole issue of protecting Skinner is becoming redundant at this point because he keeps getting hurt and put into bad situations no matter what the team does. You can dress as many enforcers or start as many fights as you want, but hits to the head are still going to happen. The NHL has tried to cut down on headshots and while I think more can be done to avoid blatantly dirty hits, removing hits to the head completely seems impossible when the game moves as fast as it does. Players are going to put themselves in bad situations and the opponents aren't going to think as quickly as they should and it's going to result in a lot of ugly situations. I'm for calling a penalty on all hits to the head but even with that, you're still going to have a lot of grey area no matter what and incidents like this will continue.
Original Story:
http://www.shutdownline.com/hurricane...
THE BACKYARD
BEST OF MAXIM
RELATED ARTICLES
RALEIGH, N.C. -- Standing in the Carolina Hurricanes locker room one recent April night waiting for a player to come out for another series of questions about what went wrong made January seem like eons ago. Three months ago, when the teams practice facility was as cold inside as it was outside, optimism fueled the Hurricanes seven-day training camp. The franchise was ready to put...
There are only seven games left in the Hurricanes season and they are likely going to miss the playoffs for sixth time in the last seven years. Things looked promising at the beginning of the season but all hope went down the toilet a few weeks ago when the Hurricanes went on a disastrous stretch losing fourteen out of sixteen games and now they are in a race for the draft lottery...
The Ottawa Senators and the Carolina Hurricanes had some serious issues with each other on Tuesday night.  The two teams combined for five fights and 76 penalty minutes.  What started off the whole ordeal was Ottawa Senators defenseman Jared Cowen utterly destroyed Carolina Hurricanes forward Jeff Skinner.  Chad LaRose stepped up to Skinner's defense and this was just the start...
Cowen went after the head. Pretty cheap move. Sens fans approved of course. — Chip Alexander (@ice_chip) April 17, 2013   The fact Cowen is still in this game is mindboggling. — Chip Alexander (@ice_chip) April 17, 2013     Penalties listed below... Continue reading "Video- Jeff Skinner Feels The Hit From Jared Cowen"
As much as I hate to say it, the Hurricanes statistical performance is kind of an afterthought at this point of the season. I think we all know by now that this team is better than their record indicates, but they are still out of the playoff hunt and are basically playing for next year. Whether or not they outchance an opponent or earn the best of the territorial play seems kind...
Having led his teammates through the morning stretch at practice today, Senators sophomore defenseman Jared Cowen announced to the media that he would be in the lineup versus Carolina. Cowen, if you'll remember started the the locked out season playing in Binghamton. His stint with the B-Sens only lasted three games before a tear in his hip labrum necessitated surgery. With...
Joe Corvo may still be shaking his head.  
The Ottawa Senators are getting healthy and they're getting nasty. Craig Anderson made 32 saves as the Senators beat the Carolina Hurricanes 3-2 on Tuesday night for their third straight win. Defenseman Jared Cowen was playing his first game since undergoing hip surgery in November that was expected to end his season. He finished the game with a little under 17 minutes of ice...
NHL News

Delivered to your inbox

You'll also receive Yardbarker's daily Top 10, featuring the best sports stories from around the web. Customize your newsletter to get articles on your favorite sports and teams. And the best part? It's free!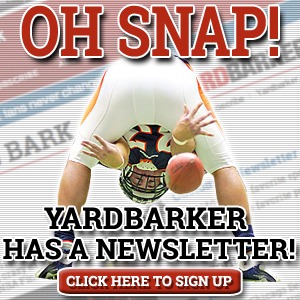 Latest Rumors
The Backyard

Today's Best Stuff

For Bloggers

Join the Yardbarker Network for more promotion, traffic, and money.

Company Info

Help

What is Yardbarker?

Yardbarker is the largest network of sports blogs and pro athlete blogs on the web. This site is the hub of the Yardbarker Network, where our editors and algorithms curate the best sports content from our network and beyond.