Found February 01, 2013 on NorthWest Sports Beat:
PLAYERS:
Duncan Keith
,
Daniel Sedin
,
Zack Kassian
,
Patrick Sharp
,
Marian Hossa
,
Patrick Kane
,
Jonathan Toews
,
Brandon Saad
,
Dave Bolland
,
Bryan Bickell
,
Andrew Shaw
,
Viktor Stalberg
,
Jamal Mayers
,
Marcus Kruger
,
Michael Frolik
,
Brent Seabrook
,
Sheldon Brookbank
,
Nick Leddy
,
Niklas Hjalmarsson
,
Corey Crawford
,
Roberto Luongo
,
Henrik Sedin
,
Chris Higgins
,
Jannik Hansen
,
Mason Raymond
,
Jordan Schroeder
,
Dale Weise
,
Aaron Volpatti
,
Manny Malhotra
,
Maxim Lapierre
,
Dan Hamhuis
,
Kevin Bieksa
,
Jason Garrison
,
Keith Ballard
,
Ryan Kesler
,
David Booth
,
Cory Schneider
,
Claude Giroux
TEAMS:
Chicago Blackhawks
,
Vancouver Canucks
,
Minnesota Wild
,
Philadelphia Flyers
,
Los Angeles Kings
Revenge is sweet And here it is Canucks fans. Get ready to hate the Hawks again… Matchup: Vancouver Canucks (3 – 2 – 2) v Chicago Blackhawks (6 – 0 – 1) Venue: Rogers Arena Time: 7:00 pm TV/Radio: Sportsnet, Team 1040 Here's what I said a while back on NWSB. February 1 v Chicago Blackhawks / February 19 @ Chicago Blackhawks The Los Angeles Kings might owe Duncan Keith a cup ring. His vicious elbow to Daniel Sedin sent to the Canucks into disarray that ultimately led to their futile first round. So again, revenge. This might resemble the Boston game. As an added bonus, the teams meet again in Chicago two and a half weeks later, with the game on the first surely still fresh in their minds. When the Canucks schedule was released last month, this was the game everyone circled. Duncan Keith and the Chicago Blackhawks were back in town. Giddy up. The Canucks are saying all the right things, they just want the two points, but they said before the Boston game last year and it turned into a line brawl in the first period. Duncan Keith's elbow on Daniel Sedin was the death of the 2011 – 2012 Vancouver Canucks. if Zack Kassian introduces himself to Duncan Keith it could be a really fun night So yeah this should be a fun game. What to Watch: Chicago The Hawks are really good this year, who lost their first game of the year in a shootout to the Minnesota Wild on Wednesday night. This will be the second game of a six game road trip for the Hawks while Disney on Ice takes over the United Centre. Don't think that Chicago isn't fired up for this one as well, because this article probably has the best nutgraph I've ever read. The quad force of Patrick Sharp, Marian Hossa, Patrick Kane, and Jonathan Toews has 32 points already this season. The Hawks are basically off to a perfect start, which means tonight should be really fun. Line – up Brandon Saad – Jonathan Toews – Marian Hossa Patrick Sharp – Dave Bolland – Patrick Kane Bryan Bickell – Andrew Shaw – Viktor Stalberg Jamal Mayers – Marcus Kruger – Michael Frolik Duncan f'n Keith – Brent Seabrook Sheldon Brookbank – Nick Leddy Johnny Oduya – Niklas Hjalmarsson Corey Crawford What to Watch: Vancouver The Canucks are coming off a dominating shutout performance, that's good. Except when that happened on Friday, they followed it up with the efforts against the Sharks and Kings. That's bad. The trick here is consistency. and Roberto Luongo. I'm not entirely sure what Luongo's official title is at this point, but he'll get his third straight start against the team that haunts him the most. Sports! The Canucks will also unveil a new third jersey tonight that includes a Vancouver Millionaires patch. And if Zack Kassian introduces himself to Duncan Keith it could be a really fun night. Line – up Daniel Sedin – Henrik Sedin – Zack Kassian Chris Higgins – Alex Burrows – Jannik Hansen Mason Raymond – Jordan Schroeder – Dale Weise Aaron Volpatti – Manny Malhotra – Maxim Lapierre Dan Hamhuis – Kevin Bieksa Jason Garrison – Alex Edler Keith Ballard – Chris Tanev Roberto Luongo Injury Notes Ryan Kesler and David Booth remain out for the Canucks. Is it hyperbole to say the Canucks' season hinges on how quickly Kesler can return? Should we put that pressure on him after he rushed back last year and was pretty useless? Sports! For the Hawks, Michael Rozsival will miss the action with a lower body injury. Prediction 3 – 2 Canucks win. Playoff atmosphere abounds. Zack Kassian fights a dude, hopefully Keith. Game Day Tweets It's the #Canucks vs Blackhawks as these two teams face off for the first time this season. Game Preview: v.canucks.com/14vfLjC — Vancouver Canucks (@VanCanucks) February 1, 2013 #Blackhawks take on the #Vancouver #Canucks tonight Matchup/Stats Insight nwsb.co/g55z0 + #NWSB Gameday Preview nwsb.co/aaa57 — Q Smith (@NWSBQ) February 1, 2013 What every Canucks fan is thinking about tonight in regards to tonight's game: twitter.com/TheStanchion/s… — Wyatt Arndt (@TheStanchion) February 1, 2013 #Canucks to celebrate 100 years of West Coast hockey by wearing Vancouver Millionaires "V" patch on third jersey for select games. — Sportsnet Pacific (@SNETPacific) February 1, 2013 Sure the Canucks would trade Cory Schneider. If they got Claude Giroux. Is that happening? Didn't think so — Jason Botchford (@botchford) January 31, 2013 Rick Bowness laid it out as simple as possible. "Goalie coming off a great game, coming off a shutout." — Mitch(@MitchEmDee) February 1, 2013 for better or worse, it really really feels like the lockout never happened — Richard Hodges (@prfctsoundforvr) February 1, 2013 Tonight marks Henrik Sedin's 900th career @nhl game. Congratulations, Henrik! — Vancouver Canucks (@VanCanucks) February 1, 2013 In case you missed it: Get ready for #Blackhawks-Canucks tonight with 5 facts you may not know about the rivalry: bit.ly/11ni19i — Chicago Blackhawks (@NHLBlackhawks) February 1, 2013 CLICK HERE CHECK OUT THE VANCOUVER CANUCKS CLUBHOUSE TODAY ON NWSB!
Original Story:
http://www.nwsportsbeat.com/canucks/m...
THE BACKYARD
BEST OF MAXIM
RELATED ARTICLES
The Nucks +/- Well, we're all done the month of January and I thought it would be alright to go through which Canucks players have stuck out and which have maybe stunk out. This is the first and certainly not the last, the Plus/Minus of the month. The Plus Zack Kassian: Whodda thunk it? Zack Kassian in seven games is leading the team in goals with five. One could attribute his...
The second-half of back-to-back games haven't treated many teams in the NHL kindly this year, and the Blackhawks were once again playing for a second time in 48 hours. But Ray Emery showed up to play, and the Blackhawks needed him. … Continue reading →The post Ray Emery Earns The Blackhawks 2 Points appeared first on Committed Indians.
For The NHL Gamblers! Headline: Heated and Hated Rivalry Continues – Canucks Host Blackhawks Friday Night One of the best rivalry's in the NHL writes another chapter Friday night when the Chicago Blackhawks, fresh of their first loss of the season (albeit a shootout loss) pays visit to the Vancouver Canucks who climbed over .500 with a 3-0 win over Colorado on Wednesday night...
Here we go… time to renew hostilities The Vancouver Canucks are back in action tonight. They close out this two game home stand against their bitter rivals from the Central division, the Chicago Blackhawks. Tonight has a little something else going for it than most Canucks and Blackhawks games do. It will be the first time the two teams have played since Duncan Keith ended Daniel...
Love 'Em & Hate 'Em Boxscore | Recap  For all the hype, this was probably the tamest edition of the Canucks/Blackhawks rivalry. There was absolutely no rough stuff aside from Sheldon Brookbank chasing after Alex Burrows after he cheekily slipped the puck in the net on an offside call. Both teams came into the game saying all the right things about just wanting to get the...
Jordan Schroeder scored in a shootout to give the Vancouver Canucks a 2-1 victory over the Chicago Blackhawks on Friday night. Schroeder, who hasn't scored a traditional goal in the regular season, fired a low, hard shot that squeaked through the pads of goalie Corey Crawford. Alex Edler scored in regulation for the Canucks (4-2-2). Patrick Kane had the lone goal for the Blackhawks...
It seemed a near certainty Roberto Luongo had played his final game in a Vancouver Canucks sweater after Cory Schneider supplanted him as the team's No. 1 goaltender during last season's playoffs. Now, he's proving to be an asset. Luongo will make his third straight start Friday night as Vancouver hosts the rival Chicago Blackhawks, who have earned 13 of a possible...
The Chicago Blackhawks on Thursday traded forward Peter LeBlanc to the Washington Capitals in exhange for future considerations. In addition, the Blackhawks' AHL affiliant, the Rockford IceHogs, acquired Mathieu Beaudoin from the Hershey Bears in exchange for future considerations. Beaudoin, 28, appeared in 32 games this season Hershey, scoring three goals and adding seven...
from Ed Willes of the Vancouver Province, Following Friday night's game, Luongo sat fifth in the NHL with a 1.46 goals-against average and fourth with a .944 save percentage which, considering his Canucks career, isn't that unusual. But unless you've been on a probe in deep space for the last 10 months, you may be aware the circumstances around those numbers have been...
Roberto Luongo turned in a 24-save shutout over the Colorado Avalanche last night as the Canucks improved to 3-2-2 this season. Zack Kassian had his fifth goal of the year in the win. Let's take a look at the rest of a short night on ice. Chicago lost its first game of the season in a shootout 3-2 to the Minnesota Wild. The notable happening in that game was that goaltender Nicklas...
NHL News

Delivered to your inbox

You'll also receive Yardbarker's daily Top 10, featuring the best sports stories from around the web. Customize your newsletter to get articles on your favorite sports and teams. And the best part? It's free!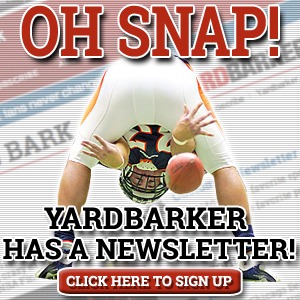 Latest Rumors
Best of Yardbarker

Today's Best Stuff

For Bloggers

Join the Yardbarker Network for more promotion, traffic, and money.

Company Info

Help

What is Yardbarker?

Yardbarker is the largest network of sports blogs and pro athlete blogs on the web. This site is the hub of the Yardbarker Network, where our editors and algorithms curate the best sports content from our network and beyond.