Found March 31, 2012 on NorthWest Sports Beat:
PLAYERS:
Daniel Sedin
,
Chris Higgins
,
Henrik Sedin
,
Maxim Lapierre
,
Roberto Luongo
,
Cory Schneider
,
Loui Eriksson
,
Steve Yzerman
,
Sami Salo
,
Andrew Alberts
,
Stephane Robidas
,
Aaron Rome
,
Dale Weise
,
Steve Ott
TEAMS:
Dallas Stars
,
Vancouver Canucks
Friday Night Full of Stars The Vancouver Canucks recent schedule has allowed them to play kingmaker in the race for the final playoff spots in the Western Conference. A run of games against Dallas, Colorado, and Los Angeles has helped the Canucks not only effectively eliminate the Avalanche from the race but also helped give the team a week long litmus test to see how they measure up against a group of possible first-round opponents.
Thankfully, they've passed with flying colours. In fact, since the Daniel Sedin injury the Vancouver Canucks have awoken from their winter slumber and are playing their best stretch of hockey since the infamous Boston game.
With that, we stare on the precipice of redemption. Four games remain in the season, all against non-playoff teams, and then the moment this city has been waiting for since June 15 is finally here. Also finally here? My Love Em/Hate Em for the Stars vs. Canucks last night. Love 'Em 1. Just Higgins being Higgins Chris Higgins must be excited about the playoffs as well since the winger is doing his best Mikeal Samuelsson in the 2010 playoffs impression over the past week. The ab-master now has four goals in his last four and more importantly he's doing this with the Canucks best goal-scoring winger down. And yet am I the only one shocked he hasn't gotten a chance with Henrik Sedin yet? Seems to me the hard-working Higgins would be a great presence on the top line. Not that Sedin with Alex Burrows and Maxim Lapierre wasn't fun to watch.. 2. Schnuuuuuuuuuuu After Roberto Luongo's neck decided to cramp his style, Cory Schneider got the nod between the pipes just minutes before puck drop. Thankfully, Schneider is a cucumber, as in cool as, and delivered yet another fine performance that will have the usual goaltending debates stoked full-fire this weekend. This shorthanded save off Loui Eriksson was easily his best of the night and made me give out this involuntary squeak of joy when it happened. I can only imagine what sound Steve Yzerman made. 3. ALBERTS ALBERTS It was a tough call for the third spot with guys like Maxim Lapierre, Sami Salo, and Alex Burrows making strong cases, but when Andrew Alberts scores you have to recognize because his chance to hold down this spot may never come again. Alberts goal was his first since November 26th, which is surprising because that's actually this season. Really the puck was going way wide and thankfully hit Stephane Robidas to correct its course but Alberts can't be choosers. Now watch him score tonight and become the new Aaron Rome. Hate 'Em 1. C'mon Penalty Shot Dale Weise wasn't happy when his trip-up on a breakaway didn't lead to a penalty shot and really neither was I. When We Win You Win! Stars vs. Canucks blog: love 'em & hate 'em For one, I subscribe to the school of thought that you should call penalty shots as often as you can because they're awesome and for the second I had the seen the Canucks powerplay that night. A Dale Weise penalty shot would've given them much greater odds to score. Me taking that penalty shot would have given them greater odds as well. I've been working on my triple deke. 2. Dowell Downer It didn't matter in the grand scheme of things, but Andrew Alberts and Sami Salo made sure they both gave and tooketh away in this game by making a bone-headed defensive play late in the game to let Jake Dowell get a second goal for Dallas. Frustrating but, you know whatever. 3. Some Like It Ott Finally, if the tables break right and Vancouver and Dallas meet in the first-round how soon will Steve Ott become the most hated man in Vancouver?
The Ottster was on the radar all night long thanks to a couple chirping sessions with Alex Burrows, and some admittedly nice play.
Just ask Burrows, the only thing people hate more than a pest is a pest who can play. CLICK HERE CHECK OUT THE VANCOUVER CANUCKS CLUBHOUSE TODAY ON NWSB! © Richard Hodges for North West Sports Beat, 2012. | Permalink | No comment | Follow NWSB on Twitter or join US on Facebook for real-time updates OR... | Share This on Twitter | Share NWSportsBeat.com on Facebook Post tags: Aaron Rome, Alex Burrows, Andrew Alberts, Chris Higgins, Cory Schneider, Dale Weise, Dallas Stars, dallas stars vs. vancouver canucks, dallas vs. vancouver, Daniel Sedin, game rewind, Henrik Sedin, Jake Dowell, Love Em Hate Em, Maxim Lapierre, penalty shots, Sami Salo, Stars vs. Canucks, Stephane Robidas, Steve Ott, Vancouver Canucks, Western Conference Playoff Race
Original Story:
http://www.nwsportsbeat.com/canucks/s...
THE BACKYARD
BEST OF MAXIM
RELATED ARTICLES
The Vancouver Canucks are hopeful left wing Daniel Sedin will be ready for the 1st round of the Stanley Cup Playoffs. They're not scoring goals like they have with him, but the Vancouver Canucks are winning games. Going 4-0 since the Sedin hit by Duncan Keith versus the Blackhawks last week. Sedin, 31, has collected a team-high 30 goals with 37 assists for the Canucks,...
The Canucks took back top spot in the conference Saturday night with a 3-2 win over the Calgary Flames. With only three games remaining in the regular season, the Canucks sit one point up on the St Louis Blues and tied in points with the New York Rangers for top spot in the entire league (although the Canucks would lose the tie breaker). So the question burning in my head right now...
Top 50 #Canucks friends to follow on Twitter Every day this week NWSB has been posting 10 of the top 50 follows in #Canucks nation in no particular order. It kept me busy too. I almost had not time to fire out my Canucks All Access for the week. But that is up to. Notice someone important (like yourself?) not on the list? Social Media: Canucks Add your honourable mentions in the...
Second Star of the week for me! The Canucks Goaltending Remember my goaltending rant in this column a few weeks ago? Me either. In fact, just to make sure it never was mentioned again, I had my editor remove it from the sites history. This week, Luongo and Schneider put on a show. Each had a shutout in tough 1-0 wins, and Luongo stopped 38 shots in a 3-2 win against Colorado...
25-8-7 since Jan 1st The Vancouver Canucks struggled to bring their playoff intensity on Saturday, but managed to make the most of their performance against the Flames, forcing overtime in a 3-2 comeback over Calgary on Hockey Night in Canada. Roberto Luongo had a shaky return to the crease after sitting out Friday's game with a sore neck and Marc-Andre Gragnani buried his first...
Vancouver Canucks Playoff Chances - Sports Club Stats According to Sports Club Stats, it will be a team from the Pacific division. Can't really say any of those teams scare me, though none will be easy. If I had to rank them for preferability... Phx/LA/Dal/SJ?
Canucks host the Not Out Flames Saturday night The Vancouver Canucks extended their win streak to five games last night and in the process they returned to the team that resembled the one that won the President's trophy last season. On Saturday night the Canucks host a Calgary team that saw their playoff chances all but disappear with their seventh loss in eight games on Friday...
A Slow Burn It's hard to find much fault with the Vancouver Canucks these days, which is obviously fantastic news with the post-season a week and a half away. The team has flipped the switch that so many thought would be impossible to achieve and more amazingly took over first place in the Western Conference last night thanks to Columbus somehow beating St Louis. Getting excited...
Loungo's in net, Ebbett is back from that collerbone injury suffered in the Boston game. Weise and Bieksa are out.
With another disheartening loss, the Dallas Stars dropped out of the Pacific Division lead and toward the bottom of the Western Conference playoff picture. The San Jose Sharks experienced a similar feeling earlier in the week. The wild race for the Pacific title gets more interesting as the slumping teams begin a crucial home-and-home series Saturday night at HP Pavilion. Dallas...
Is it just me or are the Vancouver Canucks winning but still not getting any credit? Yes, it's been four in a row now and NWSB Insider Josh Hall says it's about time we trust the Captain Henrik Sedin. Who will start against the Dallas Stars Friday? Should it be Cory Schneider? He's the only one to beat them in three tries. Bah humbug to all you bandwagoners. Shame on you.
NHL News

Delivered to your inbox

You'll also receive Yardbarker's daily Top 10, featuring the best sports stories from around the web. Customize your newsletter to get articles on your favorite sports and teams. And the best part? It's free!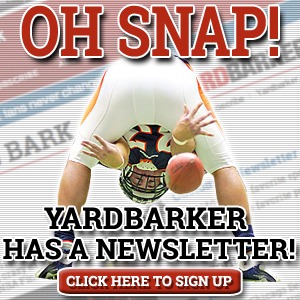 Latest Rumors
Best of Yardbarker

Today's Best Stuff

For Bloggers

Join the Yardbarker Network for more promotion, traffic, and money.

Company Info

Help

What is Yardbarker?

Yardbarker is the largest network of sports blogs and pro athlete blogs on the web. This site is the hub of the Yardbarker Network, where our editors and algorithms curate the best sports content from our network and beyond.