Normally I try to avoid being critical of what other organizations do, but I figured I should chime in on Florida Panthers GM Dale Tallon's latest trade where he sent 26-year old winger David Booth to Vancouver along with Steven Reinprecht and a third round pick in exchange for Marco Sturm and Mikael Samuelsson. At first glance, this appears to be a steal for Vancouver because they get a solid addition to their top-six and a draft pick in exchange for two injury-prone players in their thirties. All they had to do was take on Reinprecht's $2,175,000 salary which comes off the books next year. After further examination, this trade still makes a hell of a lot more sense for Vancouver than it does for Florida. Trading Booth is not a bad move for the Panthers but what makes this a bad deal for them is what they got in return compared to what they could have gotten. Florida is in a position where they need to save money and Booth is due $18.25 mil over the next four seasons. Tallon did not give him that contract it also includes a No Trade Clause which kicks in next year. On top of that, Florida has one of the deepest forward prospect pools in the league and needs to make room for some of those players next season when they are ready to be called up. That's where Sturm and Samuelsson fit in; they are both UFA's come July and probably won't be retained. It makes sense for a team in that position to trade an underperforming player with a long-term deal for expiring contracts, right? Of course, but there's just one problem with that. Here's all of the contracts Tallon gave to forwards from this summer alone: Tomas Fleischmann - $18 mil for 4 years (NTC)
Scottie Upshall - $14 mil for 4 years (NTC)
Tomas Kopecky - $12 mil for 4 years
Sean Bergenheim - $11 mil for 4 years
Marcel Goc - $5.1 mil for 3 years
Kris Versteeg - $3,083,333 for 1 year (RFA)
Matt Bradley - $1.9 mil for 2 years
Total over 1 year: $19,583,333 (7 forwards)
Total over 2 years: $16,450,000 (6 forwards)
Total over 3 years: $15,450,000 (5 forwards)
Total over 4 years: $15,280,000 (4 forwards) Tallon will only save about $3 mil by dumping Booth's contract and it will probably end up being an net loss for him when you factor in him trading for Brian Campbell's ludicrous contract and signing Ed Jovanovski for 4 years at $4.125 per year. A cap hit and salary he will have to pay even if Jovanovski retires before the end of it. If Tallon was so concerned with freeing up roster space and saving money then why the hell did he give four long-term contracts to players who are all inferior to Booth? I know he needed to get to the cap floor but if I were running the Panthers, I would rather trade for a front-loaded contract and sign free agents to only one or two year deals, especially with the new CBA kicking in next season. What Tallon did this summer caused him to unnecessarily add $15+ mil for the next four years. Florida already 10 forwards under contract for next season so there isn't exactly a lot of room for their prospects to make the team out of camp next year anyway. I can understand that Tallon may have been frustrated with Booth's production and wanted him traded but why was he so urgent with pulling the trigger on this deal? Booth hasn't been the same player ever since he suffered a concussion two years ago but has always been a guy who can at least get 3-5 shots on net per game, be a key source of offense and a welcomed addition to a lot of team's top sixes. With his NTC kicking in next season, I do not understand why Tallon felt the need to deal him now instead of at the deadline where some team would likely be willing to overpay for him. Booth had 23 goals last season on Florida's first line and was putting up very strong possession numbers but a terrible on-ice shooting percentage of 6.92. That's usually a sign that he is likely to have a better year and even if he doesn't, he's still proven to be good for at least 20 goals. You're telling me that someone wouldn't at least give up a decent prospect for that? On the Canucks end of the deal, they get what will probably be an upgrade over Sturm, Samuelsson and Higgins on their second line with Ryan Kesler and I could see Booth working out well there. As for Reinprecht, I don't think he will be playing in Vancouver unless Vancouver has serious injury problems. The third rounder doesn't mean much to me but you can never have too many draft picks/prospects. The only negative I see out of this for Vancouver is if Booth continues to struggle and they are stuck with his contract. The 'Nucks don't exactly have a ton of cap space as it stands right now. I don't think the Panthers really care about how Sturm or Samuelsson will perform for them but I can't really say that these two make Florida a better team than they were with Booth. Florida has plenty of forward prospects already but I think they missed a huge opportunity to strengthen that pool by using David Booth as a salary dump.
Original Story:
http://shutdownline.com/hurricanes/ar...
MORE FROM YARDBARKER
NHL News

Delivered to your inbox

You'll also receive Yardbarker's daily Top 10, featuring the best sports stories from around the web. Customize your newsletter to get articles on your favorite sports and teams. And the best part? It's free!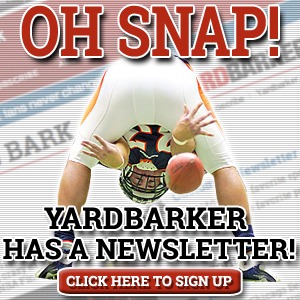 Latest Rumors
Best of Yardbarker

Today's Best Stuff

For Bloggers

Join the Yardbarker Network for more promotion, traffic, and money.

Company Info

Help

What is Yardbarker?

Yardbarker is the largest network of sports blogs and pro athlete blogs on the web. This site is the hub of the Yardbarker Network, where our editors and algorithms curate the best sports content from our network and beyond.