Found January 22, 2013 on The Detroit Sports Site:
PLAYERS:
Niklas Kronwall
,
Nicklas Lidstrom
,
Martin Havlat
,
Ian White
,
Kyle Quincey
,
Jonathan Ericsson
,
Carlo Colaiacovo
,
Brendan Smith
,
Henrik Zetterberg
TEAMS:
Detroit Red Wings
,
San Jose Sharks
,
Columbus Blue Jackets
With the perfect human, Nicklas Lidstrom, finally hanging up his skates, it's time for the Detroit Red Wings's Niklas Kronwall to show they will not miss him. To be honest, I thought Lidstrom would come back for a farewell season, but that is not the case. No spotlight will be brighter than the one shining on Niklas Kronwall now as the Wings head into a shortened season. He's going to have to step up and be a dominant force on the blue line. Kronwall's showed he can lay the big hit and can snipe from time-to-time, but now he must lead that back-end and be much more consistent than he has been in years past. Kronwall is a beast and having him makes the retirement of Lidstrom just a little easier to take. He won't be the league leader in points but being on the number one power play could help with that statistical category. By no means will his presence make us forget all about Lidstrom, but he can, in his own way, help the Wings to move on from the greatest defenseman of our time. Kronwall is a big hitting, swift skating two-way defender who plays with more of an edge than number five. Some of his hits have really made an impact in games, like that hit on Martin Havlat in the playoffs a few years ago. Hits like that are how he is going to be the leader of the defense. Truthfully, I don't think anybody is expecting any single player to replace Lidstrom — that would just be stupid — but Kronwall and the rest of the Wings' D are more than capable of the joint effort. Rounding out the defense, we'll have Ian White — who has proven he is a dependable player, along with Kyle Quincey. Though the jury may be still out on Jonathan Ericsson, I do believe that Carlo Colaiacovo will be a solid 4-5 defenseman and the potential is definitely there for Brendan Smith to be a top level d-man in the next two-to-three years. With those players all pulling their weight, I think Kronwall will have an easier time stepping up his game. With Henrik Zetterberg claiming the "C" and Kronwall as an assistant I think they can both fill the leadership void left by Lidstrom. Being the leader of the defense is going to be huge though. Kronwall has been calm and in control while keeping that edge and laying down the law when necessary. He's a monster that will crush forwards like a brick wall. The Detroit Red Wings lost the best defenseman they have ever had and he won't ever be replaced. Kronwall is a different animal, he can hit like Scott Stevens but is smooth skating and skilled like Lidstrom. Kronwall won't be making those oh-my-gosh plays like we came to expect from Lidstrom, but he will make plays that will garner applause. Sprinkle in those bone jarring hits and you have the new head of the D, Niklas Kronwall the time is yours. While the season has not started as hoped for Kronwall, with four penalty minutes and no points in the first game. He followed it up with two assists in his second game against the Columbus Blue Jackets, the Wings' first win of the season. All that said, the development of Kronwall is a long term project, with the hope is he will one day flourish into a top defenseman like Lidstrom.
Original Story:
http://www.thedetroitsportssite.com/2...
THE BACKYARD
BEST OF MAXIM
RELATED ARTICLES
Finally, some good news regarding the Red Wings' injuries, from the Free Press's Helene St. James (inline because Twitter is acting weird): Red Wings F Todd Bertuzzi does not have mononucleosis, could be back as soon as Friday. Original diagnosis was a false positive. Update: MLive's Ansar Khan confirms (inline again)... Wings' Bertuzzi expected to play...
DETROIT -- The Detroit Red Wings are so desperate for help defensively that they signed a player who was trying out for a minor-league team and then promptly put him in the lineup a few hours later for the home opener. Over the last couple years, the Wings have lost three of their four best defensemen, including captain Nicklas Lidstrom. Theyre also currently without currently without...
#IanWhite out 2-3 weeks with deep laceration to knee. — Chuck Pleiness (@wingsfrontman) January 23, 2013 via Khan, Detroit Red Wings defenseman Ian White had surgery this morning to repair a deep laceration in his leg and will be out for two-to-three weeks, general manager Ken Holland said. Holland said Jakub Kindl (groin) is expected to return for Friday's game...
The Detroit Red Wings got their 2013 season off to the roughest start possible on Saturday, losing 6-0 to the St. Louis Blues while only firing 14 shots on goal. It was the most frustrating season opener recently for the Red Wings, who for the first time in recent memory, might finally appear headed for their version of hockey's rebuilding stage. This has been helped along especially...
Crain's Detroit Business's Bill Shea broke down both the costs and benefits of the third owners' lockout upon the Detroit Red Wings, and as you might expect, the organization took a financial hit during the lockout, but they also saved money over the short-term by not holding games...and will win out over the long haul thanks to taking in an increased percentage of hockey...
From the Red Wings' PR department: RED WINGS RECALL DEFENSEMAN BRIAN LASHOFFFROM GRAND RAPIDS OF THE AMERICAN HOCKEY LEAGUE ... Rearguard Jakub Kindl Placed on Injured Reserve to Make Room on 23-Man Roster … Detroit, MI... The Detroit Red Wings today announced that defenseman Brian Lashoff has been recalled from the Grand Rapids Griffins of the American Hockey...
The Detroit Red Wings have signed 33-year-old defenseman Kent Huskins to a one-year contract. The team announced the move Tuesday before the club's home opener against the Dallas Stars. Detroit also recalled forward Gustav Nyquist from Grand Rapids of the American Hockey League and put right wing Todd Bertuzzi and defenseman Carlo Colaiacovo on the injured reserve list. Bertuzzi...
Dallas Stars (1-1-0, 2pts) @ Detroit Red Wings (1-1-0, 2 pts) 6:30 PM CT Joe Louis Arena, Detroit, Michigan Those Hated Red Wings Detroit enters this season as vulnerable as they've ever been in the past three decades. Nicklas Lidstrom retired during the offseason and took with him a lot of the usual Red Wing aura. The loss of Lidstrom and Brad Stuart on the...
Life without Nicklas Lidstrom might be quite an adventure for the Detroit Red Wings.They lost their first game without him 6-0 at St. Louis. The Blues outshot them 17-2 in the first period and kept skating circles around them all night. Goaltender Jimmy Howard allowed five goals (on 28 shots) before taking an early exit. "We really had nothing going, except for Howie in the net...
This is incredibly late, but I worked very hard to get it done and was stopped by a 12-hour power outage, so here's a very, very late Wings-Blues wrap-up: Jan Mursak had to bow out of the Detroit Red Wings' first game of the 2013 season early. He was hard by Blues captain David Backes at the Wings' bench, and the tip of his right shoulder ended up taking the brunt of...
NHL News

Delivered to your inbox

You'll also receive Yardbarker's daily Top 10, featuring the best sports stories from around the web. Customize your newsletter to get articles on your favorite sports and teams. And the best part? It's free!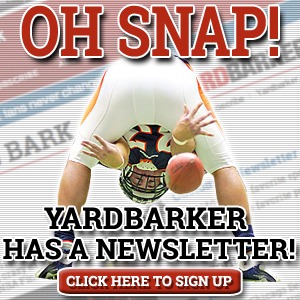 Latest Rumors
Best of Yardbarker

Today's Best Stuff

For Bloggers

Join the Yardbarker Network for more promotion, traffic, and money.

Company Info

Help

What is Yardbarker?

Yardbarker is the largest network of sports blogs and pro athlete blogs on the web. This site is the hub of the Yardbarker Network, where our editors and algorithms curate the best sports content from our network and beyond.