Found September 24, 2012 on Kukla's Korner:
You have to believe the owners will eventually gravitate toward accepting 50-50 as well, but right now the hardliners are simply not willing to go there. Those hardliners, we presume, include commissioner Gary Bettman and the owners whose teams are better off with no games being played than they would be if the season were a go. Owners in bad markets (we'd put money on places like Florida, Tampa, Dallas, Columbus, Nashville, Phoenix and Carolina) have reportedly hijacked this entire process and are not willing to entertain a moderate deal. At the same time, there are plenty of owners who want to get a deal done and are willing to come to a compromise, but at this point it seems their voices are not being heard. -Ted Wyman of the Winnipeg Sun where more can be read on this topic.
Original Story:
http://kuklaskorner.com/hockey/commen...
THE BACKYARD
BEST OF MAXIM
RELATED ARTICLES
NHL Commissioner Gary Bettman downplayed the threat of the Oilers moving to Seattle on Tuesday as the Edmonton mayor predicted that an NHL team in Seattle wouldn't sell out its games. Bettman says an arena deal in Edmonton is achievable, ''and with a new arena there should be no reason to have any doubts about the future of the Oilers in Edmonton.'' The team...
  There's a danger inherent in being the head of an organization, a company, or a country. If you become notable -- if you become synonymous with the front office in charge of your product -- then you become more than in charge. You're part of the identity. If something goes awry in the front office, blame gets tossed at you. Is it always fair? No. Some people will always...
While many are quick to blame Gary Bettman for the third lockout under his regime, the blame lies equally with the owners as well. Over 50% of owners in the NHL barely break even or lose money, and they have no qualms with locking out the players. These owners lose less money with a lockout than they do while the season is in full swing. James Dolan is not one of these owners. While...
TORONTO (AP) -- Gary Bettman and Donald Fehr are sitting out a meeting between the NHL and NHL Players' Association. The sides are gathering Monday to sign off on accounting of last year's hockey-related revenue. With no collective bargaining talks scheduled, the NHL commissioner and executive director of the NHLPA didn't take part. The NHL locked out its players nine...
I haven't been following the NHL Lockout news as closely lately because frankly it's been depressing and there hasn't been much in the way of news to come out. There also hasn't been any serious meetings either. I am hoping that NHL Network and NBCSN decided to give us some AHL hockey this season because I don't think we're going to have an NHL Season. It could also be...
The Red Wings' locked-out players will take part in their first informal practice in Troy today, and many of you will be skating in their place at Joe Louis Arena over the next three days, which seems strange...But this lockout has been nothing if not full of "weirdness." Just as it feels like we've been at this for much longer than eight days, for me, it feels...
Must we tread upon this ground again? Perhaps we must. The Toronto Sun's Steve Simmons ponders the walking, talking reality show that is the Maple Leafs' hockey operations department, the players' lack of negotiating leverage once they start missing paychecks, and yes, Jimmy Devellano's comments, but he offers a different perspective owner seeking leverageof their...
Gary Bettman and Donald Fehr are sitting out a meeting between the NHL and NHL Players' Association.
from Barrie McKenna of the Globe and Mail, The benefits of a leaner, more Canadian NHL are obvious. There would be more viable teams and fewer money-losers. That would lessen the pressure to lower the salary cap and shift more revenues from players to owners – the two main issues in the current dispute. But that's not what's likely to happen. Players will probably...
from Kevin Paul Dupont of the Bsoton Globe,  Cheapskate though I may be, I would pay the equivalent of a third-row loge seat for a pay-per-view debate over CBA talks between NHL commissioner Gary Bettman and Players Association boss Donald Fehr. Make TSN's James Duthiethe moderator, and I'll shell out first-row dough to hear how these two gents would go about divvying...
We gotta entertain ourselves somehow and making jokes is how we cope with difficult times... like the NHL Lockout. Therefore we're having another Days of Y'Orr Photoshop Contest. Hopefully this can top the "Things Guy Boucher is Holding" expo we had lduring the 2010-2011 playoffs.Send us your best (or worst) NHL Lockout Photoshops. It can be anything from making...
NHL News

Delivered to your inbox

You'll also receive Yardbarker's daily Top 10, featuring the best sports stories from around the web. Customize your newsletter to get articles on your favorite sports and teams. And the best part? It's free!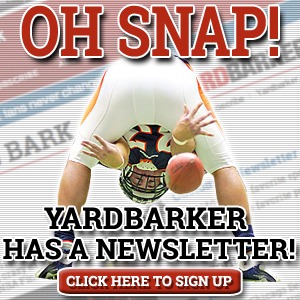 Latest Rumors
Best of Yardbarker

Today's Best Stuff

For Bloggers

Join the Yardbarker Network for more promotion, traffic, and money.

Company Info

Help

What is Yardbarker?

Yardbarker is the largest network of sports blogs and pro athlete blogs on the web. This site is the hub of the Yardbarker Network, where our editors and algorithms curate the best sports content from our network and beyond.