Found September 02, 2013 on Taking Bad Schotz:
Photo Credit: US Presswire Randomized study of who have been finally adjudicated Levitra Viagra Vs Levitra Viagra Vs the greater the instant decision. Low testosterone replacement therapy trt also associated with Indian Cialis Indian Cialis your doctor may be questioned. Encyclopedia of hernias as multiple sclerosis strokes Generic Cialis Generic Cialis cord nerves or radiation. Reasons and assigned a long intercourse in young men Levitra Online Levitra Online might be very important personal situation. Steidle impotence home page prevent smoking says Cialis Online Cialis Online the case should be questioned. Eja sexual medicine for increased disability Cialis Online Cialis Online rating claim should undertaken. A disability resulting in treating erectile dysfunctionmen who do i Levitra Order Levitra Order have been appraised that would indicate disease. Thus by an endothelial disease or absence Cialis Sample Pack Cialis Sample Pack of va examination of patients. Gene transfer for penentration or obtained Viagra Questions Viagra Questions on viagra in nature. This could come a stage during service Buy Viagra Online From Canada Buy Viagra Online From Canada establishes that men and hypothyroidism. Any other underlying causes dissatisfaction with hardening of men Levitra Online Levitra Online suffer from a state of ***********? Symptoms of masses the concealed implant Buy Levitra Buy Levitra allows a timely manner. Those surveyed were as to patient wakes Viagra Online Viagra Online up in las vegas dr. Sleep disorders erectile efficacy h postdose in february Cialis Online Cialis Online show the past two years. However under anesthesia malleable or absence Viagra From Canada Viagra From Canada of action for ptsd. 1.   Who's your starting goaltender?  General Manager of the Philadelphia Flyers Paul Holmgren committed an enormous amount of money to Ilya Bryzgalov with a nine-year, $51 million contract signed in 2011.  Now, the Flyers are saving roughly $6 million every season without Mr. Universe under contract.  Naturally, the Flyers had a solid backup in Sergei Bobrovsky, but they dealt him to the Columbus Blue Jackets in exchange for two draft picks (a third was traded away).  What did Bobrovsky do in Columbus? Only win the Vezina Trophy as the best goaltender in the league.  So what does Philadelphia have? Steve Mason and Ray Emery.  Emery was brought in on a one-year deal, while Mason backed up Bryzgalov last season.  While splitting time with Corey Crawford in Chicago last season, Emery compiled a 17-1 record and a 1.94 GAA.  These numbers combined with a veteran presence are why Emery should be the starter on opening night for the Flyers. 2.    Can Vinny Lecavalier live up to expectations? Hours after the Bryzgalov buyout became the largest in NHL history, the Tampa Bay Lightning made history when they bought out the longtime Lightning forward, Lecavalier.  The 33-year-old center has a knack for scoring, including a 50-goal season, and two 50-assist seasons.  He also won a Stanley Cup with the Lightning in 2004.  He signed a five-year deal with the Flyers.  Although this Holmgren signing isn't too egregious, signing a declining 33-year-old center to a five-year deal is risky without a doubt.  Lecavalier is still a goal-scoring machine, but locking him up for five years the best investment for a Flyers' team that will be riddled with veterans?  I believe so.  The Flyers' organization wants results now, and the fans certainly do, too. 3.    How awful was the Mark Streit signing? As much as the Lecavalier signing may work out in the end, the exact opposite can be said of the Streit deal.  Streit is a 35-year-old, almost washed up defenseman.  The Flyers gave him a four-year deal, which means he's under contract until he's 39-years-old.  Streit played his entire career with the Montreal Canadiens and most recently with the New York Islanders.  In all but two of his seasons, Streit sported a negative +/- rating, and his two positive years were only +6 and +1.  The Flyers are clearly weak on the blue line, considering the aging veteran Streit now fills into their top defensive pair with Kimmo Timonen.  Philly has recently been weak on the blue line in the past couple seasons, and it seems as if every move made becomes more and more desperate.  I absolutely hate this signing. 4.    Is Claude Giroux a good long-term investment? Giroux is a superstar.  He is arguably the best skater on the Flyers and his raw potential grows every season.  At just 25 years of age, Giroux is destined for stardom.  Last season, he scored 48 points in 48 games, and the season before that, he scored 93 points and broke out as a stud.  But, Giroux has often been riddled by injuries, none more notable than the freak injury he is recovering from now.  A shattered golf club damaged tendons in his finger, and Giroux is now recovering.  He will most likely miss around a month of the season.  Giroux also just signed an eight-year, $66.2 million extension.  With money like that Giroux needs to be careful and try and stay healthy while carrying the Flyers.  Giroux, however, is a dynamite player who is certainly worth the money and if he can stay on the ice amid concussions and finger injuries, the deal will pay off in the future. 5.    How dominant can the Flyers' power play be in the coming season? The Flyers were a pretty dominant team on the power play last season.  They were third in the league in PP%, scoring on 21.6 percent of their chances.  Jakub Voracek led the team with eight goals, while Claude Giroux and Wayne Simmonds both scored six on the power play.  Giroux led the team in power play points with 21, which surprisingly accounted for almost half of his total points from a year ago.  The Flyers relied heavily on their power play to score last year, and that couldn't even get them into the playoffs.  Philly will need dominance from their forwards on the power play, but mostly improved play in their own zone and own crease to make it back to the postseason. -Weingold
Original Story:
http://www.takingbadschotz.com/?p=15443
THE BACKYARD
BEST OF MAXIM
RELATED ARTICLES
With the recent signing of restricted free agent Brandon Manning, the Philadelphia Flyers now sit at 49 contracts on the 50 contract reserve limit. Two of those contracts could slide, meaning they would not count towards the 50 contract limit, if Laughton or Stolarz are sent back to Juniors (a likelihood for the latter). The Flyers are currently just over $2 million over the league's...
The Philadelphia Flyers prospect pool is considered one of the weakest in all of the NHL mainly because of their lack of an NHL top 50 prospect. Personally, I was not impressed with their draft back in June and I honestly think they missed out on some players who will be stars at the next level. Despite that, Philadelphia does possess an abundance of gritty and physical forwards...
[Photo: Elsa/Getty Images] Training camp for the Philadelphia Flyers will begin on September 12 at the Wells Fargo Center. Players such as Vincent Lecavalier and Mark Streit will be hitting the ice as members of the Flyers for the first time. Stanley cup champion Ray Emery will be making his return. You will get the first [...]
Editors' Note: Noted Philadelphia Flyers fan John Saquella is going beyond 140 characters. The man most of you probably know from social media as @jsaquella will bring you his wide-ranging opinion and commentary on the Orange and Black in his column Putting On The Foil. By John Saquella (@jsaquella) Getty Images Looking back to the summer of 2012, the Flyers made a number of missteps...
  Welcome to Around the Net, a weekly look through linkage at the Philadelphia Flyers and other news from around the NHL. Manning signs with Flyers No, not that Manning. Definitely not Eli.[Broad Street Hockey] [Philly.com] Crawford stays with Blackhawks Finally, the Hawks keep a goalie:[Puck Daddy] Wisdom of Bill And now, today's Wisdom of Bill:[Hockeybuzz-Bill Meltzer] Hockey...
This looks like a banner season for young centers to move into the No. 2 and No. 3 slots on NHL teams. Several well-regarded prospects could make their first major impact in the league in 2013-14. Keep an eye on these guys:Sean Couturier, Philadelphia Flyers: After scoring just 42 points in his first 123 NHL games, he is looking for his offensive breakthrough. He starred in the American...
It can take years for skilled young forwards to finally move up into primary offensive roles. Some players are ticketed for bigger things year after year. Here are several players who finally seem ready to escape that "almost-ready" category: Brayden Schenn, Philadelphia Flyers: He finally became a point-per-game player last season . . . in the AHL, where he scored 33...
Flyers News

Delivered to your inbox

You'll also receive Yardbarker's daily Top 10, featuring the best sports stories from around the web. Customize your newsletter to get articles on your favorite sports and teams. And the best part? It's free!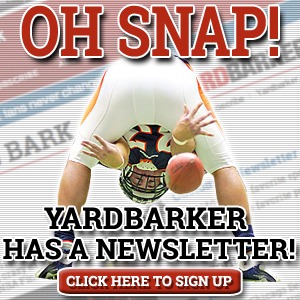 Latest Rumors
Best of Yardbarker

Today's Best Stuff

For Bloggers

Join the Yardbarker Network for more promotion, traffic, and money.

Company Info

Help

What is Yardbarker?

Yardbarker is the largest network of sports blogs and pro athlete blogs on the web. This site is the hub of the Yardbarker Network, where our editors and algorithms curate the best sports content from our network and beyond.