Found July 09, 2012 on NorthWest Sports Beat:
PLAYERS:
Mason Raymond
,
Cody Hodgson
,
Zack Kassian
,
Michael Grabner
,
Shane Doan
,
Ryan Kesler
,
Chris Higgins
,
David Booth
,
Roberto Luongo
,
Alain Vigneault
,
Patrick Kane
TEAMS:
Vancouver Canucks
,
Buffalo Sabres
,
New York Islanders
,
Arizona Coyotes
,
Chicago Blackhawks
,
Florida Panthers
Raymond getting yet another shot…
Ok, first off, I would like to make a disclaimer, I do not "hate" Mason Raymond.  Too often when fans of teams are discussing their squads' underachievers or busts, they throw personal attacks and disdain onto the player.
By all accounts, Raymond is a great guy, and had had some really good moments with the Canucks, although, none of it amounting to much more than glimpses of promise. 
Coming back from the brutal back injury he suffered against the Bruins in the 2010-11 playoffs showed courage and guts.
No, it's not the player I hate, it is this deal, and what it says about the team.
 1. Just what are we getting for the money?
While a 1-year salary of $2.27 million US is a $325,000 pay cut from Mason Raymond's salary of last season, will it be too much for where Raymond will ultimately end up at the end of the year?
While that salary is not breaking the bank, it does indicate a probable second line type of role for Raymond, and he showed last year with 10 goals in 55 games, he may not be able to produce at the level that saw him net 25 goals in 2009-10.
Raymond, at a generously listed 6 feet, and a slight 185 pound build doesn't seem to fit the mold of "getting bigger".
If he reverts to last year's form, do you realistically put him on the third line in a checking role?
Would he be useful in that position at all?
For $2.27 million US, you could land a more suitable third line type of player that has played that role in the past.
As a Canucks fan, I hope Raymond can score 25 goals again and stay in the top 6, but I must admit, I am skeptical he can return from his injury of two seasons ago and do just that.
2. Too small?
In an interview at the end of this season, Canucks' GM Mike Gillis stated that he wanted the team to get bigger.  It's why he traded Cody Hodgson for Zack Kassian.
Raymond, at a generously listed 6 feet, and a slight 185 pound build doesn't seem to fit that mold.
Canuck fans saw more of Raymond on the ice than on the score sheet last year.  Getting bigger doesn't mean every single player on the team necessarily has to be bigger, but this could have been an opportunity to fit in a bigger body up front in the top 6.
3. Any chance in bringing up some other youngsters?
The Canucks have recently brought up prospects and only half heartedly given them a chance to stick with the team.  Michael Grabner and Cody Hodgson come to mind.
Why then give Raymond so many chances to stick with the team when he hasn't shown much, and may be regressing?
Young Danish prospect Niklas Jensen is a 19 year old player who had 62 points in 63 games last year split between the OHL & AHL.  Jensen has stated that if he doesn't make the team this year, he is off to Sweden to play hockey there.
Couldn't the team plunk Jensen into Raymond's spot and see what happens?
He has size and a high offensive ceiling, and is worth a good hard look.
Besides Luongo, no one has a shorter leash in this city than Raymond. – (AP Photo/THE CANADIAN PRESS/Jonathan Hayward)
4. Are we giving up on free agents?
I hope bringing Raymond back doesn't block the ability to sign another player due to money or his roster spot.
Money probably wouldn't be the issue, but maybe he would be taking up a top 6 spot that another free agent would covet.
The Canucks have reportedly had positive talks with Phoenix Coyote Shane Doan, and while they play naturally different wings, if Doan came in, and you had Ryan Kesler in the Centre, wouldn't it look better with Chris Higgins or David Booth on the other side?
Doan had 22 goals and 28 assists last year, and would provide great leadership as a veteran.
I agree 100% with NWSB Q's tweet earlier today in response to CanucksArmy.com writer "The Tinfoil Tuque's" tweet.
.@tinfoiltuque 100% disagree Exactly the type of player the #Canucks need. Shared a flight w/ him. Great personality. Great leader. Passion.

— Northwest SportsBeat (@NWSportsBeat) July 9, 2012
5. He's going to have a short leash.
Besides maybe Goaltender Roberto Luongo, no one has a shorter leash in this city than Mason Raymond.
And that's with both fans and Head Coach Alain Vigneault.  If he's doesn't start out fast, the fans will be booing Raymond louder than I do when I see Patrick Kane's mug on the t.v., and Vigneault could be yanking him in and out of the line-up on a regular basis.
Is that good for the team?
It certainly can't benefit Raymond.  Maybe he would be better off starting fresh somewhere else.  Who knows, we could have packaged him with Luongo in a trade. 
Could we get Mike Gillis some alligator skin shoes from the Florida Panthers for that?
CLICK HERE TO CHECK OUT THE CANUCKS CLUBHOUSE TODAY AT NWSPORTSBEAT!
© Reggie Gill for North West Sports Beat, 2012. | Permalink | No comment |
Follow NWSB on Twitter or join US on Facebook for real-time updates OR... | Share This on Twitter | Share NWSportsBeat.com on Facebook
Post tags:
Alex Burrows
,
Canucks Blog
,
Canucks news
,
Canucks Rumors
,
Canucks trades
,
Chris Higgins
,
Cody Hodgson
,
David Booth
,
Mason Raymond
,
Michael Grabner
,
Mike Gillis
,
NHL
,
NHL Free Agency
,
Niklas Jensen
,
Ryan Kesler
,
Shane Doan
,
Vancouver Canucks
,
Zack Kassian
Original Story:
http://www.nwsportsbeat.com/canucks/v...
THE BACKYARD
BEST OF MAXIM
RELATED ARTICLES
We found out today via the Vancouver Canucks on Twitter and via their press release that they've re-signed Mason Raymond. It's a 1 year 2.275M contact. WOW. Congrats May-Ray. Your rich. Queue the band in Vancouver, as this move will be met with a chorus of Boos and Jeers I'm sure. Per Darren Dreger Canucks settle with Mason Raymond before arbitrations. 1 year, $2...
"Just because you can skate, it doesn't mean you're going to have a successful time out there" – Mason Raymond. In what is probably second only to news regarding Dale Weise in terms of making me aggravated, the Vancouver Canucks have announced that they have come to terms with restricted free agent and worlds filthiest little milt, Mason Raymond. Raymond, as you may remember...
Vancouver's UFA's in 2013 – Part 1 It's going to be a long summer. So over the course of it I'll be taking a look at some of Vancouver's players who have contracts set to expire in the summer of 2013. We'll examine the pros and cons of each player, determine their career potential and where that potential fits in with the Canucks. Name: Alexander Edler Contract Expires...
Vancouver, B.C. - Vancouver Canucks President & General Manager Mike Gillis announced today that the Canucks have re-signed left wing Mason Raymond. Raymond, 26, collected 20 points (10-10-20) in 55 games played with Vancouver in 2011.12. He also appeared in five post-season games, recording one point (0-1-1). The Cochrane, Alberta native has registered 156 career points (70...
The Vancouver Canucks re-signed forward Mason Raymond to a one-year, $2.275 million deal, TSN reported Monday. By re-signing Raymond, the Canucks avoided an arbitration hearing. Raymond, 26, had 10 goals and 10 assists in 55 regular-season games this past season. He missed the first two months of the season while recovering from a broken vertebrae sustained in the 2011 Stanley Cup Final.
Looking for Canucks news? If there were ever a player whose short list I would want the Vancouver Canucks to be on, it would be Shane Doan's. Earlier today Doan's agent Terry Bross confirmed to Vancouver radio station CKWX, News 1130 sports that the Coyotes captain has spoken to the Vancouver Canucks and they're on his list of desired destinations. Earlier today it was also...
This is the fourth installment of Roberto Luongo Trade Rumour Bonanza! The first three editions looked at the possibility of Luongo going to Toronto, Edmonton and Florida. Today, we look at the chances of Luongo going to the arch rival Chicago Blackhawks. Why Chicago? Chicago is a potential destination for Luongo first and foremost because they could use a goalie. Corey Crawford...
NHL News

Delivered to your inbox

You'll also receive Yardbarker's daily Top 10, featuring the best sports stories from around the web. Customize your newsletter to get articles on your favorite sports and teams. And the best part? It's free!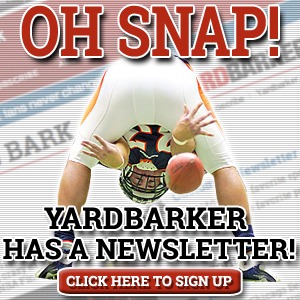 Latest Rumors
Best of Yardbarker

Today's Best Stuff

For Bloggers

Join the Yardbarker Network for more promotion, traffic, and money.

Company Info

Help

What is Yardbarker?

Yardbarker is the largest network of sports blogs and pro athlete blogs on the web. This site is the hub of the Yardbarker Network, where our editors and algorithms curate the best sports content from our network and beyond.