Found July 26, 2013 on Around The Rink:
For better or worse, the Vancouver Canucks and Roberto Luongo appear to be stuck with each other. (Darryl Dick/AP) Roberto Luongo has suffered through a great deal of drama in his time with the Vancouver Canucks. With the rise of young star goaltender Cory Schneider, Luongo had to defend his starting job and his 12 year, $64 million contract for years. As soon as it seemed that Luongo would be granted his reprieve by being traded from Vancouver, general manager Mike Gillis pulled a reverse and dealt Schneider to the New Jersey Devils, in turn recasting Luongo as the franchise's star goaltender. Additionally, Gillis brought in John Tortorella, who has a long history of calling out his players in public, as head coach. It could be said that, with nine years left on his monstrous contract, Luongo is facing a new beast to deal with in Vancouver. Seeing the road ahead, Luongo parted with longtime agent Gilles Lupien, who had advised Luongo since he was a 15-year-old goalie preparing to make a run at the NHL. In an interview with the Globe and Mail's Rob MacGregor, Lupien acknowledged the need for Luongo to find some change of pace and hire a new agent at this point in his career. "I was shocked," Lupien says. "But I understood, too. "He said, 'Gilles, I want to take a new path – what do you think?' Maybe another guy they'd listen." Lupien had some extremely harsh words regarding the treatment Luongo has taken in Vancouver, from management and fans alike. "I played on a team [Montreal] with nine Hockey Hall of Famers," he says. "I've never seen a star treated like that. I think personally he's been treated like a piece of paper, a fourth-line player." "I'm in net," Lupien says of the goaltender he considers almost a son. "There's a guy at the red line with the puck and the fans start to boo me. The people aren't behind you. The newspapers aren't behind you. But you have to stop the puck. "It's not like a forward who can pass the puck when people start to boo. It's not like a fourth liner who only gets out every once in a while. You have to stop every puck or else." "It's almost impossible for him to perform under those circumstances." Like it or not, Luongo is the guy in Vancouver once again. Perhaps Mike Gillis was asking for too much in potential Luongo deals, and when push came to shove he decided to move one of his franchise goaltenders. That is just a smart hockey move, as opposed to using one of the team's amnesty buyouts provided in the new collective bargaining agreement to remove Luongo and get nothing in return. Follow us on Twitter – @ATRSportsKings Around the Rink Columnist Joe Ray – @jpray_SK
Original Story:
http://sports-kings.com/aroundtherink...
THE BACKYARD
BEST OF MAXIM
RELATED ARTICLES
Vancouver Canucks goalie Roberto Luongo has dumped his longtime agent and is now being represented by the heavyweight duo of J.P. Barry and Pat Brisson of CAA Sports. Barry confirmed Wednesday that the change was made earlier this week. Luongo was previously represented by Gilles Lupien who negotiated the 12-year $64-million deal that Luongo signed with the Canucks in 2009. There...
Wait….Who the hell are who? Don't worry Danny and Hank, these Canucks rooks aren't gunning for your top line spots yet. Same for you Kes and Burr, so let's all just calm down for a minute. Okay, so who are these newbies that Canucks management has anointed the latest crop of prospects in the system and why exactly did they do so? Let's take a look… Bo Horvat (C/W, 9th...
Bure(ing) the past The memory of Canucks fans is apparently pretty short. There seemed to be rejoicing in Canucks Nation after the team announced the retirement of Pavel Bure's #10 sweater. Numbers don't lie and Bure put up some incredible stats during his time in Vancouver. He still holds the team record for most goals in a single season, is the only Canuck to ever win the Calder...
Jordan Schroeder is confident he'll be ready for training camp so he can show the Canucks he deserves the one-way contract that was announced on Wednesday. Vowing to be recovered from May 21 shoulder labrum surgery by mid-September training camp the 5-foot-8 175-pound centre was pumped after getting the deal — for one year and $600000 — out of the way. He was also just as...
John Tortorella had an aisle seat on his latest flight to Vancouver. The Canucks coach strained to catch views of the city because he needed to know if those amazing post-card images were accurate. Kind of like the roster he has inherited. Not bad on paper but on the ice? With a push to promote youth in a salary-cap challenged environment and a pledge to push a veteran core the...
"I have talked to a lot of the players this summer and everyone is so excited to start playing for (Alain Vigneault)"-@DBrassard16 — New York Rangers (@NYRangers) July 25, 2013 ...the guys and I talked about Brassard's quote during our Spreecast last night (watch replay here). Having a fresh start and clean slate with a new coach would be exciting for anyone...
The Vancouver Canucks have signed left winger Colin Stuart and centre Zach Hamill. Hamill spent the 2012-2013 season split between the Hershey Bears and the Milwaukee Admirals, recording 26 total points. Hamill has been in 20 NHL games in his career, tallying 4 assists and 4 PIM with the Bruins. The Vancouver native was selected eighth overall in the 2007 NHL Entry [...]
from Dan Murphy of Sportsnet, Roberto Luongo changed agents and this has to be seen as a shot across the bow of the Vancouver Canucks. Why else would a guy with nine years left on a contract fire his agent? This tells me Luongo is not coming to camp quietly (and probably doesn't want to come at all). This tells me Gilles Lupien told Luongo that he couldn't help...
By Sean Hartnett (@HartnettHockey) (Photo by Eliot Schechter/Getty Images/NHLI) Earlier this week, the Vancouver Canucks announced that Pavel Bure's famous number 10 will be raised to the rafters at Rogers Arena on a future date to be determined by the club. It was a long-overdue honor considering the pure excitement Bure brought Canucks fans every time he laced up his skates....
NHL News

Delivered to your inbox

You'll also receive Yardbarker's daily Top 10, featuring the best sports stories from around the web. Customize your newsletter to get articles on your favorite sports and teams. And the best part? It's free!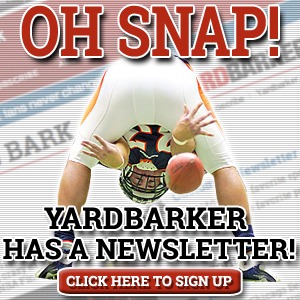 Latest Rumors
Best of Yardbarker

Today's Best Stuff

For Bloggers

Join the Yardbarker Network for more promotion, traffic, and money.

Company Info

Help

What is Yardbarker?

Yardbarker is the largest network of sports blogs and pro athlete blogs on the web. This site is the hub of the Yardbarker Network, where our editors and algorithms curate the best sports content from our network and beyond.