Found February 28, 2013 on Shutdown Line:
PLAYERS:
Jordan Staal
,
Brandon Sutter
,
Jeff Skinner
,
Tim Brent
,
Jamie McBain
,
Tim Gleason
,
Sidney Crosby
,
Evgeni Malkin
,
James Neal
,
Kris Letang
,
Erik Gudbranson
,
Pascal Dupuis
,
Chris Kunitz
,
Eric Staal
,
Brooks Orpik
,
Chad LaRose
TEAMS:
Pittsburgh Penguins
,
Carolina Hurricanes
,
Washington Capitals
,
Florida Panthers
Pittsburgh Penguins at Carolina Hurricanes 7 p.m., PNC Arena TV: NHL-Network, FS-Carolinas, Root Sports Much like Tuesday night's game against the Washington Capitals, tonight's showdown with the Pittsburgh Penguins has a bit of hype added to it. Not only will it be Jordan Staal's first game against his former team, it will also be Brandon Sutter's first game in Carolina since being traded to the Hurricanes. The national media is probably more focused on Staal right now because he won a cup in Pittsburgh and was a big part of that team for man years, but Sutter was also a very popular player in Carolina. He served as alternate captain for the last two years and fans loved his work ethic and personality. Sutter was an ideal third line center at the age of 22 and was seen as a big piece of the Hurricanes rebuild until he was traded this June. Jordan Staal has done a lot for this team in a short period of time but most of the fanbase still loves Sutter and appreciates his time with the Canes, so I'm sure they folks at PNC tonight will do their part in welcoming him back to Raleigh. While that's a nice storyline to add to this game, the Hurricanes also received some great news earlier this morning when it was announced that Jeff Skinner, Tim Brent, Jamie McBain and Tim Gleason will be returning to the lineup. Pitkanen will still be missed, but getting two top-four guys back in the mix going to give this defense a huge boost. Not having an adequate defense corps has been one of the Hurricanes biggest problems over the last couple of weeks, so getting two players back is going to help a lot. I don't even have to mention how much getting Skinner back will help but I just hope that he wasn't rushed since the last thing I want to happen is for him to sustain another head injury. Either way, most of the gang is back together and that should at least inspire the Hurricanes to a better performance than they've shown the last few games. They are going to need to put together a good effort tonight since they are taking on arguably the best team in the Eastern Conference Know Your Opponent: Pittsburgh Penguins The Penguins are currently sitting at second in the Eastern Conference with 26 points and have one of the league's best offenses. Only Tampa Bay has scored more overall and 5v5 goals than the Penguins and the Pens have been able to to it without the help of a ridiculous shooting percentage. The Penguins ability to drive the play forward is also near the top of the league, as they've controlled over 50% of the even strength shot attempts and 51.77% of them when the score is close. It helps that they have two of the best players in the world at their disposal in Sidney Crosby and Evgeni Malkin along with one of the top goal-scorers in the league in James Neal and a dynamic defenseman in Kris Letang. There are a lot of ways that this team can hurt you, that's for sure.  One of their big guns will be sitting out tonight's game as Evgeni Malkin suffered a concussion & memory loss after taking a brutal (clean) hit from Erik Gudbranson in their game against the Panthers last Friday. Malkin's absence creates a big hole for the Pens to fill for the Pens but they still have plenty of weapons at their disposal. Crosby, Neal and Letang being the obvious ones but Pascal Dupuis and Chris Kunitz are certainly no slouches either and even our old friend Brandon Sutter has chipped into the secondary scoring this year with four goals. Sutter's underlying numbers, on the other hand, haven't been very good this year as it appears the Penguins are spending a lot of time in their own zone whenever he is on the ice. Part of this is likely because Sutter is getting all of the tough matchups on the third line to free up easier minutes for Malkin and Neal. Basically similar to what Jordan Staal did for them in years prior. Malkin being out could mean Crosby will bet getting the zone start push and easier matchups if he plays on Neal's line, which could end poorly for the Hurricanes. Here's to hoping that Muller uses the last change to his full advantage to help off-set that. Tentative Lines Tlusty - E. Staal - Semin Skinner - J. Staal - LaRose Jokinen - Nash - Dwyer Wallace - Brent - Dalpe Harrison - Faulk Gleason - Sanguinetti Corvo - McBain Ward Ellis Kunitz - Crosby - Neal Bennett - Sutter - Dupuis Cooke - Jeffrey - Kennedy Glass - Vitale - Adams Orpik - Martin Niskanen - Letang Despres - Engelland Fleury Vokoun Five Things to Watch For - The matchup I'm most keen on watching tonight is Jordan Staal up against his old teammate Sidney Crosby. Staal has beeen getting the tough matchups all season and he has been doing a fine job of winning the battles against them. It's something that he's been able to do against his entire career but this is going to be the first time he has ever faced off against Crosby as an opponent. Seeing how Crosby is the best player in the world right now, this matchup could be very interesting. The Canes are lucky that they don't have to worry about who will be facing off against Malkin since I don't think it will end well for any of their other lines.  - On the other hand, this is going to be the first time that Eric Staal has faced Brandon Sutter as an opponent. Sutter is a skilled tough minutes player and he probably knows most of Staal's moves and tendencies from being teammates with him for so long. The first line has been awful the last five games so I'm hoping they can pull out a good performance tonight. Although there is much less pressure on them now that Skinner is back in the lineup. - How effective will Skinner be tonight is what I'm wondering. It's his first game back from a concussion and I can't help but feel that the whole process was rushed. If he's passed all the tests and feels fine then all should be well and good but we'll see how he looks in game action. Skinner is the type of player who never gives up on a play and his determination is hard to dislike but he also puts himself into some bad positions as a result. Hopefully he can learn to keep his intensity while playing a little smarter than before because the team really needs him to stay in the lineup. Oh, and Brooks Orpik will likely be out there whenever he is on the ice, so watch out for that too. - The defense pair seem a bit off to me right now but I'm sure that Muller was just experimenting with things in practice now that he has 7-8 defensemen healthy again. If I were running the team, I'd put Gleason back on shutdown duty with Faulk. No Malkin in the lineup means that the Canes can target one of the Pens top lines with their best defensive players so splitting up Faulk & Gleason doesn't make much sense here. Then again, this is also Gleason's first game back from a foot/ankle injury so maybe they want to ease him back into playing shape? - Chad LaRose will start this game on the top-six according to the lines at practice this morning. Therefore, my fifth thing to watch for is how long it will be until this line is broken up and the inevitable shuffling between wingers begins. I'm not sure why LaRose is being given another shot in the top-six after his performance on the top line against Washington but I'm just going to hope that it works out without this line becoming completely useless. I do feel for Patrick Dwyer, though. Seeing how he was a great combo with Jordan Staal and gets demoted and replaced with someone who hasn't been playing well at even strength this year. The Hurricanes will play five of their next six games at home and the last time they won a game at the PNC Arena was exactly two weeks ago. With everyone finally healthy again, tonight is a good chance for them to put on a good show for the fans and get back in the win column. It's going to take a strong effort, though because nothing ever comes easy against Pittsburgh.  
Original Story:
http://www.shutdownline.com/hurricane...
THE BACKYARD
BEST OF MAXIM
RELATED ARTICLES
As the Penguins get set to face the Carolina Hurricanes tonight for the first time since the trade last Summer that sent Jordan Staal to Carolina and returned to the Penguins Brandon Sutter and Brian Dumoulin and the draft pick that allowed them to select Derek Pouliot. Let's take a quick look at how both sides have fared in this trade so far: Carolina has played 18 games, has...
So yeah, Jordan and Eric Staal. This is the first game versus Jordan Staal since he was traded and we know that Steiggy and Errey and the rest of ROOT Sports will milk this for all it is worth. THE DRAMA. THE MEMORIES~~~~~ SPECIAL STAAL BROTHERS DRINKING GAME RULES NOW THAT UNCLE JORDY IS A WHALER 1. Drinking begins at puck drop. 2. So this doesn't count:  3...
Jordan Staal agreed that it might have been the most surreal moment in his life. On his wedding day last summer, with about a dozen of his Pittsburgh Penguins teammates present roughly two-thirds of the roster he learned he had been traded to the Carolina Hurricanes, where he would play alongside his brother, Eric. Talk about a range of emotions. "Yeah, Id say it's...
Malkin skated for 30 minutes today: Bylsma told reporters after the Penguins' practice in Sunrise, Fla. that Malkin went on the ice after being symptom-free Tuesday. One thing Malkin will miss on this trip is to match up against his old friend Jordan Staal. Pierre Lebrun had an interesting write up on Staal today. Two interesting notes: Sources confirmed...
RALEIGH, N.C. (AP) -- Jiri Tlusty had two goals and an assist, and the Carolina Hurricanes beat Pittsburgh 4-1 on Thursday night in ex-Penguin Jordan Staal's first game against his former team. Eric Staal had a goal and two assists, Alexander Semin added two assists and Jeff Skinner scored a goal in his first game back from a concussion. The Southeast Division co-leaders erased...
The Pittsburgh Penguins remain one of the NHL's best teams on the power play, but they haven't always benefited from that success because of the many power-play opportunities they surrender. Jordan Staal surely would like to take advantage of one. Pittsburgh will try to maintain better discipline Wednesday night when it travels to play the Carolina Hurricanes, who hope...
Jordan Staal and the Hurricanes knew who was coming over and had the tea ready. It wasn't a good time. The Penguins aren't a bad team. They just aren't very good right now. In what was somewhat of a big game, the Pens let the Canes score two crushing goals at the end of the first and second periods. There's not much that can be done at this point. Getting...
Jiri Tlusty had two goals and an assist, and the Carolina Hurricanes beat Pittsburgh, 4-1, on Thursday night in ex-Penguin Jordan Staal's first game against his former team. Eric Staal had a goal and two assists, Alexander Semin added two assists and Jeff Skinner scored a goal in his first game back from a concussion. The Southeast Division co-leaders erased an early 1-0 deficit...
Pittsburgh Penguins (13-7-0) @ Carolina Hurricanes (9-8-1) ROOT, FS-CR, NHLN-US - 7:00 pm/et PNC Arena - Raleigh, NC With Evgeni Malkin injured, Brandon Sutter has had to step up and move outside of his typical third line center role. Jordan Staal knows a thing or two about that situation. Tonight the Pittsburgh Penguins face Jordan Staal for the first time...
Jordan Staal, Sidney Crosby, Evgeni Malkin, Marc-Andre Fleury, Bill Guerin and Chris Kunitz all won a Stanley Cup together. And then the skated into the sunset, destined to dominate the world of...corporate finance. Via Reddit via Harrison Mooney comes the above image (full-sized here) of some corporate finance textbook. I can't really come up with many talking points about...
NHL News

Delivered to your inbox

You'll also receive Yardbarker's daily Top 10, featuring the best sports stories from around the web. Customize your newsletter to get articles on your favorite sports and teams. And the best part? It's free!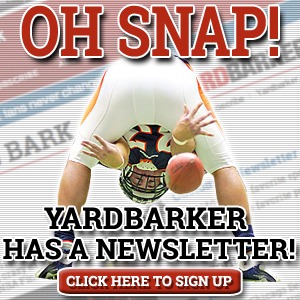 Latest Rumors
Best of Yardbarker

Today's Best Stuff

For Bloggers

Join the Yardbarker Network for more promotion, traffic, and money.

Company Info

Help

What is Yardbarker?

Yardbarker is the largest network of sports blogs and pro athlete blogs on the web. This site is the hub of the Yardbarker Network, where our editors and algorithms curate the best sports content from our network and beyond.