Found February 04, 2013 on Shutdown Line:
PLAYERS:
Joffrey Lupul
,
Matt Frattin
,
Nazem Kadri
,
Mikhail Grabovski
,
Phil Kessel
,
Mike Kostka
,
Jake Gardiner
,
Kevin Westgarth
,
Colton Orr
,
Jordan Staal
,
Alexander Semin
,
Clarke MacArthur
,
Jay McClement
,
Cam Ward
,
James van Riemsdyk
TEAMS:
Carolina Hurricanes
,
Toronto Maple Leafs
Carolina Hurricanes at Toronto Maple Leafs 7 p.m., Air Canada Centre TV: FS-Carolinas, SportsNet-Ontario Starting this long road trip with a 5-3 loss to an injury-depleted Flyers team on Saturday night probably wasn't what the Hurricanes had in mind, so they will look to turn things around tonight against the Toronto Maple Leafs. That loss to the Flyers was yet another game where Carolina managed to outplay their opponent at even strength but end up on the losing end thanks to a couple miscues and bad special teams play. Both the powerplay and penalty kill are becoming a huge story for the Hurricanes this year and not in a good way, as it appears that both are the Achilles Heel for this team that looks much improved on paper compared to last season. Most people saw the penalty kill going through a rough patch this year since this team doesn't have many shutdown defensemen, but the powerplay going only 4/36 on the season is a bit of mystery with all of the talent present. Both areas have been a focal point during practices the past week but we've yet to see much results. This could change tonight when they take on another club with struggling special teams in the Maple Leafs. Know Your Opponent: Toronto Maple Leafs Toronto's season started off with quite a bombshell with GM Brian Burke being fired and Toronto Marlies GM Dave Nonis taking over for him. They also have somewhat of a "new" coach in Randy Carlyle who took over for Ron Wilson towards the end of last season. The Leafs haven't been too bad to start the year with a record of 4-4-1 and a goal differential of only -2. You wouldn't know that by looking at their possession numbers, though. Toronto has been controlling only a little over 46% of the 5v5 shot attempts during close games, which puts them towards the bottom of the league. Their current record actually sounds about right considering their possession rates and that they are an average team when it comes to shooting and save percentage. It could be a lot worse than it is right now, though. The Leafs suffered a pretty big blow only three games into the season when they lost Joffrey Lupul to an upper-body injury but their scoring hasn't impacted too much. They've seen some great play out of Matt Frattin, who has six points in five games and Nazem Kadri, who is also scoring at more than a point-per-game pace. Kadri has actually been really impressive on more than just the scoresheet, as he has done a fine job of carrying the play at even strength for the Leafs. These two along with Mikhail Grabovski and James Van Riemsdyk have done the majority of scoring for Toronto thus far which has helped take Leafs fans mind off their star player Phil Kessel who has yet to light the lamp this year. He is averaging 4.5 shots per game, so Kessel is due to see a few bounces go his way eventually, but I'm sure Carolina will be fine with him not getting off the schnide tonight. Aside from goaltending, a big weakness I see with the Leafs is their defense. Most of their blue-liners who are getting big-minutes aren't doing much to drive the play at even strength and they are trusting some of their toughest assignments to guys like Mike Kostka, a 27-year-old undrafted free agent who is playing his first season in the NHL. Toronto is already pretty thin on defense with Jake Gardiner being sent down and Carl Gunnarrson battling injuries. They also lack depth in their bottom-six and their fourth-line has been a huge liability this year. Although, Carolina's may not be much better if they decide to dress Kevin Westgarth to give Colton Orr a possible dance partner. Lines Tlusty - E. Staal - Semin Skinner - J. Staal - Dwyer Bowman - Jokinen - LaRose Wallace - Brent - Westgarth Gleason - Faulk Pitkanen - McBain Harrison - Corvo/Sanguinetti Ward Ellis Out: Nodl Van Riemsdyk - Bozak - Kessel Macarthur - Grabovski - Kulemin Kadri - Komoarov - Frattin Orr - McClement - McLaren Phaneuf - Kostka Liles - Komisarek Franson - Fraser Reimer Scrivens Out: Steckel, Gunnarsson, Hamilton   Five Things to Focus On - Dalpe was sent down to Charlotte last night and who slides up into his spot on the second line remains to be seen. A popular guess has been Patrick Dwyer getting a promotion to the second line after his powerplay goal against Philadelphia, which might actually turn out to be a good move. If Jordan Staal is going to play the shutdown role as he did in Pittsburgh, the one thing he needs is a defensively responsible winger and that's exactly what Dwyer is. Plus, Dwyer's performance this year has shown that he is capable of carrying possession. Whether or not he can continue to do that against the toughs and not third-line competition remains to be seen, but promoting Dwyer to this spot makes more sense if the team is going to send Dalpe down. - An interesting fact about the Hurricanes penalty kill is that they have allowed only 3 goals on 20 attempts at home, whereas they have allowed 7 on 13 attempts while playing on the road. There is a good chance that this could end up being random variance by the end of the year but the difference between the two percentages now is staggering. Toronto's powerplay hasn't been very good so far this year, but if the Hurricanes road woes continue, they could have themselves a breakout game tonight. - Alexander Semin and Phil Kessel have something in common and it's that neither has scored an even strength goal this year despite being two key offensive players on their team. I don't think anything is "wrong" with either player given that they are both driving possession and creating offense, they are just snake-bitten and will rebound eventually. - I'm still not sure if Clarke Macarthur will play tonight but if he sits, that will change up things a lot concerning matchups. His line with Grabovski and Kulemin is very good at carrying possession against tough competition and they can also create a good amount of offense. It's pretty much what we hope the Jordan Staal line will be at some point this year. In the games Macarthur did not play in, the Leafs moved Jay McClement up to the second line and had Grabovski play the wing instead of center. McClement played a shutdown role when he was with St. Louis, so moving him up there makes sense in theory even if he doesn't have much offensive upside.  - Cam Ward should get the start in goal tonight and he owned the Leafs last season with a .940 save percentage over four games. He has looked a bit off to start the year, though so I'm not sure how much last year's numbers mean in the grand scheme of things. The goaltending at even strength hasn't been a complete disaster for Carolina this year (.921 combined Sv%) but they are letting in a lot of goals on the powerplay and I'm not sure how much of those are on Ward/Ellis. Let's just hope that Ward has a quality outing in net tonight. Getting back to .500 would be a nice way for Carolina to get things back on the right foot but they are going to need to improve their special teams play if they want to have any realistic chance at the post-season and tonight is a good chance to right the ship there. Enjoy the game.
Original Story:
http://www.shutdownline.com/hurricane...
THE BACKYARD
BEST OF MAXIM
RELATED ARTICLES
The Hurricanes made a surprising move today by deciding to send down forward Zac Dalpe to the Charlotte Checkers of the American Hockey League and recall Tim Wallace. Dalpe had two points in six games and is the only forward on the team who can go to the AHL without needing waivers, so he was sent down in favor of Tim Wallace who could possibly add some grit to the team. Wallace...
Sportsnet Ontario flexed their creative muscle during the Carolina Hurricanes / Toronto Maple Leafs game on Monday night. Midway through the second period, Carolina led the Maple Leafs by a score of 2-1 thanks to goals from Jordan Staal and his brother Eric.  As the station prepared to go to break (or returned from break, we're not sure), they opted to run a slightly modified...
A puck was shot towards the bench area and Toronto Maple Leafs forward Phil Kessel had a priceless reaction.  I can't blame him for flinching, it was just the way he went about it that makes this absolutely hysterical.  It was like he was completely shocked that he didn't get hit and wasn't ready to let his guard down.[The Score] 
The Toronto Maple Leafs have had quite a week winning two games and losing a close one on the weekend.  After watching these games I realized two things.  One, Buffalo's net minder, Ryan Miller can be beaten, two no matter how hard he tries, Phil Kessel can not seem to score  a goal, not even an empty netter.  He now has 36 shots on net and no goals to show for it.   He did...
But goal waved off after it was reviewed, kicking motion.       added 9:16pm, via the Situation Room Blog at NHL.com, At 18:44 of the second period in the Hurricanes/Maple Leafs game, video review determined that Toronto forward Tyler Bozak directed the puck into the net with his right skate. According to rule 49.2 "A goal cannot be scored...
Congrats to the Maple Leafs broadcast network for pulling this Staal Brothers (Jordan & Eric) 2, Maple Leafs 1 stunt during last night's game. The Hurricanes would win, 4-2, but the Leafs shutout the Staal's in the 3rd period.  Some call that a moral victory. Speaking of hockey, would you buy a soft pretzel shaped like the Stanley Cup? Of course you would. Would you buy...
TORONTO (AP) -- Jordan Staal scored his first goal with the Hurricanes, and his brother Eric added the winner in Carolina's 4-1 victory over the Toronto Maple Leafs on Monday night. Jeff Skinner had three assists, Patrick Dwyer added a goal and an assist, and Justin Faulk also scored for Carolina. Cam Ward backed up the offense with a 41-save performance. Matt Frattin scored...
The Hurricanes have been a pretty decent team at even strength so far this year but their underlying numbers are skewed heavily due to the fact that they have been forced to play from behind in all but two of their games. This is partially the reason why they have outchanced their opponents in every game this year and why most of their players have very positive underlying numbers...
Once again, the Hurricanes were involved in a game where they were playing from behind and ended up having a huge lead in shots and scoring chances partially because of it. Don't get me wrong, Carolina having an advantage in shots and scoring chances for yet another game is a good thing in the long-run, but it's still very early in the year and I'm not sure how much stock...
The Toronto Maple Leafs just can't get the job done at home. It's been a different story on the road. Toronto looks to match its best road start since 1998-99 on Tuesday night when it faces the slumping Washington Capitals for the second time in less than a week. After picking up their first home points of the season on Thursday with a 3-2 win over Washington (2-6-1), the...
Tonight's game against the Toronto Maple Leafs provided the Hurricanes with a chance to get back to .500 and give the team some positive vibes as they continue this long road trip. It looked like they could be in for another long game as Carolina got off to the worst start imaginable in the first 20 minutes. The Canes were stuck in their own zone for about 60% of the frame, couldn...
NHL News

Delivered to your inbox

You'll also receive Yardbarker's daily Top 10, featuring the best sports stories from around the web. Customize your newsletter to get articles on your favorite sports and teams. And the best part? It's free!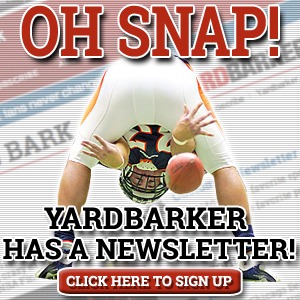 Latest Rumors
Best of Yardbarker

Today's Best Stuff

For Bloggers

Join the Yardbarker Network for more promotion, traffic, and money.

Company Info

Help

What is Yardbarker?

Yardbarker is the largest network of sports blogs and pro athlete blogs on the web. This site is the hub of the Yardbarker Network, where our editors and algorithms curate the best sports content from our network and beyond.