Found September 15, 2012 on The Rangers Tribune:
It's officially official. The 2012-13 NHL hockey season has been locked out until further notice. Negotiations between the league and the NHLPA will continue in the coming weeks/months (we hope), hopefully ending in a resolution that will bring about a delayed start to the season rather than a year-long lockout, but nothing is certain.  As for the rules applied to players and their teams during a lockout, here they are courtesy of ESPN:
Players are barred from using any NHL team's private facilities. So for most players that means having to get together and buy ice time elsewhere to continue their workouts.
Players will not be paid their 2012-13 salaries during the lockout. The first of 14 paychecks was expected in mid-October. On the flip side, players will get escrow checks from the NHL in mid- to late October, which counts for 8 percent of their 2011-12 salaries (they paid 8.5 escrow last season, but are getting 8 percent of it back). That's a nice chunk of change for the players to get at the start of a lockout.
There is a small group of players, however, who will continue to receive their full NHL salaries: the injured ones. Any player injured in a hockey-related fashion is entitled to his full salary until he fully recovers and is deemed fit to play by team doctors.
Players are free to play in other leagues once they're locked out. The key for those players is to get insurance for their NHL contracts in case of injury while playing overseas.
All signing bonuses will be fully paid regardless of the lockout. That's why so many contracts over the past few months included signing bonuses. It's guaranteed money in the bank regardless of a lockout.
Players who are 19 and under who are junior-eligible can still be sent back to their junior clubs.
Players cannot be traded during the lockout.
Clubs cannot make players appear at promotional events nor ask players to show up for training or conditioning camps.
If a player is injured while playing in another league during the lockout, an NHL club can suspend him without pay until he is fit to play.
Players who were bought out in a previous year and still have buyout payments due to them will continue to receive them during the lockout.
As far as the New York Rangers are concerned, none of their players have shown any interest in playing in various other leagues across the Atlantic Ocean despite what you may have read elsewhere. In fact, Brad Richards and Ryan Callahan have spoken with head coach John Tortorella on what is best for the squad during this time of waiting, and they agreed that the guys will all gather at an undecided location to continue offseason workouts leading up to the season's start -- whenever that may be.  Obviously Tortorella will be excluded from these workouts, although I'm sure the captains will be in touch with the coach.  As for the Ranger players who will be dropping down to the Connecticut Whale to kill the time by playing in the AHL, the following were assigned to do so by the team on Friday: Sean Collins, Tommy Grant, Michael Haley, Chad Kolarik, Kris Newbury, Logen Pyett, Brandon Segal and Mike Vernace. The remainder of players who would've been eligible also would have had to pass through waivers, so do not expect anyone else from the Blueshirts' NHL squad to be assigned to play in the AHL.  Lastly, in regard to this blog, we will continue to provide readers with all updates related to the CBA negotiations and, of course, if anything major occurs that is Ranger-related (which more than likely will not). Yes, unfortunately that means things will be ultra slow around here until this all gets resolved, but that will be the case in all of the hockey world for the time being. I know, this totally sucks.  But when the season does resume, we'll be back to our normal in-season coverage here on The Rangers Tribune, and trust me, after this elongated offseason, we'll be raring to go. 
Original Story:
http://www.rangerstribune.com/the-ran...
THE BACKYARD
BEST OF MAXIM
RELATED ARTICLES
Since the Rangers and Michael Del Zotto couldn't agree on a deal before the previous CBA expired at midnight last night, the young Rangers defenseman is at the mercy of the new CBA, which, according to Larry Brooks at the New York Post, might not be a good thing for him..."If the cap is squeezed coming out of the lockout, Del Zotto, who may see his arbitration rights and...
Over the weekend the Rangers released the CT Whale's preliminary roster and here's how it looks...Forwards: Ryan Bourque, Tommy Grant, Michael Haley, Marek Hrivik, Kyle Jean, Chad Kolarik, Chris Kreider, JT Miller, Kris Newbury, Brandon Segal, Christian Thomas, Jason Wilson, Andrew YoganDefense: Sean Collins, Steven Delisle, Dylan McIlrath, Jyri Niemi, Blake Parlett, Logan...
Despite the lockout, there is still some hockey to be played that affects the Rangers organization. The Rangers website has the preliminary roster for the Connecticut Whale this year: Forwards: Ryan Bourque, Tommy Grant, Michael Haley, Marek Hrivik, Kyle Jean, Chad Kolarik, Chris Kreider, JT Miller, Kris Newbury, Brandon Segal, Christian Thomas, Jason Wilson, Andrew Yogan. Defense...
Snap reactions to NHL 13, which I finally got to try out on Thursday night. 1.  The video introduction by Claude Giroux about the new skating system was hilarious.  Giroux was totally disinterested, but it's actually a really effective explanation of the revamped skating. 2.  Derek Stepan scored my first goal in NHL 13.  Just saying, I think he has more goals in him this season...
The New York Rangers need to start taking notes. The Boston Bruins and Edmonton Oilers recently gave big contract extensions to their young stars, and the Rangers should do the same in the next two days. Michael Del Zotto still hasn't signed his two- or three-year deal, and if general manager Glen Sather was smart, he'd give him a bigger offer in terms of years. Besides Del Zotto...
If the Rangers and Michael Del Zotto want to get a contract signed under the current CBA then they're going to have to get things moving quickly. The NHL locks out at midnight tonight, and according to ESPN's Katie Strang, it appears that the a deal won't be reached beforehand. #NYR No deal expected to be reached between Rangers and defenseman Michael Del Zotto before...
When it was reported on Tuesday that Marian Gaborik (shoulder) skated during an informal practice, the thought in my head was of him skating circles by himself in the corner, not leading the break on a potential odd man rush with Ryan Callahan (via Blueshirts United)......am I the only one surprised with this picture? I know you can't tell much by looking at one photo, but I...
Larry Brooks over at the NY Post this morning reports Ranger players are actively looking to rent rinks in the NYC metro area, to maintain their level of conditioning and to prepare for John Tortorella's infamous bag skating tests if/when the 2012-13 season begins. The players had been practicing every few days at the Rangers training facility since the middle of August, getting...
Rangers News

Delivered to your inbox

You'll also receive Yardbarker's daily Top 10, featuring the best sports stories from around the web. Customize your newsletter to get articles on your favorite sports and teams. And the best part? It's free!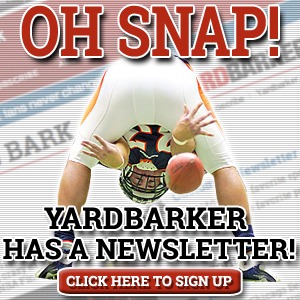 Latest Rumors
Best of Yardbarker

Today's Best Stuff

For Bloggers

Join the Yardbarker Network for more promotion, traffic, and money.

Company Info

Help

What is Yardbarker?

Yardbarker is the largest network of sports blogs and pro athlete blogs on the web. This site is the hub of the Yardbarker Network, where our editors and algorithms curate the best sports content from our network and beyond.