Found January 31, 2013 on NESN.com:
The Buffalo Sabres got tougher this offseason, and many think that has to do with the defending Northeast Division champion Bruins, who the Sabres continue to chase. Buffalo isn't just chasing Boston in the standings, though. They also proved last season that they also lack the toughness that has become one of the Bruins' best traits. The Sabres were criticized far and wide for their reaction to Bruins forward Milan Lucic running Buffalo goalie Ryan Miller in a game early last season. The Sabres didn't do much respond in that game, with Paul Gaustad challenging Lucic the next time they met. Their other matchups last season featured a handful of fights, all of which felt like Buffalo trying to prove they weren't going to take it from the B's or anyone else for that matter. They continued that thinking into the offseason. They added enforcer John Scott, who is essentially a 6-foot-8 brawler on skates, brought in to do two things — fight and make sure no one takes any liberties with Bu...
Original Story:
http://nesn.com/2013/01/lindy-ruff-sa...
THE BACKYARD
BEST OF MAXIM
RELATED ARTICLES
from Mike Cole of NESN, Sabres head coach Lindy Ruff called a timeout with just 13.6 seconds to play and his team leading 7-4. Ruff defended the move by saying he didn't like having Lane MacDermid, a noted fighter, lined up against one of his own skill guys. So, he called timeout and changed things up, which involved sending John Scott over the bench to keep the peace...
The Bruin's 7-4 loss last night to the Sabres didn't sit well. Neither did Lindy Ruff taking an unnecessary timeout with 15 seconds left up three goals. So here's a video of Cam Neely kicking the **** out of him back in the day. Go B's. @LiamPCunningham
BOSTON — Many thought Thursday night's Bruins-Sabres game would begin with some fireworks and controversy. However, it was what happened in the game's final seconds that have some people talking. Sabres head coach Lindy Ruff called a timeout with just 13.6 seconds to play and his team leading 7-4. Ruff defended the move by saying he didn't like having Lane MacDermid, a noted...
Thursday night's game between the Bruins and the Sabres may not have gone how most people predicted. This includes not only the score of the highly offensive game, but the bad blood between these two teams as well. The result of the game was a 7-4 win for Buffalo, and an angry and offended Brad Marchand. But Marchand wasn't angry with a Buffalo player, but rather the man...
"Yeah, [Lindy Ruff] wants to be a big shot, and that's not the best play to do.  That's pretty disrespectful.  If he wants to be like that, that's fine. We just have to move on." - Brad Marchand, after Ruff called a timeout with 14 seconds left in last night's 7-4 Buffalo win over Boston. I don't know about you, but I'm certainly relieved.  It's good...
Through six games of the Buffalo Sabres season we've Lindy Ruff's crew commit egregious errors in defensive zone coverage several times a game, in virtually every game.  More times than not these mistakes have ended up in the twine behind Ryan Miller, and Buffalo has dropped four straight contests as a result.  Are these missteps a sign of a team that is in a slump, and hasn't...
The Bruins are facing Buffalo tonight in a division rivalry game. The Bruins are coming off of a shoot out win over the New Jersey Devils. Buffalo on the other hand has lost its last four games the last of which was in over time against the Toronto Maple Leafs. The Bruins have been dazzling and the Sabres have been awful. The Sabres made a few off season moves to try and match the...
The Buffalo Sabres are sick and tired of being pushed around by the Boston Bruins. Everyone remembers early last November when Milan Lucic barreled into Buffalo goaltender Ryan Miller and the Sabres offered little resistance. This offseason, Buffalo decided to make some moves to bring in guys who have a reputation of being physical. Of these  transactions, one stands out more...
I pretty much pride myself on not being duped too easily. Alright, maybe I have in the past when it comes to sports. But for the most part, I don't really listen to experts or fans when it comes to telling me what is right or what is wrong with a team. Sure, you can argue with me and I'll respect your opinion, but for the most part I think you are probably full of **...
Coming into tonight's Buffalo versus Boston game the primary focus was the potential physical play. Since the Sabres got bigger over the off season, with the additions of enforcer John Scott and agitator Steve Ott, many Sabres fans thought they would finally receive an answer for last season's Milan Lucic and Ryan Miller incident.However, Sabres sniper, Thomas Vanek grabbed...
  Yeah, that's a thing. They call themselves the Sabres Mafia, which apparently is a play off of the Bills Mafia. Being a Bills fan and the three or four Bills fans I follow on Twitter, the Bills Mafia is just a bunch of Bills fan who are sick of watching their team suck so they've come up with some stupid thing to feel important. They have a website too, where their...
NHL News

Delivered to your inbox

You'll also receive Yardbarker's daily Top 10, featuring the best sports stories from around the web. Customize your newsletter to get articles on your favorite sports and teams. And the best part? It's free!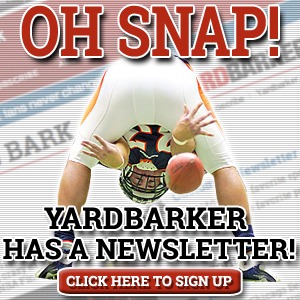 Latest Rumors
Best of Yardbarker

Today's Best Stuff

For Bloggers

Join the Yardbarker Network for more promotion, traffic, and money.

Company Info

Help

What is Yardbarker?

Yardbarker is the largest network of sports blogs and pro athlete blogs on the web. This site is the hub of the Yardbarker Network, where our editors and algorithms curate the best sports content from our network and beyond.