Found August 01, 2012 on The Rangers Tribune:
Today marks the beginning of August, which is most often the very worst month of the year for hockey fans. Most of the major transactions, as well as the minor ones, go down in July in the weeks that follow the opening of free agency, and then the fire dies down to a small flame come August. There's an extremely small chance we a see a move of the magnitude or larger than that of the one that brought Rick Nash to New York before the start of the 2012-13 season; the closest move will see that will garner any sort of attention will be where veteran forward Shane Doan lands. But until then, there's pretty much nothing at all to talk about.  Oh wait, that's right, we could talk about how there may not even be a 2012-13 season, making the month of August even more spectacular for hockey fans. Yay! But in all seriousness, we did receive some information in regard to the negotiations taking place between the League and the NHLPA as they attempt to come to terms on new a CBA. It's not a lot of information, but like I said, do you have any other ideas as to what we could talk about? So a couple weeks ago I reported on the proposal made by the NHL and its owners to the NHLPA, right? Right. You can read that and get all of the details here. To sum up, the NHL basically declared war against the players with a low-ball offer to get the ball rolling - or, to be honest, stop the boll before it even had a chance to roll in the first place.  That was several weeks ago, so you would expect at least some progress to be made. Well, that's not exactly the case, as yesterday's meeting between the two sides here in New York was commissioner Gary Bettman and the NHL providing clarifications on the previous proposal that the players had requested. So, in essence, they just went over the original proposal again, but in a more detailed manner.  This means that a counterproposal has yet to be put on the table by the NHLPA, and there are, what, six weeks until most training camps are supposed to begin? If the NHL had only just completed its presentation on revenue sharing yesterday, and now the NHLPA will need time to discuss and deliberate what was given to them and eventually come up with a proposal of their own, I think we are definitely looking at a delay at the very least.  To me, it just seems improbable that an entire CBA can be constructed in just six weeks if they are still dwelling on stage one at the moment. NHLPA executive director Don Fehr even said it himself when talking to the Daily News:
"We did begin to get the first installment of club financial information that we'd requested and they'd undertaken to begin to produce," Fehr said. "I am told that it's the first, small portion of it, that there is far and away the overwhelming majority yet to come, but we assume that that'll be coming in due course. And in order for us to be in a position to make a comprehensive response or counterproposal or alternative proposal to the club's principal economic proposal, obviously we're going to have to be in a position to complete that process, and that's gonna take some time to do."
Oh boy.  This just may be the seemingly never-ending offseason from hell. 
Original Story:
http://www.rangerstribune.com/the-ran...
THE BACKYARD
BEST OF MAXIM
RELATED ARTICLES
After all the Rick Nash hullabaloo has now calmed down, here's the final part of the greatest European Rangers series. It's subjective and meant for debate and how much one man's opinion truly matters is really open for debate. Some players like Ulf Samuelsson and Radek Dvorak don't make the debate, some people may disagree but that's the beauty of lists like this.  Anyway...
A piece of Shane Doan's heart will always be in Phoenix, but there's no guarantee that's where the whole thing will be next season. According to multiple reports, Doan was in Vancouver visiting with the Canucks on Tuesday. Doan has spent his entire 16-year NHL career with the Coyotes (formerly Jets) organization, but he's a free agent and could elect to sign elsewhere...
Now that the free agency period has more or less passed, Bovada, the sports betting agency in Las Vegas, has adjusted its odds for the NHL. And after adding Rick Nash (along with some other role players), the Rangers have jumped up all the way to second on the list, trailing only Atlantic Division rival Pittsburgh, who sits at 8/1. The Rangers, previously 7th at 12/1 odds, now sit...
The Nashville Predators are looking for a top 6 forward in the free agent market and there is one available, if they have the money. Phoenix Coyotes captain, Shane Doan, is an unrestricted free agent and will have to sign with a team sooner rather than later. However, Doan will wait out the news of ownership and it could take a while.Read more after the jump. Shane Doan has stated...
If reports are to be believed, Shane Doan is currently seeking a four-year contract worth around $30 million if and when he concludes remaining in Phoenix is no longer a desirable scenario. A deal of that magnitude would call for a salary cap expenditure of $7.5 million annually. Doan will be 36 by the start [...]
The Vancouver Sun reports that the Vancouver Canucks are interested in Shane Doan but are also considering fellow free agent Jason Arnott if their first option - Doan - doesn't work out. Shane Doan is the club's top option but if he decides to skate elsewhere, or if he decides to remain in Phoenix, it's believed that Vancouver will look toward veteran Jason Arnott to...
Believe it or not, back on Feb. 21 the Detroit Red Wings sat atop the NHL standings, which was business as usual. Since that time, it has been anything but business as usual for one of the leagues premier franchises. Injuries during the second half of season, another playoff disappointment, a game-changing retirement and a summer of being jilted by big-name free agents have left...
Photo by: Ed Mulholland/US Presswire Many teams around the league are vying for the services of Shane Doan. The Predators amongst others are rumored to be in the mix, but some teams have graciously bowed out of the Doan sweepstakes (Detroit and Vancouver) citing that Doan wants too much money or too long a contract. But while 27 other NHL franchises may be weighing up the possibility...
It truly is the low point of the off season. The Rangers are quiet, at least publicly, and attention around the league is primarily focussed on the CBA talks. There are still a few things we can talk about though so welcome to another musings. Jump on in. The Hockey News wrote an article recently on why the North West division is the league's worst. It got me thinking again about...
NHL.com lists the UFA's still available... FORWARDS NAME 2011-12 TEAM STATS SKINNY Shane Doan Phoenix 79 GP 22-28-50 Longtime Coyotes captain has started talking to other teams but is still not in any hurry to leave the only franchise he's ever played for Kristian Huselius Columbus 2 GP 0-0-0 Injuries wiped out most of 2010-11 and almost...
NHL News

Delivered to your inbox

You'll also receive Yardbarker's daily Top 10, featuring the best sports stories from around the web. Customize your newsletter to get articles on your favorite sports and teams. And the best part? It's free!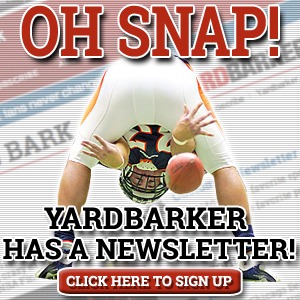 Latest Rumors
Best of Yardbarker

Today's Best Stuff

For Bloggers

Join the Yardbarker Network for more promotion, traffic, and money.

Company Info

Help

What is Yardbarker?

Yardbarker is the largest network of sports blogs and pro athlete blogs on the web. This site is the hub of the Yardbarker Network, where our editors and algorithms curate the best sports content from our network and beyond.