Found July 08, 2013 on Fox Sports North:
ST. PAUL, Minn. -- The Minnesota Wild fans remember Matt Cooke well from his times with the Vancouver Canucks and the clashes that used to occur between the two teams, most notably during the 2003 Western Conference semifinal.Cooke was the villain, one of the pests on Vancouver that infuriated Minnesota and its fans. He knew his job then and performed it well. So well, that Cooke's Friday signing with the Wild, on a three-year contract, wasn't received well among Minnesota fan base."I'm sure there's a lot of fans there maybe aren't fond of me and they remember when I played for Vancouver, but hopefully I can change their opinions rather quickly once I get there," Cook said during his conference call with Minnesota reporters on Friday.The Wild fans remember Cooke, even if there are no players left from the 2003 playoff team. In fact, only three Minnesota players remain from the 2007-08 roster that faced Cooke in his final season with the Canucks. But Coo...
Original Story:
http://www.foxsportsnorth.com/nhl/min...
THE BACKYARD
BEST OF MAXIM
RELATED ARTICLES
After 15 years in the NHL, there's a part of Matt Cooke's game that he'd like to lose: his reputation for the rough stuff. With five suspensions levied by the league and other acts criticized over the course of his career, the left wing still has work to do with the image makeover. But the Minnesota Wild's view of Cooke when the market opened was that he is a reliable penalty...
Matt Cooke says he's not the same player whose on-ice transgressions have led to five suspensions by the NHL over his 14-season career. Cooke signed a three-year, $7.5 million contract with Minnesota on Friday, the last and most startling move made by the Wild on a busy first day of free agency. They also traded forward Devin Setoguchi, let forwards Pierre-Marc Bouchard and...
from Jim Souhan of the Star Tribune, The last time a Wild general manager acquired a goon who drove his fan base to take up pitchforks and tuck away checkbooks, he might as well have put his house on the market. Chuck Fletcher's signing of Matt Cooke is not a direct equivalent to Doug Risebrough bringing in Chris Simon, but both moves were made for the same reason and...
The Wild signed Matt Cooke. Bye. pic.twitter.com/kGuVseF62o — Abby (@ybba2215) July 5, 2013 Minnesota Wild Won't Earn Any New Fans By Signing Matt Cooke - Rant Sports http://t.co/eDMaOi42xY — Minnesota Wild 24x7 (@MinWild24x7) July 7, 2013 Since initial shock I have decided to give matt cooke a chance...plz surprise us wild fans, we cud use some positivity...
ST. PAUL, Minn. -- Mathew Dumba has enjoyed his time in Red Deer, Alberta, crediting his three seasons for the Red Deer Rebels in the Western Hockey League for his growth as a player. Dumba, the Minnesota Wild's first-round draft choice in 2012, knows he may be returning to Red Deer, the small Canadian town located between Edmonton and Calgary. But he has designs on playing...
When Matt Cooke was signed by the Minnesota Wild, some fans wondered if he'd wear his usual number, #24, with his new team. The number is a special one for Wild fans as it was the number worn by the late Derek Boogaard.  In an extremely respectful gesture, Cooke reached out to Boogaard's family and requested permission to wear #24 with the Wild, as reported by the Star...
Matt Cooke of the Pittsburgh Penguins. (Photo credit: Wikipedia) I don't think people realize how many games and times that Matt Cooke has been suspended by the NHL. Here's a break down of Cooke's illustrious history and the number of games that ended up sitting as a result of his bush league play. Like I said in another post, "I also have to wonder if the NHL...
If you're like me, and you've spent pretty much your entire life living in the Upper Midwest, you are more than familiar with the newspaper The Onion.  While it's presence is across the country now, especially with the advent of the internet and social media, what many do not know is that it got its start on the campus of the University of Wisconsin in Madison.  What...
Today, I was out riding my bike, kind of percolating. Sometimes, I do some of my best thinking when I am out riding my bike. When I am out riding the bike I like to listen to my iPod and catch up on some of the podcasts that I might have missed while I was at work.  Today, I was listening to Michael Russo's podcasts who was filling in for Paul Allen on KFAN 100.3. First...
The NHL Players Association is holding its annual meetings in Chicago this week, and we all know how that goes. We're talking about a league that has had four lockouts since 1992, so people are always curious about how discussions are going when it comes to offseason meetings. However, the NHL is not the biggest [...]
My friend Cornelius Hardenbergh from Stanley Cup of Chowder has an interesting and thought provoking piece on Matt Cooke wanting to wear Derek Boogaard's number 24.  Matt Cooke's Legacy: Graverobber? Sounds like Matt Cooke has been given the blessing to wear Derek Boogaard's number by the Boogaard family. Matt Cooke gets blessing of Boogaards to wear 24…[Russo's...
NHL News

Delivered to your inbox

You'll also receive Yardbarker's daily Top 10, featuring the best sports stories from around the web. Customize your newsletter to get articles on your favorite sports and teams. And the best part? It's free!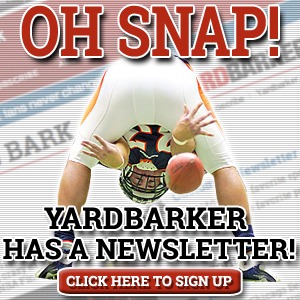 Latest Rumors
Best of Yardbarker

Today's Best Stuff

For Bloggers

Join the Yardbarker Network for more promotion, traffic, and money.

Company Info

Help

What is Yardbarker?

Yardbarker is the largest network of sports blogs and pro athlete blogs on the web. This site is the hub of the Yardbarker Network, where our editors and algorithms curate the best sports content from our network and beyond.