Found December 14, 2011 on Blackhawks Down Low:
PLAYERS:
Kyle Beach
,
Bryan Bickell
,
Ray Emery
,
Pierre-Marc Bouchard
,
Zach Bogosian
,
Devin Setoguchi
,
John Scott
,
Sami Lepisto
,
Patrick Kane
,
Sidney Crosby
,
Nick Leddy
TEAMS:
Chicago Blackhawks
,
Minnesota Wild
,
Winnipeg Jets
,
Pittsburgh Penguins

"No, no, no... YOUR left. Here, just let me get that for you."

Time: 6:30 PM CT
TV/Radio: Versus (blerg) / WGN Radio (720 AM)
Busy Catching Snowflakes With Their Tounges:The State of Hockey News

Tonight's game is a tale of two top teams. When in the last however many years have the Blackhawks and Wild met as both number ones of their divisions? Really, I don't know, maybe it's never happened. Ask one of the beat writers, but make sure your question is stupid enough for them to retweet and answer. Seriously, did you see someone ask one of them about Kyle Beach the other day? Woof. (Note: Beach has been out since early in the season with a shoulder injury so it's more than just him being a security threat to his teammates/opposition.) Ugh, explaining the joke makes it less funny than it already was. 
Getting to number one the Blackhawks and the Wild have taken opposite paths. While the Blackhawks forget how to play defense on any given night but sure can score worth a **** the Wild are ranking at the tops of the league in letting in the fewest goals against. It'll be an interesting game to say the least, something has to give.

With games coming to overtime or a shootout in four of the last five for the Blackhawks, defense is again the main topic of conversations. Granted all of those games didn't come to overtime with the Blackhawks giving up a lead, but those are the glaring ones. Minny is coming off a loss to the Jets last night, but was previously riding a seven game win streak.

Lineup changes for the Blackhawks include a return to ice for Bryan Bickell and another start for Ray Emery in net. Let's see if Bickell took his pressbox games to heart and wants to come out and play like the giant dude he is. As stated previously the Wild are known more for their defense, but it'll still be a challenging game for Emery. The Wild will likely be without Pierre-Marc Bouchard who took a nasty hit into the boards from the Jets Zach Bogosian last night. He was seen still spitting up blood as the team made their way back to the twin cities following the game. Also missing from the Wild's lineup is Devin Setoguchi who has been on IR with a left leg something or other that will probably turn into a concussion since everything else does.

Oooohhhh, I'm glad I didn't publish this without checking the twitter machine quick. Looks like big John Scott is in for Sami Lepisto. From the looks of my timeline, everyone is REALLY excited about it. Watching the condensed version of Sunday's game the other night I can't say I'm wildly surprised given some of Lepisto's giveaways. Then again, no one in the world wants to fight John Scott so... yeah.

Prior to tonight's tilt (5:30 p.m. CT) Versus will be premiering the NHL's new original show "NHL 36". First on the list: Patrick Kane. You can read more about it on the Blackhawks site here.

Get excited, I'm sure Pierre McGuire will be geared up to talk about Sidney Crosby even though he has nothing to do with this game and of course with the Wild moving into the Central/Conference C/Midwestern Conference/Hall and Oats Conference whatever next year there will probably be a ******* of talk about that.

I know he's not there anymore but LOL, remember when the Blackhawks traded Cam Barker to Minny for Nick Leddy? Thanks for living up to the Wild name Minnesota.



"No man, BEHIND you."

Let's go Hawks!


Original Story:
http://www.blackhawksdl.com/2011-arti...
THE BACKYARD
BEST OF MAXIM
RELATED ARTICLES
In October, we looked at a few of the Blackhawks prospects that had performed well to begin the season. In mid-November, looked again at some of the stars-of-tomorrow. Now that we've moved into December, let's look around the Blackhawks organization at how some … Continue reading →
I think it's very safe to say that Jonathan Toews is going to be in NHL MVP talks by the end of the season. The captain of the Chicago Blackhawks has always been loved and praised throughout his five year career, whether it be being nominated for Rookie of the Year back in 2008, Toews becoming (at the age of 20) the third youngest captain in the NHL, or winning a gold medal in...
ST. PAUL, Minn. By this time next year, the Minnesota Wild will be in a new conference following the NHL's realignment. When that happens, games against the likes of Winnipeg and Chicago will be conference games.After losing 2-1 Tuesday on the road to the Jets, Minnesota fell 4-3 in a shootout at home Wednesday to the second-place Blackhawks. Both games showed that the Wild...
24/7 kind of overshadowed this disgusting Patrick Kane goal.   Just nasty. Why didn't Niklas Backstrom come out to challenge? All of that could HAVE been avoided. Still, some fast hands by Kane, and what dick celebration. On the replay, check on the woman standing off to the left. She basically **** her pants:
The interesting thing about NHL shootouts is there are some players who have as much of a chance of scoring as a 10-year-old would and others who seem to make it look easy.  Patrick Kane falls under the latter category.  Usually when we see a shootout goal scored it's because the shooter made a couple [...]
When we received a reminder from the NHL about last night's NHL 36, a docu-reality show featuring Patrick Kane, the nice PR person predicted that we would make fun of him. (I can't imagine why!) Before we had a chance, Kane scored a shootout clincher that makes us want to take back every joke we've ever made, and replace it with a headline...
Canucks coach basically calls Hawks center pea-brain for 'sisters' commentST. PAUL, Minn. — Even from a distance, Dave Bolland has managed to add fuel to the heated rivalry between the Blackhawks and Canucks.
Patrick Kane's goal in the second round of a shootout clinched the Chicago Blackhawks' fifth straight victory on the road, 4-3 over the Minnesota Wild on Wednesday night in a matchup of the top two teams in the Western Conference. Jonathan Toews also scored in the shootout after giving Chicago a lead with a goal in the third period that Mikko Koivu matched a few minutes later.
The Lightning dug deep to add depth to their lineup on Monday, signing free agent Antti Miettinen to a two-year contract worth $1.5 million each season. This year the salary is prorated, but includes a $500,000 signing bonus and a no-move clause.
ST. PAUL, Minn. (AP) Patrick Kane's goal in the second round of a shootout clinched the Chicago Blackhawks ' fifth straight victory on the road, 4-3 over the Minnesota Wild on Wednesday night in a matchup of the top two teams in the Western Conference.
NHL News

Delivered to your inbox

You'll also receive Yardbarker's daily Top 10, featuring the best sports stories from around the web. Customize your newsletter to get articles on your favorite sports and teams. And the best part? It's free!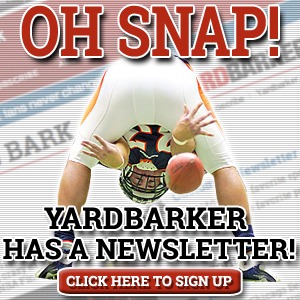 Latest Rumors
Best of Yardbarker

Today's Best Stuff

For Bloggers

Join the Yardbarker Network for more promotion, traffic, and money.

Company Info

Help

What is Yardbarker?

Yardbarker is the largest network of sports blogs and pro athlete blogs on the web. This site is the hub of the Yardbarker Network, where our editors and algorithms curate the best sports content from our network and beyond.