Found December 03, 2012 on Boston Sports Then & Now:
. Remember this Bruins fans? "The Kid" speeding down the ice and faking Caps goalie Braden Holtby out of his jock to force a decisive Game Seven in Boston, but we know how that ended…..NOT WELL. That was on April 22, 2012. That was the LAST time, the Black & Gold got me EXCITED and made me HAPPY. Since then, EVERYTHING about the game I love has been NEGATIVE and HEARTBURN INDUCING. The Bruins early playoff exit and the GREED of the NHL Lockout has made me drink 1,038 bottles of this: I am F'N SICK of hearing how many goals my favorite player Tyler Seguin is scoring goals in SWITZERLAND! My blood pressure is at LIFE THREATENING levels due to the PROPAGANDA, SELFISHNESS & GREED stemming from the NHL-NHLPA CBA negotiations. I want to RING Jeremy Jacob's neck. I should not be this ANGRY about ANYTHING. It's bad enough I don't have a JOB, something the players and owners can not relate to. So I need a distraction, but all I get is a SUBTRACTION of something that brought me JOY. I MISS THIS: Man tears streamed down my face when the Bruins won the Cup… Now I just want to tear apart every man that is DESTROYING the BEST GAME ON THE EARTH! RANT…. OVER.
Original Story:
http://boston.sportsthenandnow.com/20...
THE BACKYARD
BEST OF MAXIM
RELATED ARTICLES
Last week, the Boston Bruins' most loyal fans, their season ticket holders, were given a complimentary tour of an empty Bruins locker room, and were even allowed to take a photo with the 2011 Stanley Cup banner. During their tour of a locker room that's been devoid of B's players since April, without any of the B's equipment in any of the stalls, the sad reality set...
The NHL lockout has continued into December and hockey fans — and players — are still restless not knowing whether to end their dreams of a season, or hold out hope for a partial schedule and the end of the torture. On Tuesday, the players and owners will meet together to rekindle CBA discussions without the leading representatives from each side. Bruins owner Jeremy Jacobs and...
Dougie Hamilton (2012 1st round, pick 9), Malcom Subban (2012 1st round, pick 24) and Anthony Camara (2011 3rd round, pick 81) have been named to Team Canada's Preliminary World Juniors roster.  Hamilton is currently killing it in the OHL right now and it even furthers my frustration about the NHL Lockout. There was a chance that Hamilton would've played for the Bruins...
In this social media age, NEWS and ODDITIES are all around you and at your fingertips. With a tap of your smartphone, you can find out what your favorite athlete or celeb is doing and thinking. Some things make you LAUGH YOUR ASS OFF or SCRATCH YOUR HEAD. The members of the Boston Bruins are no different, they are quite in tune with the Twitter machine. In this edition: Looch finally...
Game 3 of the Stanley Cup Final was a roller-coaster ride for many Bruins fans. Luckily, there were more ups than downs as the team rallied around Nathan Horton's injury to insert themselves back into the series. Horton was sidelined by a vicious open-ice hit from Aaron Rome midway through the first period, and when the period ended scoreless, things were a bit somber at the TD...
As the NHL lockout lumbers on, the league and its players' association are finally trying something different this week to try to hash the remaining issues out. Six NHL players will meet with six NHL owners on Tuesday in New York City to take a new approach to solve the lockout. The six owners meeting will be Jeremy Jacobs of Boston, Ronald Burkle of Pittsburgh, Mark Chipman of...
NHL players and fans aren't the only ones suffering from the lockout. According to the Boston Globe, bars and restaurants surrounding the TD Garden are losing between $850,000 and $1 million per game since the lockout began over 80 days ago. So it seems that players aren't the only ones losing money due to the lockout. The Bruins organization would certainly love to see the players...
The Bruins had a much better game plan on Friday night than the previous Saturday, and that shows in the grades on both the offensive and defensive sides of the ball...
No, there is no NHL season yet, but if there was one, the Boston Bruins and New York Rangers would have a good shot at taking home Lord Stanley's Cup. While the NHL and NHLPA continue to meet at the bargaining table, fans and analysts can only speculate about what an NHL season may bring. NESN's Andy Brickley and Fox Sports' Kevin North debated who has the upper hand in the...
An easy choice for the magazine and a great read by Lee Jenkins. Highlights include a focus on how LeBron's intelligence impacts his game ("He's not smart," says [Duke basketball coach Mike] Krzyzewski. "He's brilliant. And I don't like to use that word."), as well as on LeBron's work through his foundation, Wheels for Education, that conducts a program open to...
Bruins News

Delivered to your inbox

You'll also receive Yardbarker's daily Top 10, featuring the best sports stories from around the web. Customize your newsletter to get articles on your favorite sports and teams. And the best part? It's free!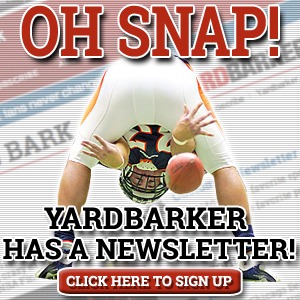 Latest Rumors
The Backyard

Today's Best Stuff

For Bloggers

Join the Yardbarker Network for more promotion, traffic, and money.

Company Info

Help

What is Yardbarker?

Yardbarker is the largest network of sports blogs and pro athlete blogs on the web. This site is the hub of the Yardbarker Network, where our editors and algorithms curate the best sports content from our network and beyond.